Home Administration Champion
Dawn Sheldon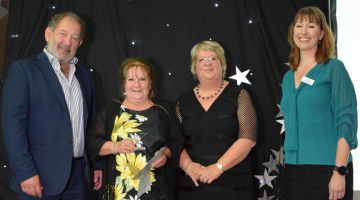 Staff and residents at Tennyson Wharf in Lincoln are celebrating after Dawn Sheldon, Administrative Assistant, was named Home Administration Champion at the Barchester Care Awards 2018.
Carol Gabbitass, Director of Operational Finance at Barchester and a judge for the category said of Dawn that "her approachable nature makes Dawn very good at her job. She truly comes in each day and does her best, working well under pressure. Dawn knows her home inside out, and not only offers support to each of the different teams at the home, but is able to offer good advice to other administrators. She is passionate about her job and loves coming to work. Very proud to be nominated, she was quite tearful when she won the national award!"
Dawn said of her win that, "I am very proud, and very honoured to be receiving this award. We work hard here at Barchester with a focus on the people we care for, and not for accolades, but it really is very special to be recognised in this way."
Congratulations Dawn!
Other Finalists: