Food at Worplesdon View Care Home
Food and Nutrition at our home
Our dishes here are constantly evolving, and take into account the desires of those we support, integrating seasonality into everything we prepare. Food and nutrition are at the heart of the home, so it is important that residents can enjoy a balanced diet that caters to individual dietary requirements. Whether people want to try something new and exciting, or just enjoy an old favourite, there is something for everyone on our menu. Please see below for more information:
With many years of experience as a Head Chef and 3 decade in the catering industry, Steve brings quality and consistency to Worplesdon View.
Having always been passionate about food since he was a boy, working in his local chip shop and cooking at home, Steve decided to become a professional chef. He completed his City & Guild's qualifications at the same time as working for Forte Crest Hotels, picking up some amazing skills along the way.
Steve proceeded to work at a number of restaurants, golf clubs, private schools, wedding venues, conference and training venues to gain experience in every area of the catering profession. After several years, he decided to set himself a new challenge to hone his pastry skills with an NVQ Level 3 Professional Cookery - Patisserie.
Steve wanted to give something back to the elderly, so he decided to look at Barchester care homes, specifically Worplesdon View, by using his skills, knowledge and talent to help give the residents something to look forward to each and every day.
Steve wants to make sure the residents are supported through a healthy range of options, while taking their preferences and opinions into account so they can enjoy their food experiences during this latter part of their life.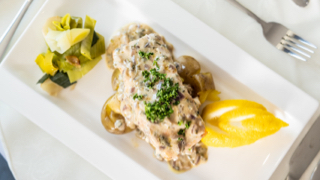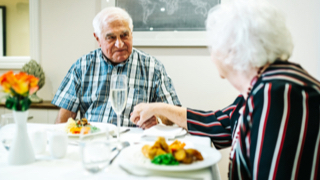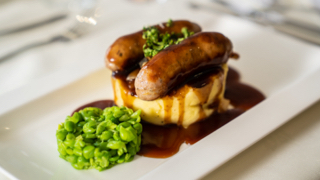 Dietary requirements
For residents who have difficulties swallowing, we modify the menu of the day so that the dishes are more palatable for them. To support our chefs in producing these dishes, our hospitality team and our Chef Academy organise theory and practical workshops. The chefs work with the chef trainer to prepare tasty, modified meals safely and according to IDDSI frame work. This encourages residents to eat and enjoy their food. All our chefs have been trained in IDDSI food descriptors.
Attracting top chefs
Our chefs are recruited on the basis of an interview with the regional hospitality support team and the manager of the home. Selection also involves a practical element, where potential chefs are asked to cook for and meet a panel of people living in the home. Chefs take their job extremely seriously and the annual Barchester Chef Competition sees our chefs battle it out in regional heats and then at a national final for the accolade of 'Barchester's Chef of the Year'.