Meet the The Fernes Care Home team
Our staff are what hold the home together. Each one of these team members are dedicated to providing high quality care and services to those we support, and ensuring that residents enjoy all aspects of life at our home. See below to meet some of our friendly faces:
Cassie Munnoch
General Manager
Hi, my name is Cassie and I am the General Manager here at The Fernes. Welcome to our website!
I have worked in care for many years in various roles but by far my favourite role is here, as General Manager at The Fernes. I enjoy working with a team who are passionate about what they do and ensure that everyday is the best possible, for all of our residents. 
Life here at The Fernes is like no other. We have a fabulous environment which I pride myself on keeping immaculate and the care we deliver is bespoke and individual for each resident
Our residents' days are filled with fun and laughter and of course - learning!  Here at The Fernes we believe that residents should lead an even more fulfilled life than they have led at home. 
I look forward to meeting you soon
Emma Glanville
I started working at The Fernes from the day it opened in 2016. I take pride in coming into work every day and really love working here. My colleagues are all great and I get on with them all. The residents are my main priority and I take great pleasure in caring for them all.
Gemma Pitman-Mcgrath
Hello I'm Gemma and work for as the Clinical Development Nurse, I love my role supporting the team to deliver the very best care for our residents
Our Chef and Kitchen Assistant
Adam Parker our chef joined The Fernes in 2019 with experience of cooking in care homes, he loves the variety preparing a great dining experience for our residents with desserts and home baking his specialty. We have plenty of birthday celebrations with wonderful cakes for everyone to enjoy
Assisted in the kitchen by Matt Bristow who joined in 2021 and also with a catering background they are a team who know our residents well and always strive to provide their favourite dishes 
Show More
Zoe Freeman
I started at The Fernes in late 2020. I have never followed this career path before, but my previous job was working and entertaining on the cruise ships, so I have a passion for organising activities. I am looking forward to joining the team and creating wonderful memories
Anna Broadhurst
My name is Anna, I started working at The Fernes in December 2020, I am looking forward to the new challenge of becoming The Fernes Home Administrator.
Trevor Jones
I am the operational trainer for Barchester, I spend a lot of time between homes in the region providing in house training for all staff whether it be new starters or ongoing training for current staff.  At Barchester we pride ourselves on the training that is provided to ensure all our staff are highly trained and skilled in their roles.
Show More
Mark Owen
I started at Marriott House in October 2018 as Head of Maintenance, and moved to The Fernes at the beginning of 2020 to carry on my duties as Head of Maintenance here. I really enjoy my role, as the work is varied and the staff and atmosphere at The Fernes is warm and welcoming. Laughter can always be heard!  It is a lovely feeling to make a difference to the residents' lives. 
Show More
Claire Binnie
Hello, my name is Claire. Two years ago I joined the housekeeping team at The Fernes as an assistant. Over that time, I have enjoyed getting to know all the residents, their families and staff.  I have always been a caring person after looking after my parents in their later lives.
I decided to change direction in my work from childcare to helping make the life for the older generation more comfortable and enable them to celebrate their lives to the full. Listening to the resident's stories and getting to know their families is an honour and a privilege.
In September 2019 I became Head Houskeeper and now lead a team of 5 housekeepers with support from my manager Sarah.  All of the housekeeping team endeavour to undertake Barchesters values in our work and to respect everyone at The Fernes and do our best in all we do and are very committed to making The Fernes a safe, clean environment to live in and work in, filled with life, fun, laughter and friendship.
Show More
Mercedes Moxham
My role here at The Fernes is a job that I take great pride in. I left The Fernes to further my experience in the community where I worked alongside the community nurses. I returned to The Fernes in April 2021 and I have loved being back amongst the joy and laughter of our home. Here's to many more years of happiness at The Fernes. I am proud to say I have been promoted to Team Leader and I will dedicate my time and passion for care to The Fernes.
Show More
Rachel Anderson
My name is Rachel, I have worked in Care Industry for 20 years and I have had various roles within the industry. I have now found a role in which I am very passionate about.
I started at The Fernes in February 2019, and I knew from day one, I had found the perfect role and environment to work in.
I am a very happy and bubbly person and love my job. I am here to have fun and succeed in my new role.
Show More
Hayley Harris
I love that everyday is different here on Memory Lane. I enjoy listening to the residents' stories, sharing their photos, memories and hearing about their early days. What drives me is seeing the positive impact I have on an individual life. I love seeing the residents happy!
My passion is supporting people with dementia and palliative care, which I am a champion for both.
Show More
Lisa Procter
My name is Lisa and I am a senior carer on nights, I have been here at The Fernes for many years, I love my role here, the staff and residents are a pleasure to spend time with. I take great pride in my role here at The Fernes and I am proud to be part of the team.
Myra Wadhams
I am a local lady and I have supported people living with dementia for many years. I have been at The Fernes since 2017, and I love my job; each day offers something new, and it's a privilege to work with a great team.
"We may not have it all together, but together we have it all." - My quote for Memory Lane
Show More
Fitz
My name is Fitz and I am the therapy dog here at The Fernes, I come every Thursday to visit my friends at The Fernes, I love it as I get lots of cuddles and attention.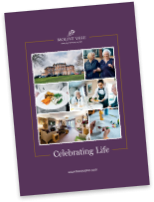 Read our brochure 'Providing great quality care and wellbeing' for more information on how we're here to help you and your loved one.
Read brochure
Food & Nutrition
Activities & Events
Care & Facilities
What happens now?
Are you ready to discuss your individual care requirements? Pick up the phone and talk to us, book a visit to our care home or come and take a look around our facilities.
Care enquiries
New care enquiry phone lines are open 8am - 8pm
01329 655 802
All other calls
Our fees and contract
We want to be as transparent as possible about how we charge for the different services we provide as well as what's included in our contract. Please click the links below to find out more about our fees and contract.
View typical fees
View Our Contract
Useful downloads
Here to help you make the right decision about your care requirements.
179