Reviews for Rivermead Care Home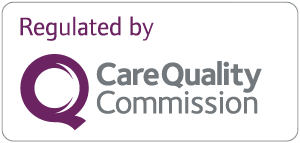 What our families say on carehome.co.uk
"Moving to a care home after 75 years of an astonishingly independent lifestyle is no easy decision, but the superb staff at Rivermead did everything possible to ensure that my sister-in-law quickly felt that Rivermead is now her true home and a happy one. The standards of care, the cleanliness, the food and the effort made to ensure my sister-in-law's determination and individuality are fully respected impress all her family every time they visit. It's to the great credit of Rivermead staff and management that such high standards have been achieved and maintained during the last few difficult years."
D S
carehome.co.uk rating: 4.92 out of 5
"Very pleased with the care my mother receives. Lovely staff. Wonderful care home. Mother is very happy and settled. Food is beautiful, cannot fault Rivermead Care Home. Pleasant surroundings and bright clear rooms. Would recommend it to anyone."
Carol H
carehome.co.uk rating: 4.92 out of 5
"Visited today to see my Mum, She was in a tiki bar activity. It was a magical experience she was so happy sipping her cocktail and wearing her feather garland. The songs were perfect and triggered memories which we were able to talk about. She knows lots of words and joined in with the singing, clapping and tapping her feet. She enjoyed laughing at me when I wore a sailor hat and tried singing the words. We were so privileged to be part of the session and see Mum so happy."
Andrew S
carehome.co.uk rating: 5.00 out of 5
"Excellent - everything very food - particularly the food. Staff are very pleasant."
J K
carehome.co.uk rating: 4.92 out of 5
"My husband has now been at Barchester Rivermead Care Home for about 10-months. He was a bit difficult and can still be at times. The staff deal with him in a lovely and kind manner, with patience and humour to name but a few. I now have peace of mind that he is safe, clean and well-fed. Thank you."
Sue M
carehome.co.uk rating: 5 out of 5
"Our friend has settled in very well and is really happy and full of smiles when we visit. She looks healthy, clean and well cared for."
T H
carehome.co.uk rating: 4.92 out of 5
"Unfortunately, we had a very poor experience with our father here. He didn't receive the care or dignity he deserves. On one occasion (that we saw) he was swung around his room on a hoist to his toilet and had his trousers/pants pulled down without any doors being closed, he was mortified that my sister was stood there. We've found out since, he should've been hoisted into a wheelchair and wheeled to the toilet. He was constantly covered in food. No member of staff took his hearing aids out every night to charge them (we left a note asking for this). He couldn't go to the toilet one time I was visiting, because there was only one member of staff working, the rest were on lunch! He often had to wait long periods of time when he pressed his buzzer for the toilet. My sister or myself have never seen the manager since the day I looked around. Although I did see a delivery of horse food for her pets?! My dad stayed for 23 days but spent 9 of those in hospital. He was very unhappy here."
Paula F
carehome.co.uk rating: 1.25 out of 5
"When my mother was admitted from hospital she was very disorientated but not as unhappy as she had been in hospital. Once she had settled she told me how much she liked it here and she said the staff were kind and helpful. I am relieved that she is in such good hands and delighted I am able to bring her old dog in to see her. I feel very secure to know she is treated with kindness and respect."
A C
carehome.co.uk rating: 5 out of 5
"Staff have been helpful and accomodating. Lots of activities. Everyone is friendly and cheery. Food is wonderful!"
Julie H
carehome.co.uk rating: 4.75 out of 5
"After the closure of her previous care home due to the lack of nursing care during Covid, I had been worried about the enforced change in someone with advanced dementia. I need not have worried, the transfer has been handled with great care and support by staff who clearly understand the problems with dementia and how best to deal with them. The ratio of staff to residents is good and the atmosphere seen as you walk through the door is excellent. Though it has been a difficult couple of weeks I have no doubt that the change of nursing home has been for the better, this will definitely be a forever home."
L M
carehome.co.uk rating: 4.42 out of 5
"Very positive experience. Dad was very well looked after, staff were consistently very caring and considerate, and went above and beyond what we expected. The person on reception was very good throughout, there was one carer who was excellent with Dad and cheerful, despite his sometimes gloomy ways. The care assistants were also very warm and thoughtful, and the nurse was brilliant and very gentle with Dad in his last few hours, and the communication with us was much appreciated."
Mark G
carehome.co.uk rating: 4.58 out of 5
"Staff were very helpful and polite. Nothing was any trouble when needed to help the resident. They were always ready to help quickly and promptly. The food was varied and appetising and assisted in feeding if required."
A S
carehome.co.uk rating: 4.67 out of 5
"Once my dad had settled into the home, he wished he had moved in sooner so that he could take advantage of all the wonderful facilities and activities. The staff at Rivermead were superb; kind, caring and very patient. My dad was bed-bound, so needed 24-hour care and assistance, and the staff couldn't have been any more attentive."
Andrew B
carehome.co.uk rating: 4.58 out of 5
"The team at Rivermead are very lovely they are doing a fantastic job of looking after my mother in law. They are all very kind and caring. Any questions or queries you may have regards your family care needs or medication/health they will walk you through everything and give you all the information you may need. I can not fault the manager she is superb and is doing a fantastic job. Thank you so much."
Josephine P
carehome.co.uk rating: 5 out of 5
"The care is good, and the staff are lovely, and they try and accommodate you with most things. Very short staffed, twice I had to wait 45/40 minutes for a bedpan, which is not acceptable in my eyes. I was in agony when they arrived. A lot of days there has been only 3 staff and a lot of people need two carers to do them. Some residents were not getting their personal care till late afternoon which is not good, especially when I was on total bed rest. staffing situation was getting worse, as they were starting to get new residents every day. I had numerous clothing items disappear and were found in someone's else's drawers. They use agency nurses, and a lot don't know the routine of the residents, and you're forever asking them to do things for you. The rooms were cleaned every day. The day I went to hospital for my scan, the cleaner did a thorough clean of my bed, and washed down my air bed."
Gillian W
carehome.co.uk rating: 3.92 out of 5
"My nana arrived six weeks ago and we are over the moon with how she has settled with the excellent care she is receiving. It is a very clean care home with caring staff, she is more content after each visit."
Gareth E
carehome.co.uk rating: 4.67 out of 5
"My husband has received the utmost care from all the staff at Rivermead Barchester Care Home. Their care and support have been outstanding. Also, the kindness they have shown to me. Thank you."
Josephine H
carehome.co.uk rating: 4.92 out of 5
"Have found the home very good in all aspects over the last seven years. Since this covid-19 came, the staff have been excellent."
Keith T
carehome.co.uk rating: 4.42 out of 5
"I have been visiting my old friend of forty plus years in Barchester Rivermead, Norton, for the duration of her stay. I've always found it to be clean and well kept, the staff are lovely and appear to be genuinely fond of the residents, always a smile and a kind word in a difficult job."
P C
carehome.co.uk rating: 4.08 out of 5
"During Coronavirus there hasn't been much contact. On outdoor visits the staff changes are phenomenal. The review is based on previously as unable to see food, staff etc. My dad was also at Rivermead until his passing. Mum seems happy enough as she has also deteriorated so much in this pandemic."
A L
carehome.co.uk rating: 4 out of 5
"Highly recommend the care and dedication of the staff is of a very high standard. Residents' quality of life and care seems very utmost of this provider."
John A
carehome.co.uk rating: 4.75 out of 5
"First of all, I would like to say how impressed and grateful I am to all the staff at Rivermead for the sterling effort they have put into caring during the last eight months. I realise the extreme pressure they must have endured and appreciate it. Regarding the visiting questions, I'm not sure that I agree to the visiting vigil being relaxed at the moment, the virus is very fickle and difficult to read, testing seems to be far from reliable. Yes; I would love to be able to visit my husband, although I am fortunate to be able to FaceTime him each day, but having just experienced a further lockdown because a family member recently contracted the virus, I'm not confident. Finally, I understand that in the event of claims being made as a result of treatment during the course of coronavirus, and I'm sure that lawyers will be very keen to do so, the Government has agreed to indemnify the hospitals, but not nursing homes? Which seems disgraceful."
J G
carehome.co.uk rating: 4.5 out of 5
"Mum moved into Rivermead just a fortnight before this March 2020 lockdown. It has been a difficult time for us all and whilst Mum saw none of her family for weeks, we kept in contact via the phone. Mum receives excellent care at Rivermead and as a family, we are very pleased with everything."
John H
carehome.co.uk rating: 4.67 out of 5
"I would just like to say that we have always been happy with the consideration and care that has been sown to our mother. The staff are always courteous and endeavour to fulfil any requests regarding visiting or any other concerns we may have, this year has been more difficult for us all but we have still felt include with the care and involvement regarding mother. Many thanks to each and everyone for your continued care."
J A
carehome.co.uk rating: 4.58 out of 5
"Rivermead helped our family at a very difficult time when Mum needed specialist care. From day one, the staff have treated her very professionally and cared for her needs. During this difficult time, they have kept us updated with any changes to Mum and been very accommodating with our weekly visits. During Mum's stay so far, her general health has improved dramatically."
Brenda W
carehome.co.uk rating: 4.67 out of 5
"My mother spent over 3 years with you. Very good care. Excellent food and friendly staff. Great atmosphere most of the time."
D W
carehome.co.uk rating: 4.5 out of 5
"My father was admitted to Rivermead after spending 3 months in the hospital. The management and staff made my father feel at home from the start. The care home is clean. The staff are all very friendly and approachable. My father has made very good progress, built his strength back up and now ready to mix back out into the community. Would I recommend Rivermead to anyone? Most definitely."
A C
carehome.co.uk rating: 4.83 out of 5
"Dad has some of the best care living at Rivermead. The only thing is that some key staff have been moved to the other unit, which in my opinion would upset residents."
S B
carehome.co.uk rating: 4.58 out of 5
"Rivermead has been in complete chaos for months. No manager, no senior nurse. Too many agency staff at weekends who have no idea of resident's needs. Staff try hard but difficult for them in the circumstances. Let's hope it improves soon."
E B
carehome.co.uk rating: 3.33 out of 5
"At various times of the day, there's only one member of staff on the section. Clothes are not washed, clients are wearing the same clothes day and night for two weeks. They are not having any baths or being washed. Very dirty toilets. Food is not eaten. Personal (named) items going missing and the rooms are very dirty with curtains hanging off the rails."
J S
carehome.co.uk rating: 1.58 out of 5
"Recently under new management after several months of instability. New management seems promising but too early to asses as few improvements made so far. Environment is pleasant, bright and clean. Refreshments for visitors available in reception area which is appreciated. Staff generally very friendly but not proactive in supporting and engaging with residents, likely due to staffing levels and long shifts. Communication between staff/management and relatives could be improved, and documentation regarding care not readily available. Some hygiene issues (bathing, hand hygiene and dental care) brought forward but not yet resolved. Sometimes difficult to contact relative by phone, especially at the weekend. Care appears to be confined to the time constraints of the carers rather than the needs of the residents."
E S
carehome.co.uk rating: 3.5 out of 5
"Under fairly new management so some areas that are presently unsatisfactory hopefully will be improving. Surroundings are very pleasant. Staff, on the whole, are friendly, helpful and caring. However, we have had issues with personal care including bathing (which is being addressed) and hand and mouth hygiene. Food and drink is usually of a reasonable quality but not very flexible if a resident would like something more unusual or changes their mind. Staff are not proactive in offering alternatives. Hard to justify very expensive fees."
M B
carehome.co.uk rating: 3.92 out of 5
"I have always been impressed with the quality of the care/nursing staff at Rivermead nursing home. They deal with the most challenging of care needs and treat everyone with courtesy and respect. Tonight I have been sitting with my very ill Mum in law and witnessed the night team at work. These ladies came on at 8pm. It's now past 1 am and I haven't seen them sit down once! They have checked in on us four times, changed and turned my mum in law twice. Every room has been checked regularly and they have responded to at least four alarms. Every Person has been treated with care and respect. Nursing homes can never be as perfect as you would want for you mum or dad but with cares like these Rivermead is probably as good as it gets for dementia suffers."
Susan B
carehome.co.uk rating: 4.5 out of 5
"The staff at the care home seem to care for my mother in law and look after her as well as they can. Sometimes she can be cantankerous, so she is not always easy to help, but they seem to calm her down."
John S
carehome.co.uk rating: 4.67 out of 5
"My mum is very well cared for. All the staff are very good at their jobs. Genuinely fond of mum, even when she is fractious with them, cannot fault them. They always ring if need to and also show us details of injuries she has received due to falls she has, which is very reassuring to us as a family. All in all, her care is excellent. My husband and myself are also treated with great kindness, whenever we visit."
S S
carehome.co.uk rating: 4.58 out of 5
"My mother has been a resident at Rivermead since June 2016. Her needs are complex, including severe dementia caused by brain damage, resulting in intermittent challenging behaviour. The care has been exemplary throughout, I'm totally reassured that she is looked after with compassion and skill. The staff have always been fully involved, very approachable and have supported me recently with issues arising from external agencies. The environment is always clean with stimulating images and artefacts throughout the communal areas. Even during difficult periods, her personal care, hair and hygiene are good. Rivermead has been our lifeline - I can't envisage my mother's life elsewhere."
Dorothy B
carehome.co.uk rating: 4.92 out of 5
"My wife is well accepted here, all the staff help her. The food is very good and I have been made very welcome to have my lunch here with her, it is very good. I would certainly recommend it to people to bring any member of the family requiring the service and help."
Tony W
carehome.co.uk rating: 5 out of 5
"Rivermead is an excellent care home.My father has advanced dementia and the staff are so caring and strive to give the best possible attention to all residents and treat them with dignity and respect. The home itself is a lovely, homely building with the residential rooms set in a square around a central lounge and dining area in memory lane (dementia Unit). This is reassuring from a safety perspective. The carers and nursing team are attentive and spot any issues without delay."
Gill H
carehome.co.uk rating: 4.75 out of 5
"My dad who is 95 has been a resident of Rivermead Care Home for nearly three years. During this time he has been cared for by experienced friendly nursing staff. He is very well fed, the food is excellent and caters for lack of teeth! The entertainments are very good but could do with a bit more for the gentlemen. Outings are every week,m very varied and entertaining. Dad grows tomatoes in the greenhouse as this is something he has always done and keeps him interested in the garden. All in all, I think Rivermead Care Home is very well run and the residents are well looked after."
Pat H
carehome.co.uk rating: 4.42 out of 5
"I have been at Rivermead for over a year while my husband has been unwell. It feels like home, all staff are caring and friendly. I go on trips with activities regularly and have been shopping, out for coffee trips and the lavender farm."
S T
carehome.co.uk rating: 5 out of 5
"The staff are friendly and helpful. The area itself is good for the residents to go outside and take a walk. The care home is always clean and tidy. Big sitting area and relaxing areas. The gardens are lovely, could imagine residents would love it in the summer. I've experienced seeing the live music within the care home, the activities too. There's always something going on and it seems the residents enjoy the activities etc."
A C
carehome.co.uk rating: 4.33 out of 5
"I was so worried about leaving my husband for a week in a care home. But after seeing for myself the care and attention that is given to each resident, my mind was made up that this was the home for my husband. Thanks to all the staff at Rivermead who made my husbands stay so worth while."
Susan Y
carehome.co.uk rating: 5 out of 5
"My Nana spent her last days amongst some amazing staff that gave their all, every day and night at Rivermead Care Home. The care and support offered to us as a family was incredible and we will always be grateful to all of the staff for going above and beyond their role to make us all feel comfortable and well looked after. The room and facilities were excellent. The food was fantastic and my Nana was treated with dignity from the moment she arrived to the moment she left. I would highly recommend Rivermead Care Home and all of the staff. Overall a caring, spotlessly clean and well managed nursing home. A big thank you to all on Memory Lane xx"
Lucy G
carehome.co.uk rating: 5 out of 5
"My father was admitted to Rivermead from another care home. He had been deteriorating physically and mentally and appeared to have given up on life, refusing to be showered, to eat or get out of bed. Within 10 days at Rivermead he was a different man. Allowed help with personal care, he is now clean, dressed, clean shaven and up and about for a while each day. He appears calm, happy, settled and is eating really well. I cannot thank the team at Rivermead enough for their care of my father. I am so pleased we made this move. His quality of life has improved tremendously."
Alison T
carehome.co.uk rating: 5 out of 5
Useful Guides and Information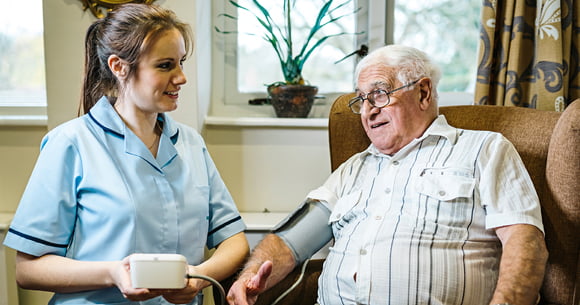 Care & Facilities
Our facilities are designed to the highest standards and the care we provide is delivered by passionate and highly-trained professionals.
Find out more about our care and facilities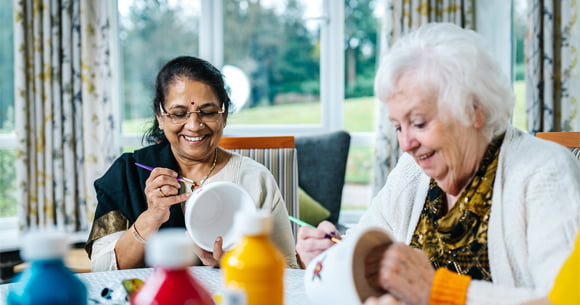 Activities & Events
Our activities programme is planned with individual tastes in mind, and residents always have the opportunity to try new and exciting things.
Find out more about our activities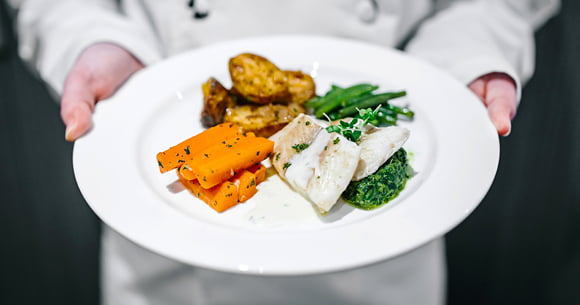 Food & Nutrition
We offer a constantly evolving menu that caters to the tastes and dietary requirements of those we support.
Find out more about our food & nutrition
Your next steps to finding care
Our team are here to help you when you are ready to talk about the care and support you need. Please call our team to arrange a visit and come and take a look around our home.
Call our team
Call our team for more information about our care home and to arrange a visit. Phone lines are open 8am-8pm
Send a message
We'll be happy to answer your questions about the next steps for moving into our care home. Send us a message online
Contact us
Download a brochure
Download our brochure to find out more about life in our care home
Download brochure
Our fees and contract
We want to be as transparent as possible about how we charge for the different services we provide as well as what's included in our contract.
View typical fees
View Our Contract
Frequently Asked Questions
What types of care does Rivermead Care Home offer?

Rivermead Care Home offers Nursing care, Residential care, Dementia care, Respite / Short stay.
157