Meet the Rivermead Care Home team
Our wonderful team comprises nurses, carers, activities coordinators, chefs, housekeepers and more. These people are here to ensure that residents enjoy their time at the home and are supported to live life to the fullest. Meet some of our staff below:
Sarah Jackson
General Manager
Hi, my name is Sarah and I am the General Manager here at Rivermead. Welcome to our website! 
Thank you for taking the time to look further into what Rivermead has to offer to you or your loved one.
Here is an opportunity to look at some of our staff team in the home, who all play a vital role in day-to-day life. I have worked for the health and social care sector for a number of years and I really enjoy working in a nursing home environment and supporting and developing the staff to provide excellent care for our residents.
The home's core values resonate with my own: of respect, integrity, responsibility, passion and empowerment. We strive for excellence by supporting the staff team to empower and enable our residents to live their best life possible whilst in a nurturing environment. Should you or a loved one be looking for at care options, please do get in touch!
Mandy Price
Hi, my name is Mandy and I joined the Barchester family in November as Deputy Home Manager here at Rivermead.  I have been nursing for over 20-years and gained my nursing qualification at Worcester University.  I bring a wealth of knowledge and experience to the home having worked in a variety of settings from surgical vascular to nursing homes.
I have lived in New Zealand and Australia for 5 years and was very lucky to land some exciting roles whilst overseas. I am happily married and have two cats, Gizmo and Simba which are my babies. I love spending time with my family, travelling and going to new places and socialising. I am enjoying my new role as deputy manager at Rivermead Nursing Home and being part of their family.
Show More
Vixx Taylor
Hi, my name is Vixx and I am Unit Lead in our Malton unit here at Riveremead.  I have worked in the home for over 10-years. I strive to improve the quality of life for our residents to make their day as full and comfortable as possible.  I am proud to pass on my skill and knowledge as we work as a team.  I am always here for relatives to help and support them through both difficult and good times in any way I can.
Show More
Emma Cottle
I joined Barchester in 2016 as an admin assistant and have recently transferred to Rivermead from Stamford Bridge to become the new administrator. I am now responsible for all the financial responsibilities in the home. along with all general administration. I take great pride in ensuring that, as much as possible, everything runs like clockwork. I am here to welcome you into the home and I am always happy to offer assistance and support.
Show More
Sarah Russell
Sarah is Rivermead's Admin Assistant, assisting the Administrator in the finance and the administration of the home. Sarah started working at Rivermead as a night Carer in March 2010, has enjoyed the role of 1-2-1 care assistant for a resident in 2015 before transferring to her current role in 2017 and since then she has become someone everyone knows and loves to speak to.
She is always happy and bubbly, you will always find her this way. She can multitask, answer the phone, count money, solve a staff members problem and have a full conversation with a resident all at the same time!!! Anyone who visits the home always gets a kind word.
Show More
Samantha Evans
My name is Sammi and I am proud to be the Activities Coordinator at Rivermead.
I enjoy spending time with our residents and hearing about their incredible experiences and life stories. I take great satisfaction in being able to deliver unique and personalised experiences for our resident's enjoyment and knowing that I have made a positive difference to someone's day.
We have a wonderful team at Rivermead and I am proud to be a part of such a caring community.
Show More
Sarah Lightfoot
Sarah along with her team is responsible for the catering service throughout the home. Sarah plans menus with input from residents and relatives to ensure balanced, nutritious meals throughout the day. Menus change four times a year to reflect seasonal produce and ensure variety. Sarah has worked in the catering industry for around 22 years in hotels, pubs, restaurants and care homes.
Show More
Tina Ashley
Hi, my name is Tina and I joined Barchester in 2013 as the home's part time housekeeper before progressing to Head of Housekeeping, before beginning Head of Maintenance in 2019. Maintenance is paramount when it comes to our residents, relatives and colleagues, and my role is to keep the home environment up to the highest standards possible, ultimately creating a safe and warm place for our residents to live and my colleagues to work.
I also manage and deal with contractors, keeping records up-to-date for our audits.  I take great pride in my work and strive to ensure that our residents have a lovely place to live and our staff have a pleasant environment to work in.
Show More
Sam Richardson
Hi, my name is Sam and I am Head of Housekeeping here at Rivermead. Myself and my team of housekeepers and laundry staff strive to make the home look and feel as clean, tidy and presentable as possible to ensure that our residents are happy and comfortable at all times.  I enjoy my role and like spending my time here at Rivermead interacting and getting to know the residents in our care. It is a wonderful place to work.
Show More
Graeme Bennison
2nd Chef, Senior Kitchen Assistant
Hello, my name is Graeme and I am the 2nd chef here at Rivermead. I have a number of years catering experience working in hotels, restaurants and care homes. I am pleased to be part of a team that is passionate about our Residents dining experience in providing tasty and nutritious meals with beautiful cakes and desserts, whilst also catering for special dietary requirements for our Residents.  I am very proud to be part of the Rivermead team.
Show More
Pam Rex
Hi, my name is Pam and I am a Care Practitioner here at Rivermead, the role enables me to support the nurses in the home. 
The role of the Care Practitioner has been introduced by Barchester Healthcare, in order to further develop talented care staff and enable them to give more support to the nurses working at the home.   The home is delighted that Pam has completed the course and is already making a difference to maintaining and developing its standard of care. 
I am a long standing member of the team having worked at the home for over 14 years and I love this role. 
Show More
Lena Walker
Lena has lived at Rivermead since 2013.  Lena enjoys her role of Resident Ambassador and is always willing to help out other residents with any issues that arise, while they live at the home. Lena welcomes any questions about the life at Rivermead, especially if you are considering care options yourself.
Show More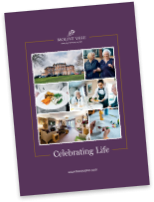 Read our brochure 'Providing great quality care and wellbeing' for more information on how we're here to help you and your loved one.
Read brochure
Food & Nutrition
Activities & Events
Care & Facilities
What happens now?
Are you ready to discuss your individual care requirements? Pick up the phone and talk to us, book a visit to our care home or come and take a look around our facilities.
Our fees and contract
We want to be as transparent as possible about how we charge for the different services we provide as well as what's included in our contract. Please click the links below to find out more about our fees and contract.
View typical fees
View Our Contract
Useful downloads
Here to help you make the right decision about your care requirements.
157