Meet the Oulton Park Care Home team
Our wonderful team comprises nurses, carers, activities coordinators, chefs, housekeepers and more. These people are here to ensure that residents enjoy their time at the home and are supported to live life to the fullest. Meet some of our staff below:
Sarah Wright
General Manager
Hi, my name is Sarah and I am the General Manager here at Oulton Park. Welcome to our website!
I have been working in care for over twenty years. My passion is for elderly care and dementia care, I have been a Registered Mental Health Nurse since 2004. I ensure that everyone at Oulton Park cares for all residents as they would their family. I was the General Manager at Oulton Park 2014 - 2018 and I loved my time here, so it is wonderful to be back with this fantastic team.
My aim is to use my passion for quality care and empowering residents, along with the dedication of our talented team to create a wonderful environment for all residents and their loved ones. 
I am always available to chat with residents and their families to understand how we can best support them. 
Gemma Hatton
My name is Gemma and I am the Administrator here at Oulton Park.
I have been with Oulton Park since 2007. I first started as a Hostess then, after 6 years, I moved into the kitchen to become a Kitchen Assistant, then moving to the role of Administration Assistant, and now I am the home's Administrator - which I really enjoy!
Oulton Park has become a second family to me and I enjoy turning up for work every day. We have a really hardworking team and a very supportive General Manager. Getting to know all the new residents and their families is fantastic and I am always proud to show new people around our home.
Show More
Jody Hugman
Hello, I am Jody and have been working at Oulton Park for 4 four years now. I started off as Kitchen Assistant, then went on to be a Care Assistant and recently joined the activities team as the Activities Coordinator at Oulton Park.
I'm very passionate about my job as I am able to spend quality time with the residents, doing all things they love and enjoy to enhance their wellbeing.
Show More
Stacy Ford
Hello, my name is Stacy and I am the Head of Housekeeping here at Oulton Park.
I have been working in the care of the elderly for 20 years and have experience with Nursing Care, Dementia Care and learning disabilities. I love my job because I am able to spend time with the residents whilst supporting them in keeping their home clean and tidy.
My responsibilities include leading a small housekeeping team, within the team, we take care of all the aspects of housekeeping and laundry. We are all passionate about providing a clean and fresh environment for the residents to be able to relax in and enjoy.
Show More
Nathan Kidd
Hello, my name is Nathan and I am the Head of Maintenance here at Oulton Park.
I have been with Barchester for 15 years now and have worked across many Barchester homes in the region.
Helping to make our home inviting, comfortable and safe for our residents, relatives, visitors and colleagues is absolutely paramount to me. Whilst at the same time maintaining the highest standards in everything that we do for those that have chosen to make Oulton Park their home.
Show More
Emma Parker
Hello, my name is Emma and I am a Care Assistant here at Oulton Park.
I have been working in care since 2013 and I love being able to make a difference in the lives of those I care for. Oulton Park is a very special care home full of wonderful people providing a fantastic service.
Amy Marshall
Hello my name is Amy and I am the Hairdresser here at Oulton Park.
I am available in the Salon every week to ensure the residents are looking their very best and I always try to be available for special occasions too.
It is always so lovely to chat with the residents and find out the latest news about what they have been doing and all their fantastic stories too about their interesting lives.
Show More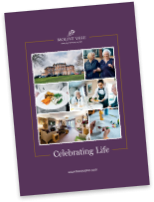 Read our brochure 'Providing great quality care and wellbeing' for more information on how we're here to help you and your loved one.
Read brochure
Food & Nutrition
Activities & Events
Care & Facilities
What happens now?
Are you ready to discuss your individual care requirements? Pick up the phone and talk to us, book a visit to our care home or come and take a look around our facilities.
Our fees and contract
We want to be as transparent as possible about how we charge for the different services we provide as well as what's included in our contract. Please click the links below to find out more about our fees and contract.
View typical fees
View Our Contract
Useful downloads
Here to help you make the right decision about your care requirements.
Frequently Asked Questions
What types of care does Oulton Park Care Home offer?

Oulton Park Care Home offers Nursing care, Residential care, Dementia care, Respite / Short stay.
143