Meet the Lucerne House Care Home team
Our wonderful team comprises nurses, carers, activities coordinators, chefs, housekeepers and more. These people are here to ensure that residents enjoy their time at the home and are supported to live life to the fullest. Meet some of our staff below:
Sally Coletti
General Manager
Hi, my name is Sally Coletti, and I am the General Manager here at Lucerne. Welcome to our website!
I qualified as an RGN from Plymouth University. I am a passionate nurse with a wealth of experience, which includes over 6 years' experience in A&E departments, and I was the team lead for a team of community nurses in Dorset.
I have a very active role in the lives of all residents, ensuring patient-centred care is delivered by every member of staff to a high standard. In my time as a nurse, I have gained valuable experience and knowledge around caring for the elderly and terminally ill patients. I believe that a holistic approach is crucial to providing gold standard care for the individual and their families.
Making the decision to move yourself or your loved one into a nursing home can be a daunting experience, but I am here to help with that journey, ensuring the decision to move is a positive one, and I will alleviate those fears and anxieties by talking you through that transition.
I will ensure that you or your loved ones are the most important at all times by listening and answering all of those questions you may have. I regard myself as a competent and supportive nurse who empowers and motivates residents to live a fulfilling life.
Julia Bloomfield
Deputy Manager & Clinical Lead
I started at Lucerne in 2020 as a Senior Registered Nurse and I continue to work clinical shifts on all three units to maintain my knowledge and skills. I feel very proud to be part of such an amazing team.
I support the General Manager and, together, we enhance the lives of all the residents and their loved ones. We are passionate about delivering high-quality, person-centered care, whilst always involving residents and family in decision making.
Show More
Jessy Matthews
My name is Jessy and I have worked at Lucerne House for over 10 years and I have been Head of Alphinbrook unit since 2015. I feel privileged to have such a lovely unit and a supportive team behind me. 
Lalaine Limos
Head of Shillingford Unit
Hi, my name is Lalaine, and I am the Head of Unit in our Memory Lane community at Lucerne House. I am a dedicated RGN with over 21 years of experience in working in busy hospital environments and nursing homes. I am responsible for delivering high standards of nursing care to residents, whilst ensuring that they are happy, comfortable and safe in our home.
Show More
Elena Constantinescu
My role at Lucerne House involves supporting the General Manager by maintaining and managing the financial, recruitment and general administration systems.
I started at Barchester in 2020, as a care assistant at Lucerne House. In 2021, I took on the role of administrator which I use my previous professional experience in finance, administration and accountancy.
I feel privileged to have secured my current role supporting the residents and families at Lucerne, and if you ever need anything, then my door is always open.
Show More
Alex Petersen
I have been at Lucerne House since November 2011. I started in the kitchen before moving to the Activities Team. I have a background in music and theatre and was very happy to be able to share this with residents in the home. After a short while, I was promoted to Head of Activities, and earned my NAPA level 2 qualification in Activity Provision.
In the role of Head of Activities, I am focused on ensuring that residents can continue to enjoy existing hobbies and interests, but also pursue new avenues of stimulation and activity. I am always looking to bring new experiences and means of engagement to the home, be that through massage therapy, yoga, engaging with the local community or many other things. At Lucerne House, our person-centred approach allows us to make every resident feel valued and comfortable enough to express themselves however they see fit.
My goal is to ensure that every person living at Lucerne House feels confident enough to make independent decisions and that each of them have a robust choice of activities and interests to engage with. I am always open to suggestions, so if you do have any, please do not hesitate to let me know. 
Show More
Darren Knockton
Hello, my name is Darren, I have just joined the Barchester group and I am very excited to be the Head Chef at Lucerne House.
Having come from the luxury hospitality sector I intend to bring my skills and knowledge into the kitchen to produce nutritious, seasonal, fresh and delicious recipes for our residents. My team and I take great pride and passion in our work and believe this translates into the food we serve.
Show More
Marylin Bibby
My name is Marilyn and I have worked at Lucerne House for over 15 years, and I have been Head Housekeeper since 2013. The home is a warm, caring and fun environment to work in. I am here to ensure that all cleaning and laundry services are to a very high standard, and I enjoy my job. 
Brenda Hurford
Meet our Resident Ambassador at Lucerne House, Brenda Hurford. Brenda has been living at Lucerne since November 2016 and has since become co-chairwomen of our residents committee, a great person for other residents in the home to bring feedback and suggestions to regarding the living experience in the home. Brenda has a background in the care setting as a specialist inspector for the Care Quality Commission. In her role as ambassador Brenda will have input into the home newsletter, be involved with the interview process, be introduced to any prospective residents & relatives who may wish to ask what life is like at Lucerne and attend local community events and forums on behalf of the residents of Lucerne House.
Show More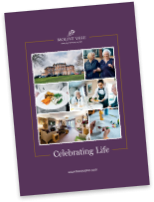 Read our brochure 'Providing great quality care and wellbeing' for more information on how we're here to help you and your loved one.
Read brochure
Food & Nutrition
Activities & Events
Care & Facilities
What happens now?
Are you ready to discuss your individual care requirements? Pick up the phone and talk to us, book a visit to our care home or come and take a look around our facilities.
Our fees and contract
We want to be as transparent as possible about how we charge for the different services we provide as well as what's included in our contract. Please click the links below to find out more about our fees and contract.
View typical fees
View Our Contract
Useful downloads
Here to help you make the right decision about your care requirements.
115