Meet the Laurel Bank Care Home team
From nurses and carers to chefs and housekeepers, staff in our home are here to deliver high quality care and services to those we support. Check below to meet some of the friendly faces you are likely to see when visiting our home:
Lyndsay Scott
General Manager
Hi, my name is Lyndsay, and I am the General Manager here at Laurel Bank.
I am an RGN and have worked in the care sector for over 20 years. I moved over to Lancaster in 2019 from the North East to work for Barchester.
I began my career as a care assistant in 1998 and found that I enjoyed the environment so much that I trained to be a nurse, then transferred to management.
As a manager of a care home, every day is different and, at Barchester, we endeavour to enhance the lives of all residents on a daily basis. We incorporate their life history's and interests when planning activities in the home so that they can live life to the fullest.
Jamie Hodgson
Hello I'm Jamie, I am the deputy manager here at Laurel Bank.  I have worked in the home for a number of years and joined initially as one of the homes activities Coordinator and then went onto becoming care practitioner.  I absolutely love my role and especially getting to know our residents and supporting the team in the delivery of high standards of care. Essential to our homely feel is the strong relationships of trust we build with residents and their families and friends.
Show More
Sally Fisher
Clinical Lead - RGN Nurse
Sally Fisher, holds the position of 'Clinical Lead' at Laurel Bank care home.  Sally was previously a Registered Manager for 6 years in another company & has now decided to follow her heart and return to a Nursing role as this also provides a great work life balance. Sally's passion Is around end of life care and working with the professional and caring team collaboratively at Laurel bank.  Sally feels she now has her "dream job" in a wonderful care home.
Show More
Deborah Kemp
Deborah is the Home Administrator. She is always here to offer you a warm welcome and is happy to assist you with any enquiries that you may have. 
Sally Kemp
I have worked in the care industry since I was 16 years old.  I was promoted to the role of Senior Carer before further progressing and studying to become a Care Practitioner. I have worked as a Care Practitioner in the local community before starting at Laurel Bank in 2021
Lois Crowe
Lois joined Laurel Bank as a Carer back in 2005 and was made a Senior Carer before training as a Care Practitioner. An absolute staple in our Laurel Bank community, she is loved and respected by both her colleagues and the residents here who know all too well what an excellent job Lois does and that nothing is too much trouble for her.
Show More
Joanna Karymow
Hi, my name is Joanna and I am the Head of Housekeeping here at Laurel Bank.  I joined the team in March 2021. I like talking to residents and making sure their rooms are clean and tidy.  I want to help residents remain as independent as possible. 
My role is to ensure that the home maintains Barchester's high standards and that we work to create a relaxed, personal atmosphere for residents, relatives and visitors. Myself and my team work hard every day to ensure the residents environment is to a hotel standard to provide a relaxed space for them to socialise..
Show More
Jaimy-Lee Almond
My name is Jaimy lee I started working here in 2018 as a carer and was promoted to Senior Carer which I thoroughly enjoyed for one year.  My hobbies Include making and crafting seasonal gifts which i give to my  family and friends. I have worked in care for over nine years and always had an interest in activities with residents. I recently was asked to help out with some activities I enjoyed it that much I wanted to stay on it because I found it so much fun. I love my new role as every day is different and I try to make sure the residents are happy and engage in meaningful activities, this also helps support the transition for new residents.
Show More
Grant Pritchard
Grant joined our team here at Laurel Bank in 2020 as a Second Chef but quickly wowed us all with his hard work, leadership skills and of course his delicious food. This all made him the perfect choice to step up to the role of Head Chef where he continues to wow us every day!
Lorina Lupton
I wanted to become a carer after I looked after my Nana and cared for her at home. I have loved working at Laurel Bank since 2020 and always take great satisfcation with me when I go home knowing I have made a difference to residents and their daily lives.
Georgie Boyak Scott
My name is Georgie I am admin assistant at Laurel Bank. I love working here at Laurel bank and getting to know new people. I assist with any admin work but I am always happy to help with any enquiries you may have and I look forward to my future here at Laurel Bank
Jenn Boyak Scott
Hi my name is Jenn I am activities assistant at Laurel Bank. I do have some experience in doing activities but Laurel Bank is different they are like a family. I love my job role at every day is different and I love to do different activities with the residents and learn new ideas from them.
Liz Cairns
Hi I'm Liz and I'm a housekeeping assistant here at Laurel Bank. I have worked here for around 3 years and during that time have worked on activities, reception and now in housekeeping. I absolutely love getting to know all the residents and their families and really enjoy working here at the home.
Show More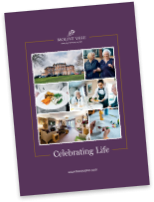 Read our brochure 'Providing great quality care and wellbeing' for more information on how we're here to help you and your loved one.
Read brochure
Food & Nutrition
Activities & Events
Care & Facilities
What happens now?
Are you ready to discuss your individual care requirements? Pick up the phone and talk to us, book a visit to our care home or come and take a look around our facilities.
Care enquiries
New care enquiry phone lines are open 8am - 8pm
01524 925 355
All other calls
Our fees and contract
We want to be as transparent as possible about how we charge for the different services we provide as well as what's included in our contract. Please click the links below to find out more about our fees and contract.
View typical fees
View Our Contract
Useful downloads
Here to help you make the right decision about your care requirements.
98