Reviews for Kingswood Court Care Home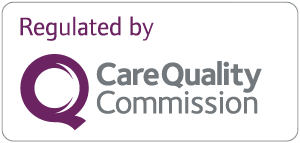 What our families say on carehome.co.uk
"Kindly, warm and engaging atmosphere. Good standard of care."
R E
carehome.co.uk rating: 5.00 out of 5
"Lovely place. Staff and environment are very friendly and helpful."
Jeanette P
carehome.co.uk rating: 5.00 out of 5
"I think this care home is five star. Very good with everything and helps in all my problems and I could not ask for a better home."
R S
carehome.co.uk rating: 5.00 out of 5
"Staff seem very friendly. My mum seems happy. Food is good. Facilities great."
Richard A
carehome.co.uk rating: 4.92 out of 5
"Very warm and welcoming staff in a lovely fresh setting that is being renovated to a high standard."
Tim E
carehome.co.uk rating: 5.00 out of 5
"It was a big decision to move into residential care at 72. However, the transition has been very easy, and I have been made very welcome by management, nurses, carers, cleaners and even maintenance. The care is excellent, as is the food, and I've never felt so clean! Showers made easy and a clean, tidy room every day! The only problem I have is trying to remember everyone's names!"
Susan J
carehome.co.uk rating: 5.00 out of 5
"Mum has been very well looked after during her two-week respite break. She was happy and cheerful whilst there, and all her needs were attended to. We were able to have a restful break. We would certainly bring Mum back to Kingswood Court when we have another holiday. Could recommend it to anyone."
Sandra T
carehome.co.uk rating: 5.00 out of 5
"My nan is really well looked after and happy, she likes the food and being able to settle in and watch her antiques shows."
Liam A
carehome.co.uk rating: 5.00 out of 5
"Excellent in everything - only been here a short time. Very caring and friendly. Food - good."
Susan J
carehome.co.uk rating: 5.00 out of 5
"Mum and Dad seem happy and settled."
R H
carehome.co.uk rating: 5.00 out of 5
"Both parents-in-law are happy and join in the activities."
G H
carehome.co.uk rating: 5.00 out of 5
"My nan has recently joined the care home. She has so far been cared for with high levels of professionalism and care."
Leah P
carehome.co.uk rating: 4.92 out of 5
"Mum has only recently moved into Kingswood Court, but her experience so far has surpassed expectations. It is a very homely, caring and supportive care home, and Mum seems very happy, which is very comforting to know and reassuring."
Paula P
carehome.co.uk rating: 5.00 out of 5
"Good."
Margaret G
carehome.co.uk rating: 4.75 out of 5
"Overall, a good review. I find the room is satisfactory due to the bathroom (which is being refurbished soon) and the trolly/table which is not always wiped down and can be very sticky. The staff are very friendly and welcoming with very good communication. This includes all areas of reception, kitchen, office, corridors and crucially care staff and nurses. Activities are amazing and available regularly with plenty of fun going on - especially music sessions."
Bridget C
carehome.co.uk rating: 4.00 out of 5
"The reception my mother, sisters, relatives and myself have received has been beyond my best expectations. Everyone is friendly, kind, caring and considerate. The ambience of the home is more of a five star hotel than a care home and full credit must be given to the staff and management. Mum's comments after her first evening were that everyone these wonderful and she feels very safe."
David H
carehome.co.uk rating: 5.00 out of 5
"The time has come again to put finger to keyboard for my latest review on Kingswood Court Care Home. There have been many improvements over the last year since Barchester Healthcare Ltd took over the care home, activities have improved greatly with more residents participating. Sometimes the staff can be rushed to get all the daily tasks completed in good time. The downstairs area has been improved greatly dining room and living room area and bathroom and toilets have been done to a high standard. Hopefully, this will continue to the upper levels in the foreseeable future. It would be nice if they had more trips out for the residents. Especially for those residents that have been in the care home for a long time. Food is generally good and the kitchen staff are always very helpful sometimes it would be nice to see a little more choice. Cleaning staff do a great job and are always very kind and caring and always take time to communicate with the residents."
Jeff B
carehome.co.uk rating: 4.17 out of 5
"Very good (excellent) care all around!"
S P
carehome.co.uk rating: 5.00 out of 5
"My first visit here was most enjoyable. I can see the residents are kindly cared for. All the staff have been welcoming and friendly. I am most impressed!"
Glenys K
carehome.co.uk rating: 5.00 out of 5
"We had a lovely visit today visiting a friend. The staff were very warm and friendly and caring staff who work very hard. The chef's cake was amazing."
Denise E
carehome.co.uk rating: 5.00 out of 5
"My friend seems to be well looked after, all staff seem very welcoming and happy, always happy to help."
Drew B
carehome.co.uk rating: 4.17 out of 5
"The lady I have been visiting for nearly a year had some serious leg blistering, she is now perfectly clear and okay. Thank you for your care."
Nigel P
carehome.co.uk rating: 5.00 out of 5
"Very friendly staff."
Mark G
carehome.co.uk rating: 4.33 out of 5
"The care staff are lovely to my husband and all staff are very welcoming to me as a visitor. A recent chest infection was treated immediately and monitoring of oxygen levels, temperature and blood pressure were taken every half hour when he was very poorly. Good communication by telephone also asked if I was happy with everything even when he was well. Managers are around and available too. I have no worries about leaving him and he is very happy and well-settled."
Bridget C
carehome.co.uk rating: 4.50 out of 5
"The care and support is excellent, the staff were polite, and respectful and treated me with dignity, and nothing was too much trouble. Management was polite, smart and helpful. My room was clean and the decor was up to date. Food was varied and nutritious and my needs/choices were met without question, the book was charming and helpful. Activities were varied and suitable. I felt safe and secure, also my personal property was respected. It's excellent value for money."
Joyce S
carehome.co.uk rating: 5.00 out of 5
"My husband was staying at Kingswood Court Care Home for two weeks of respite. We have used this facility last year and found it to be suitable for him. This stay has been different. I have booked further dates for later in the year."
Judy S
carehome.co.uk rating: 4.08 out of 5
"I am so pleased with all the care given to my mum!"
S P
carehome.co.uk rating: 5.00 out of 5
"Once again the time has come to write an updated review. Now that we have a much improved management /office team we are starting to see some major improvements to the activities and furniture in the building. We are all looking forward to an improved garden space in the future as at the moment it's a very underused space. As I have always said the carers are Very hard working they do the best they can in the trying time's were living in at the moment. But at times the staff can be very rushed trying to get things done and that can leave little time for interaction with the residents. Rooms in most cases are fine but some are on the small side and only a few have bathrooms I have noticed that rooms are done up when people leave so that's a good sign. Food is good in general and the kitchen staff try to be helpful if there's something you would like to have. A Little more on the menu would be nice to see. Cleaning is good and cleaners are always nice and friendly."
Jeff B
carehome.co.uk rating: 3.83 out of 5
"My mother-in-lawe became a resident at Kingswood Court in July 2017 following 20 years in a warden controlled flat. A lonely existence that dramatically improved when she moved to Kingswood Court. The door to her room was open to the banter of the staff and residents whilst entertainment was available by no pressure into taking part. Last year was her 100th Birthday and a party was arranged with her friends and staff with balloons, cards and cake. Due to Covid restrictions, her family were behind a sealed screen but a good time was had by all. This year is her 101st Birthday and visitors suite was laid on where a number of her family could at least hold hands, no friends from the home due to restrictions but many of the staff made themselves available which was extremely sweet. The last few years have been difficult for everyone but wherever possible Kingswood Court has tried to be positive to residents and visitors. Her health has now declined but Kingswood Court has put in place a plan that covers her additional support and comfort. I would wholehearted recommend Kingswood Court as being an exceptionally good care home."
S S
carehome.co.uk rating: 4.75 out of 5
"Mum was only at Kingswood Court for a very short time before her unexpected death. However, right from the beginning, I found all staff to be really helpful and friendly, and it was great to be able to visit inside before the move. There is such a lovely feel to the place, and the staff were always friendly, patient and interested in giving Mum the best they could, even when they were busy. The flexibility around 'in room' visiting was just what we needed and it meant so much to just spend time sitting with Mum, even when she was sleepy. I would have no hesitation in recommending it for this type of nursing care (and actually have done so already). It is so sad that care does not seem to be valued in the way it should be. The fact that someone was able to hold Mum's hand as she passed away is priceless. Care workers do a very challenging, amazing job and are entrusted with precious family members. They deserve more respect and proper financial recognition for the job they do!"
Karen S
carehome.co.uk rating: 4.58 out of 5
"I Visited Mum whilst an activity was being run by a Zoo Keeper. There were a few small animals introduced to the residents. Very professional presentation, informative and interactive. Everyone appeared to be enjoying the experience, it was so nice to see all the smiling faces in the room, and most interacted with much interest. So nice to see mum enjoying the activity. My sincere thanks to Kingswood Court, top marks from me."
Rick P
carehome.co.uk rating: 4.83 out of 5
"Staff always around this one helpful. The unit is clean. Food looks good."
C B
carehome.co.uk rating: 3.91 out of 5
"All the staff I have met have been welcoming and friendly and provide all the information I need when I am visiting Mum. These are very difficult and challenging times and the staff make it a very easy procedure to enable visits to take place. I have been impressed with the way Mum is treated by the staff in a very professional manner but retaining that human touch that makes me feel comfortable in the knowledge that Mum is living in a safe and friendly environment."
F P
carehome.co.uk rating: 4.25 out of 5
"Staff, overall very attentive and good at keeping you informed as to what is happening. They go over and above to mee the need of my mother. More attention needed on the new booking system, as we have experience confirmation not being passed to relevant staff, but overall very happy and satisfied with the treatment and wellbeing of my mum."
B D
carehome.co.uk rating: 4.42 out of 5
"Very good care. Arrangement for visits are very good too."
Teresa G
carehome.co.uk rating: 4.58 out of 5
"We have been on a visit a few times now and three times we have had to wait at least 30 minutes for mum to be brought in to see us."
J H
carehome.co.uk rating: 3.58 out of 5
"Very impressed with visiting arrangements during the current lockdown."
Julia T
carehome.co.uk rating: 4 out of 5
"Sometimes very late for visits. Only have 30 mins. Sometimes only get 10 mins. Staff apologetic."
N S
carehome.co.uk rating: 3.2 out of 5
"My mum has been a resident in Kingswood Court for a number of years, where she has received the highest standard of care from day one. All of the staff are kind, compassionate and knowledgable within their various roles and are happy to communicate openly with residents and their families, instilling confidence in the services provided. I have nothing but praise for them and would recommend Kingswood Court to all."
Steve C
carehome.co.uk rating: 5 out of 5
"Very friendly home. Would be good to have a summerhouse to sit in when the weather is good."
J T
carehome.co.uk rating: 4 out of 5
"Visiting arrangements at this home are not satisfactory. The building is on a very busy main road which is extremely noisy. Visitors sit outside and speak to the resident through the open door at reception. It is impossible to hold a conversation as neither party can hear each other. Also, this arrangement is going to be even worse during the colder months of autumn and winter. I feel there should be an indoor area of some sort where visits can be held safely and proper communication can take place."
B S
carehome.co.uk rating: 4.08 out of 5
"All the staff we have met since Mum joined Kingswood Court have been exceptionally helpful and friendly and have made Mum feel very welcome. Her room is lovely and Mum says the food is lovely too. She seems to have settled in well and seems happy. The home is also very conscious and Covid-friendly, looking after our loved ones first and foremost."
Jacquie B
carehome.co.uk rating: 5 out of 5
"Since my stepfather has been a resident (just over a year) the care and attention to detail have been amazing. The lovely lady who has an office on the ground floor, who I think is the manageress, and if she is not, should be, has been so professional and caring. She is not afraid of being hands-on, which makes her perfect for what she is doing. The first-floor staff is always happy to help and nothing ever seems too much trouble. My stepfather can laugh and joke with them and feel like part of a family. He is happy, we are happy, and he loves the food."
Paul O
carehome.co.uk rating: 4.33 out of 5
"Mum spent the last 22-months of her life in Kingswood Court, and during this time, she received outstanding care both medical and pastoral. The staff on their various approaches combined to make it a happy, homely place to live. Her ensuite room with views of the garden gave her great pleasure, as did the daily activities, especially the musical ones. The food was very nourishing and plentiful, but most of all, Mum felt safe, which gave us great peace of mind. During her stay, we were always kept up to date with all aspects of Mum's care and consulted if need be."
V J
carehome.co.uk rating: 4.75 out of 5
"Never had any worries or concerns in 3+ years. Always made to feel welcome, I was always advised of any health issues and plan of action. Staff competent and caring at all times; were willing to spend time for a chat. Overall, an excellent experience."
J H
carehome.co.uk rating: 5 out of 5
"My husband has been living at Kingswood Court Care Home for over five years, and during this time, he has been treated with dignity and has been receiving excellent care. The staff are friendly, and if I have had any questions regarding his health, I have been given all the information I need. The home is clean and welcoming, and there are activities for the residents to take part in, these activities are well attended, and everyone seems to enjoy them. I have had no concerns about my husband since he has been living at the home, and I know if there were any problems the excellent staff could contact me immediately."
J B
carehome.co.uk rating: 4.67 out of 5
"I feel that the food has improved considerably as of late. I feel that I can talk to people and get the questions answered. Some of the care team are amazing. One member of staff is a great care worker. Really happy to see the garden looking lovely again. Its been nice to be involved in the garden and to be able to sit with people outside. Good to be normal and social. Looking forward to a concert via Zoom."
Margaret G
carehome.co.uk rating: 4.17 out of 5
"At the most difficult times, you see the true worth of people in your life. And that can also be said for the people that have looked after my mum in the trying times of the last few months. Staff at the care home have gone above and beyond working long and extra hours to keep the residents safe and well. Mum can still see her friends and have a good chat as we can't visit at the moment so we know she's not sitting alone in a house. The care home has been taken over by Barchester Healthcare this year and many improvements have been planned already. There is also a new home manager who seems to be on top of things and gets things done. I would also like to take this opportunity to prise the deputy manager, who stepped in when the old manager left working very long hours to keep the care home going."
Jeff B
carehome.co.uk rating: 4.5 out of 5
"To me, the most important thing about a care home is the staff, care home buildings tend to be much of the same thing from place to place. CQC reports you have to take with a pinch of salt. Staff are hardworking and caring but they are rushed at times. Food is good, the only time there have been any problems is when temp cooks are used, the normal full-time cooks are good and helpful. Tea time meal tends to be a bit basic. Entertainment is on most days, things like bowling, bingo and outside singers, and also pet therapy. The entertainment staff are good. But some trips out would be nice. There are many different rooms, some smaller and some bigger, some have better views over the garden, some have views over the car park. They do have powered beds in each room and some of the rooms have a WC. Rooms are cleaned every day and seem to be decorated when someone leaves. Large garden at the front of the building but is underused, could do with updating to make it a better area for the residents."
Jeff B
carehome.co.uk rating: 3.83 out of 5
"My father was well looked after at Kingswood Court Care Home. From my first visit to the home, I felt well supported and felt that the care was individual. My father's end of life care was exceptionally good, delivered with great skill and care and compassion."
Jackie H
carehome.co.uk rating: 4.67 out of 5
"First observations: warm, friendly, caring, helpful, busy, clean, interesting, interested, efficient, understanding, happy. Good functional room, good outlook, well stocked, everyone is doing their best for the residents, hard-working, busy, helpful, efficient. These are my first impressions."
Margaret C
carehome.co.uk rating: 4.25 out of 5
"Mum came for respite over a two week period. She was treated with care, courtesy and dignity. When I came to collect her, she said she wanted to stay as she had enjoyed her time there so much."
J G
carehome.co.uk rating: 5 out of 5
"My mother is treated well and I have had no concerns over her comfort and welfare. The staff always ensure I am kept fully informed of any issues and following GP visits. I am always made to feel welcome when I visit (usually daily)."
Linda H
carehome.co.uk rating: 3.92 out of 5
Useful Guides and Information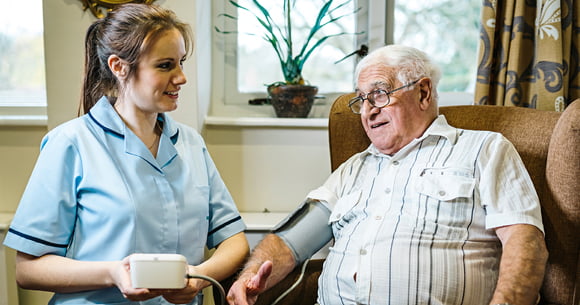 Care & Facilities
Our facilities are designed to the highest standards and the care we provide is delivered by passionate and highly-trained professionals.
Find out more about our care and facilities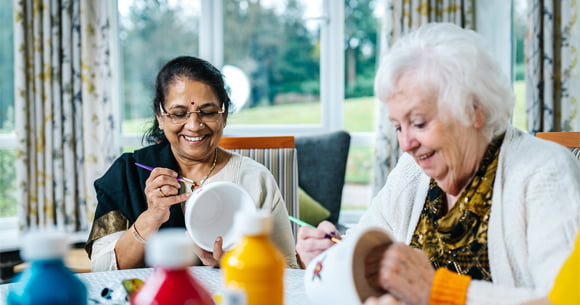 Activities & Events
Our activities programme is planned with individual tastes in mind, and residents always have the opportunity to try new and exciting things.
Find out more about our activities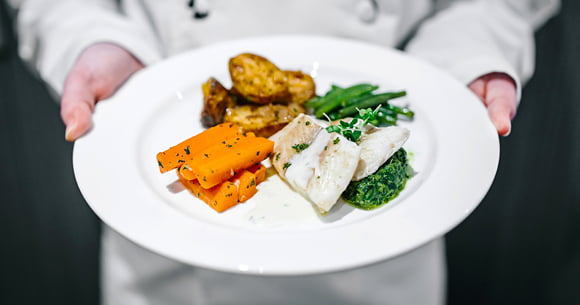 Food & Nutrition
We offer a constantly evolving menu that caters to the tastes and dietary requirements of those we support.
Find out more about our food & nutrition
Your next steps to finding care
Our team are here to help you when you are ready to talk about the care and support you need. Please call our team to arrange a visit and come and take a look around our home.
Call our team
Call our team for more information about our care home and to arrange a visit. Phone lines are open Monday to Friday from 9am – 6pm and on Saturday from 9am-5pm.
Send a message
We'll be happy to answer your questions about the next steps for moving into our care home. Send us a message online
Contact us
Download a brochure
Download our brochure to find out more about life in our care home
Download brochure
Frequently Asked Questions
What types of care does Kingswood Court Care Home offer?

Kingswood Court Care Home offers Nursing care, Residential care, Dementia care, Respite / Short stay.
52122