Meet the Hilderstone Hall Care Home team
From nurses and carers to chefs and housekeepers, staff in our home are here to deliver high quality care and services to those we support. Check below to meet some of the friendly faces you are likely to see when visiting our home:
Melanie Fenton
General Manager
Hi, my name is Melanie and I am the General Manager here at Hilderstone Hall. Welcome to our website!
Thank you for taking the time to look further into what we have to offer to you or your loved one. Here is an opportunity to look at some of our staff team in the home, who all play a vital role in day-to-day life.
I have a wealth of experience within Social Care. I endeavour to ensure high  standards are implemented to ensure that the home operates above the essential standards of  quality and safety that respect dignity and protect individual rights.  I am passionate about making a difference to the residents who live with us, and that the home is run in the best interests of the residents.
I commenced employment in the Care Sector in 1987. During this time I have worked in a variety of roles.  I started my career in Care as a Care Assistant, working my way up from a Care Assistant to the Registered Home Manager. I have been registered with the Care Quality commission for the last 22 years. I have longevity of employment only having two employers for the last 30 years.
Myself and my team look forward to welcoming you to our home.
Coral Brown
I began working as a Carer in my early career years and worked as such for 15 years both in an NHS hospital and in a care home.
I qualified as an RGN in 2001 and have worked as a Registered Nurse and then a Deputy Manager on a stroke unit for over 11 years prior to joining Barchester in 2018 where I have worked as a Senior Nurse and a Deputy Manager.
I have a lot of experience in care and will work my hardest to ensure your relatives get the best experience at Hilderstone Hall as possible.
Show More
Jackie Rich
Head of Memory Lane, Dementia Care Specialist
Jackie is Head of Care in our Memory Lane Community and has directed her career as a carer towards caring for dementia residents making people's lives easier with her person centred care approach
Sam Kidd
Sam joined as Activities Coordinator in 2021 and previously worked at a sister Barchester care home, Lawton Manor both as a Carer and an Activities Assistant. Sam delivers a varied life enrichment programme to the home's Residents.  Sam is a fully qualified beautician, fluent in BSL British Sign Language and also specialises in aromatherapy and holistic therapies.  Outside of work Sam values family time with her two young children.
Show More
Lesley Stirzaker
Housekeeping and Laundry Assistant
Housekeeping and Laundry Assistant Lesley Stirzaker began working at Hilderstone Hall in 2001
Lesley is dedicated to her work and exudes a positive attitude in all that she does for residents every day.  Lesley's long service is very much appreciated by all residents and colleagues
Joanne Macari
"Hi, my name is Joanne and I joined the home in 2014.  Within my role as a Hospitality Host I strive to create a stimulating environment for our residents so that we can give them the all-round care and support they deserve.
We want our homes to be warm and welcoming with interesting events and first-class hospitality. As a Hospitality Host, we have an important part to play in making sure that happens. In particular, we provide a friendly, engaging and helpful service in our dining room and bar areas. It's a fulfilling role that will gives a real opportunity to enhance the lives of all our residents and one in which I enjoy!"
Show More
Sarah Turner
Sarah joined the team working at Hilderstone Hall in 2021 as a senior Carer. Sarah enjoys her role within the care team and takes pride in her work. Sarah enjoys the challenges of her job and ensures people's day to day life routines are followed.
Tania Lane
Hi, my name is Tania Lane, I joined Barchester in 2016. I started as a housekeeper and worked my way up to the position of Head Housekeeper.  I take great pride in my work, I am so happy when residents really like how their rooms look and feel.  I also love to talk to the residents while I'm cleaning their rooms. I aim to help residents remain as independent as possible. I also especially enjoy facilitating new families and future residents' show arounds so that they can experience the home prior to move in.
Show More
Jennifer Henderson
Admin Assistant & Receptionist
I joined Barchester in 2022 as an Admin Assistant and front of house Receptionist.  I have worked in the care industry for many years and love my work.  I am here to offer you a warm welcome and happy to assist you with any enquiries that you may have.  I look forward to meeting and greeting all visitors to the home.
Show More
Charlotte Hagan
Charlotte thoroughly enjoys her role as a Carer, always positive and chatty with great conversation which brings much joy to residents.  As a local Charlotte feels the role provides a great work life balance which allows her to spend quality time with family.
Claire Smith
Hi, my name is Claire and I joined Barchester in September 2019 as part of the Housekeeping Team before transferring over to the Kitchen in 2022.  I enjoy working within the hospitality team talking to residents and making sure they are happy. I enjoy helping to serve the nutrient menu to all of our residents. I want to help residents remain as independent as possible.  I work hard to ensure that the home maintains Barchester's high standards and that they work to create a relaxed, personal atmosphere for residents, relatives and staff.
Show More
Karina Cosby
Karina joined the team at Hilderstone Hall in October 2021. Karina is a dedicated Carer who enjoys her role and the job satisfaction caring for others gives to her. Karina enjoys the daily hustle and bustle of the home and always happy to help others.
Emily Garner
Hello, my name is Emily and I have worked at Hilderstone Hall as part of the Nursing Team since 2022, before joining the team her at Hilderstone Hall I worked as a community Nurse so I feel I know the local area well. 
I love my role here and I am fortunate to have a hardworking team who see the residents as extended family. I enjoy taking the time to learn as much as possible about each new resident from their families and themselves. 
Show More
Sharon Masters
Sharon joined the team at Hilderstone Hall in June 2021 as a Senior Care before moving to join our kitchen team as 2nd chef in January 2022. Sharon enjoys her role and the job satisfaction catering for our residents. Sharon enjoys the daily hustle and bustle of the home and is always happy to help others
Show More
Lyle Mitchell
Hi, my name is Lyle and I joined the team at Hilderstone Hall in 2022 as Head of Maintenance.  Most of all I love the interaction and variety my role provides and I feel privileged to be able to make a difference in people's lives by ensuring their home is maintained and presented to a high standard. Prior to joining the Hilderstone team I worked in the theatre world.
Show More
Diane Mahoney
Hi my name is Diane Mahoney, I started working here in 2018. I enjoy working with the housekeeping team. I have worked in care for 25 years prior to arriving at Barchester. I enjoy getting to know each resident and making sure they have a clean environment to live in. I am very passionate about maintaining Barchester High standards and creating a clean happy atmosphere for residents, relatives and staff
Show More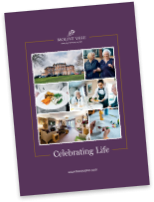 Read our brochure 'Providing great quality care and wellbeing' for more information on how we're here to help you and your loved one.
Read brochure
Food & Nutrition
Activities & Events
Care & Facilities
What happens now?
Are you ready to discuss your individual care requirements? Pick up the phone and talk to us, book a visit to our care home or come and take a look around our facilities.
Our fees and contract
We want to be as transparent as possible about how we charge for the different services we provide as well as what's included in our contract. Please click the links below to find out more about our fees and contract.
View typical fees
View Our Contract
Useful downloads
Here to help you make the right decision about your care requirements.
Frequently Asked Questions
What types of care does Hilderstone Hall Care Home offer?

Hilderstone Hall Care Home offers Nursing care, Residential care, Dementia care, Respite / Short stay.
79