Meet the Hawthorns Care Home team
From nurses and carers to chefs and housekeepers, staff in our home are here to deliver high quality care and services to those we support. Check below to meet some of the friendly faces you are likely to see when visiting our home:
Denise Findley
General Manager
Hi, my name is Denise, and I am the General Manager here at Hawthorns. I hope you find what you're looking for on our website!
I am a registered nurse and have worked in the private healthcare sector for over 25 years in a variety of roles, including operations, clinical and quality.
Now I am with the Hawthorns team and I am responsible for the running of this lovely home. My passion is to provide outstanding service and care for those who we support.
I live in the North East with my husband and dog and, in my spare time, enjoy travelling and ancient history.
Sharon Harwood
Elderly Frail Unit Manager
I qualified as an RGN in 1990 at Cleveland College of Nursing and Midwifery. I worked as a staff nurse at DarlingtonMemorialHospital as an Anaesthetic and Recovery nurse until 1994. I commenced employment at Hawthorns Care Centre on the Nursing Unit in August 1994 initially on night duty. I became Nursing Unit Manager in 2002. I have completed various clinical and academic courses including Diploma of Nursing, ENB Care of the dying patient and their family, Infection Control and Clinical services during my time as unit manager. The standard of care has been maintained and enhanced. The unit has an excellent reputation in the community and is well recognised as providing a high standard of care. The unit provides a variety of care including long term chronic disease, palliative/end of life care, intermediate care and long term care if the elderly frail. 
Show More
Jayne Cameron
I started working for the NHS in 1998 on a male acute admissions ward (mental health). I qualified as an RMN in 2001 and continued to work on a male admission ward as a qualified nurse.
Within 2 years, I was promoted to Clinical Lead Nurse. I stayed in this role for 3 ½ years before moving to a mixed admissions ward, where I worked until December 2018. I started working for Barchester as Head of Dementia in August 2018 – a role that I have found both challenging and rewarding.
Show More
Gemma Cope
I have worked in administration and finance since 1999 in various roles within different sectors. I have been at The Hawthorns since August 2019 ,where I started as an Admin Assistant. I took over the role of administrator in April 2020, and I am thoroughly enjoying my role. 
I am passionate about providing excellent customer service to our residents and relatives, and myself and my team make sure our fantastic colleagues are supported with all of their admin tasks
Show More
Claire Thomas
Hi, my name is Claire and I'm the Head Chef here at the Hawthorns.
My passion and love of food started when I was young, my mother and father have eclectic and adventurous tastes and this was reflected in my home life. Never one for just plain food, I cooked up Italian, Thai and other dishes on a regular basis. Holidays also provided an insight to food and culture which I then brought back and tried out, my favourites being Australian, Russian and Egyptian. This led to a career in catering and a degree in Hospitality Management from Robert Gordon's University, Aberdeen. I have worked in a variety of hospitality environments, including the Caledonian Thistle Hotel, Aberdeen and Edinburgh Universities, within the fine dining team cooking for Prince Phillip, Puccino's Cafe Bar and now here at the Hawthorns where I have been for the last 15 years! 
Show More
Deborah Flower
Unit Manager Downstairs Neuro Unit
My name is Deborah Flower and I have been a Qualified Adult Nurse for 29 years.  I have worked at the Hawthorns for 17 years as Neuro Manager and prior to that worked as a junior sister for 7 years on a Neuro Rehab Ward for the NHS.
Ralph Bossingham
Ralph is the music therapist at three Barchester care homes; Hawthorns, Billingham and South Grange.
He loves music in all aspects of his life. When not at work, he plays the saxophone in a soul band and piano in a small jazz project. Music is a huge part of his home life too. He recently became a father and has been enjoying introducing his baby daughter to the wonder of music.
Ralph's music therapy sessions brings fun and laughter to the homes he works in. Through music, he reaches out to people who may otherwise struggle to communicate and he has seen how music can restore or replace what has been lost socially. Music can help people regardless of their disability and illness and sharing in music is an incredibly comforting, positive and affirming activity.
Every Wednesday afternoon, Ralph runs a session called 'Sing with Ralph', which he says is one of the highlights of the week. The group is full of energy and fun. People in the group suggest songs they want to sing and they play all kinds of instruments including drums and glockenspiels. 
Show More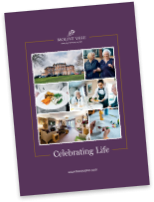 Read our brochure 'Providing great quality care and wellbeing' for more information on how we're here to help you and your loved one.
Read brochure
Food & Nutrition
Activities & Events
Care & Facilities
What happens now?
Are you ready to discuss your individual care requirements? Pick up the phone and talk to us, book a visit to our care home or come and take a look around our facilities.
Care enquiries
New care enquiry phone lines are open 8am - 8pm
0191 448 9332
All other calls
Our fees and contract
We want to be as transparent as possible about how we charge for the different services we provide as well as what's included in our contract. Please click the links below to find out more about our fees and contract.
View typical fees
View Our Contract
Useful downloads
Here to help you make the right decision about your care requirements.
73