Meet the Hagley Place Care Home team
From nurses and carers to chefs and housekeepers, staff in our home are here to deliver high quality care and services to those we support. Check below to meet some of the friendly faces you are likely to see when visiting our home:
Mary-Jane Jekiel
General Manager
Hi, my name is Mary-Jane, and I am the general manager here at Hagley Place. Welcome to our website!
I am a registered nurse and have been qualified for over 25 years. have worked in the private sector for many years, progressing my career and changing how we view and deliver elderly care.
I have exceptionally high standards and have a passion for improving quality and care delivery. I believe that the elderly population deserve care that is based around personal choice and preference and, most importantly, it has to be about them. I want our residents to have meaningful lives and enjoy every day through excellent care experience and life enrichment.
Our residents are the heart and soul of everything that we do here at Hagley Place.
Hayley Simmonds
I have been with Hagley Place for six years, I originally came as a Head of Unit on the nursing community. I am passionate about out the Memory Lane Community and in 2018 was awarded the 'Barchester Dementia Champion'. Supporting the team is a big part of my role and helping to build a strong team to deliver kind and compassionate care.
The best part of my role is knowing that I can make a difference.
Show More
Deb Thompson
Hi, my name is Deb and I'm a Nurse here at Hagley Place. I oversee the standard of care provided at the home. I offer guidance to my team of nurses, care practitioners, senior carers and carers to ensure the health, safety and well-being of those we support by delivering high standards of care whilst respecting dignity, privacy and wishes in a warm, friendly environment.
Show More
Marian Walker
Hi, my name is Marian and I am the Head of Memory Lane here at Hagley Place. I started my journey here as a nurse when the home first opened. I've been the Head of Memory Lane since 2017 and I love my role. It's always wonderful to see how I am making a different to residents' lives.
Michelle Thomas
My name is Michelle, I am the residential manager for Hagley Place and I have been with the team since April 2019. It is my responsibility to manage the residential communities at Hagley, supporting the team to provide excellent care for the residents that live there.
I have worked in Health and Social care for over 25 years and delivering outstanding care is my passion. I am committed to empowering the team to be the best that they can be. In my spare time you will find me having fun with my grandchildren or watching Star Wars with my husband Chris!
Show More
Oliver Powis
I started my journey at Hagley Place back in 2011 whilst working on the main construction of the home. On completion I was then offered a full-time position as part of the Maintenance Department. It's been so rewarding to have been a part of the initial build and now to be maintaining our beautiful home to a high standard. Some of my job roles within the home are to carry out inspections and testing, Painting and Decorating, PAT Testing and all other general maintenance tasks. 

I am also the homes Health and Safety Coordinator and The Green Leaf Champion working alongside one of my colleagues Stephanie Evans.

Alongside working at Hagley Place I'm also a Retained Fire Fighter in Ludlow for Shropshire Fire and Rescue Service, which is a great honour to be a part of a service which has a big impact on keeping our community safe. 
Both my job roles play a major part in mine and my family's life. I'm also a big family man, I thoroughly enjoy spending quality time with my beautiful partner Courtney and my amazing son Kian who is four.
Show More
Angie McAuliffe
Hi my name is Angie I'm the activities Coordinator at Hagley Place. I have been here since October 2019, my role is to organise and provide activities for our residents and help to maintain their wellbeing.
I have many years' experience in different roles within the care sector and I am able to develop excellent relationships with residents and their families! I am very passionate about the quality of activities which are provided to residents, and will work closely with the staff team to ensure these activities are appropriate and resident focused.
I will work hard to support the rest of our team to provide the highest quality of care possible.
Show More
Tracy Howells
Hi my name is Tracy and I am the Head Gardener at Hagley Place. I have been here since November 2019. I am passionate about creating an outdoor environment for the residents to enjoy.
I have made many changes in the short time I have been here working alongside the residents and families.
I also support the Head of Maintenance and very often step outside my job role to support the needs of the home and the residents. In my spare time I love to walk my dogs and often bring them in to see the residents.
Show More
Billie Howell
My name is Billie and I am a Senior Carer at Hagley Place. I help to support the team on the Nursing Community with the Nurse.
I have many years' experience in domiciliary care and coming into a Care Home has been a big change but one that has helped me grow into a strong leader. Making sure myself and team deliver excellent care is the always a priority.
Show More
Stephanie Evans
I have been at Hagley Place Care Home for 3 years. I first came as a bank domestic, then went onto being permanent. For the past year I took up the post of Head of Housekeeping. I am also Health and Safety Coordinator and very much get involved in the Green Leaf programme.
Jo Mitchell-Charman
Hi I'm Jo and I am a Senior Carer here at Hagley Place. I am quite new to the team but love it here! I have many years' experience in care and have been told my best quality is compassion. You will usually find me on the residential communities supported by Michelle.
The relationships I have with the residents are incredible and making sure I can make a small difference to their day means the world to me. In my spare time you will usually find me walking the dog with my family or relaxing in the garden.
Show More
Tori Trew
Hi I'm Tori, I am a Carer here at Hagley. I usually work on the Mountford Nursing Community which I love. I enjoy working closely with the other team member on the community to deliver outstanding care.
Spending time with the residents is something I try to prioritise especially walking with the residents through the gardens, which they love. I would like to eventually to become a Care Practioner.
Show More
Rebecca Walker–Thomas
Hi I'm Becky, I have been part of the Hagley Team since July 2019. I am new to the Care sector but I love it! I am fun and outgoing and I love spending time with the residents getting to know their personal history and enjoy listening to their stories.
I hope to further my career within Hagley and will hopefully become a Senior Carer.
You will find me spending time with my Fiancé Paul and watching anything Disney!
Show More
Hazel Litten
Hi, my name is Hazel and I'm a senior care assistant here at Hagley Place. I've been here since 2014. I really enjoy my role here at Hagley Place, and enjoy spending time with those we support.
Helen Skinsley
Hi, my name is Helen and I'm a Senior Carer here at Hagley Place. I started in 2018 and I'm really enjoying every day. I'm training on medication currently and mentoring new carers that join.
Meirion Woolf
Hi, my name is Meirion and I'm a senior care assistant here at Hagley Place. I started my journey at Hagley back in 2012, when I worked with the activities team, and now I'm a Senior Carer. I really enjoy making a difference to residents' lives, and I am passionate about ensuring that Hagley Place cultivates a 'home from home' atmosphere.
Show More
Leon Jones
Hi, my name is Leon and I'm a carer here at Hagley Place. I enjoy my role here and seeing what a difference we can make to the lives of residents.
I used to work at Hollyfields, Hagley Place's sister care home. I really enjoy my time there, but I transferred here to Hagley as I moved houses.
Show More
Francesca Short
Since joining Hagley Place I've loved being involved with the residents and getting to know them and their stories.  I enjoy the variety of my role and the fact that no two days are ever the same.  The genuine care and respect shown to all residents and staff provide such an engaging and enjoyable atmosphere.  I visited my mum here for two years whilst she was in care, and today it still feels like coming home.
Show More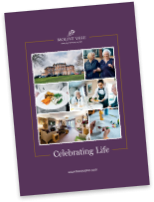 Read our brochure 'Providing great quality care and wellbeing' for more information on how we're here to help you and your loved one.
Read brochure
Food & Nutrition
Activities & Events
Care & Facilities
What happens now?
Are you ready to discuss your individual care requirements? Pick up the phone and talk to us, book a visit to our care home or come and take a look around our facilities.
Care enquiries
New care enquiry phone lines are open 8am - 8pm
01584 519 725
All other calls
Our fees and contract
We want to be as transparent as possible about how we charge for the different services we provide as well as what's included in our contract. Please click the links below to find out more about our fees and contract.
View typical fees
View Our Contract
Useful downloads
Here to help you make the right decision about your care requirements.
70