Meet the Field House Care Home team
From nurses and carers to chefs and housekeepers, staff in our home are here to deliver high quality care and services to those we support. Check below to meet some of the friendly faces you are likely to see when visiting our home:
Paula Wiggan
General Manager
Hi, my name is Paula, and I am the General Manager here at Field House. Welcome to our website!
I started working in the care sector when I was 20 years old after assisting my grandmother when she was ill, with the need for oxygen therapy.
When I lost my grandmother, I decided that I had lots to offer to the care sector, and that this is where I wanted to build my career. I started off as a care assistant and gradually worked my way up to a senior care assistant following  the completion of my NVQ level 2.
Following a break to start my family, I decided to pursue the career that I loved so much, gradually working my way up the ladder to Deputy Manager at a sister care home within Barchester.
In January 2021, I was offered a wonderful opportunity to become the General Manager at Field House and I was honoured and privileged to begin my journey as a General Manager at this home and build relationships with residents loved ones alike. 
Outside work, I enjoy spending time with my family and friends and I am currently studying to complete an NVQ level 5 in Management & Leadership.
Amanda Vincent
Hello, my name is Amanda and I am Deputy manager here at Field House.
I have been working in the care sector for the past 13 years, prior to this my career had been in education but after losing both of my parents in a very short space of time and having a really negative experience with the nursing home Dad was in I decided that I needed to give something back and that I wanted to make a real difference to people's lives, the care they receive and the whole care experience for families of those in care. I began my career in care at one of Barchester's sister homes where I started as a care assistant and over the years worked my way to Senior and then Team Leader.
I then left Barchester as I wanted to further my experience's of varying types of care and began a role as Team Leader working with people who have acquired brain injuries, a role which was equally rewarding but I found myself missing the care home environment. I returned to Barchester in November 2021 as Head of Care at Field House and knew within weeks that this was where I wanted to settle and build my career as I feel so privileged to be part of such an amazing team. In February 2022 I was promoted to Deputy Manager and feel so lucky to have gained this position as all I want to do is ensure that the highest quality care is given to all our residents and that the whole team are inspired and encouraged to be the best they can be.
Outside of work I spend my time with my family and friends who support me no end to achieve my own personal goals.
Show More
Lel Leigh
Hi, my name is Lel, and I am the administrator here at Field House.
Amy Pugh
I come from a background in hospitality, having trained for a Modern Apprenticeship in Hotel Management. Then I progressed to working in a pub/hotel. Having worked in this environment, I became increasingly interested in the maintenance side of running an establishment.
I worked in a local hospice for twelve years in the laundry department and branched out into maintenance and stewarding whilst there.
In my spare time I enjoy woodworking, and create furniture out of used pallets.
I joined Field House to be part of this great team, and wanted to maintain the high standards within the home and ensure the residents' environment is always comfortable.
Everyday has been an enjoyable day in my job; I love the work I do and the environment I work in.
Show More
Hannah Bytheway
I started with Barchester in December 2020. I work with a wonderful team. I have always worked in the care sector. Before I had my little boy I worked in the ophthalmology department in Birmingham. In the long term I am aiming to become an ophthalmic technician.
Melissa Jones
Hi, my name is Melissa and I am a care assistant here at Field House.
Sarah Scholes
Hi, my name is Sarah, and I am a senior care assistant here at Field House.
Stephanie Bytheway
Hi, my name is Stephanie, and I am a Care Assistant here at Field House.
Sophie Williams
Prior to coming to Field House, I worked in retail and then spent five years at home raising my beautiful daughter. I thoroughly enjoyed coming into the care sector; it feels really rewarding every day when I go home, to know that I have made a difference to so many people's lives.
Keri-Jade Sutton
Hi, my name is Keri-Jade, and I am a Bank Care Assistant here at Field House.
Tanya Evans
Hi, my name is Tanya, and I am a Care Assistant here at Field House.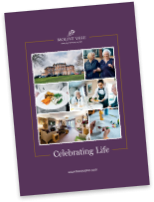 Read our brochure 'Providing great quality care and wellbeing' for more information on how we're here to help you and your loved one.
Read brochure
Food & Nutrition
Activities & Events
Care & Facilities
What happens now?
Are you ready to discuss your individual care requirements? Pick up the phone and talk to us, book a visit to our care home or come and take a look around our facilities.
Care enquiries
New care enquiry phone lines are open 8am-8pm
01694 628831
All other calls
Our fees and contract
We want to be as transparent as possible about how we charge for the different services we provide as well as what's included in our contract. Please click the links below to find out more about our fees and contract.
View typical fees
View Our Contract
Useful downloads
Here to help you make the right decision about your care requirements.
61