Meet the Cheshire Grange Care Home team
Our trained team of professionals work together to create the best possible experience for those living in the home, striving to deliver excellent care services in a warm, homely environment. You can find out more about some of our wonderful staff members below:
Dawn Holsgrove-Smith
General Manager
Welcome to Cheshire Grange Care Home; my name is Dawn and I am the General Manager here.
I have been working within the care sector for the past 15 years, I started my career as a support worker supporting adults with learning disabilities, and later I was promoted to team coordinator, after that I was promoted to Head of service managing 3 services. Due to my own personal circumstances I developed a real interest and passion for improving dementia care, this led to my transition into older peoples care first as a deputy manager, and then finally as a registered manager.
I then went on to become a qualified person centred dementia care trainer and was fortunate enough to be trained by Teepa Snow, who is one of the leading educators on dementia and the care that accompanies it.  
Throughout my 15 years' experience that spanned across different providers, I have acquired tremendous knowledge and understanding of the care sector, and I have gained valuable insight into both the challenges and the rewards of delivering high standards of quality and person centred care.     
As the General Manger my aim is to ensure that my team continue to deliver a high standard of person centred care to our residents, placing them at the heart of everything we do.  I believe in an open door policy with everyone here at our home. Do feel free to pop in and meet our wonderful team and ask any questions that you may have, we are all more than happy to help.
Lizzie Overend
I qualified from the University of Chester with a diploma in Adult Nursing in 2010. Since qualifying, I have specialised in later life and dementia care within the private sector. I keep my practice current and up-to-date by attending training sessions internally and externally, and in 2013, I achieved an additional Dementia Mapping qualification through the University of Bradford. 
In 2015, I achieved a Bachelor of Science qualification in Nursing, specialising in 'Care of the Older Person' at the University of Wolverhampton.
Outside of work, I enjoy watching rugby, spending time with my family, especially my daughter and dining out with friends.
Show More
Rebecca Goldstein
My name is Rebecca and I am the Home Administrator at Cheshire Grange Care Home. It is my role to support the General Manager by maintaining the administration, HR and financial systems within the home.
I'm new to Barchester, only joining in 2020, but after working in care home settings for many years, I feel at home and love all that Barchester stands for! It is my hope that I can utilise my skills and knowledge and only add to the amazing care that goes on at the home.
I will be here to help families as they find the right care for their loved ones and navigate their way around fees and funding. I will always be here with a warm welcome and happy to assist with any enquiries you may have. 
Show More
Jo Eland
After originally starting at Cheshire Grange in May 2015, I'm delighted to be back in the role of Activities Coordinator. It is a privilege to be in this role and spend time, getting to know our ladies and gentleman and their loved one, whilst doing all the fun things that can make such a difference to their days.
Show More
Joanna Pimlett
My name is Joanna Pimlett and I am Head of Nursing for Nights here at Cheshire Grange. I have been a Registered Nurse for over 20 years and have a real passion for elderly care. My role here at Cheshire Grange is to ensure all our residents feel safe, secure and loved and that their families feel content in the knowledge their loved ones are being well cared for. I am extremely proud of my night team of Nurses, Senior Carers and Carers and together we ensure we maintain a professional, relaxed and friendly environment. We ensure we respect our residents' privacy and dignity at all times and work hard to promote a homely atmosphere.
Cheshire Grange and those who live here are as much in our hearts as those who love them, we will always strive for the best for our residents, families and our team.
In my spare time I enjoy spending time with my family, reading books and walking with friends.
Show More
Hannah Murray
Hello my name is Hannah, and I qualified from the Edgehill University with Bsc Honours Degree in Adult Nursing in 2014. Since qualifying I have specialised in the care of the elderly, and Palliative care. I keep all of my practice up to date and I am extremely passionate with Tissue Viability and wound care and I am the Tissue Viability link Nurse for Cheshire Grange.
I joined the team as a bank Care Assistant in 2013 whilst completing my Nurse training, and continued working at Cheshire Grange as a Nurse post qualifying in 2014. I was then promoted as Senior Nurse in 2018 and was then very proudly promoted as the Head of Nursing in 2019.
Since becoming the Head of Nursing I have enjoyed working alongside the management in keeping the home safe and the residents and staff happy and thrive for a positive and happy community.
Outside of work I enjoy spending time with my two young Sons, and my Husband. I enjoy spending time with friends and family and catching up on the soaps.
Show More
Mandy Glindon
I've been with Barchester for 30 years, joining Cheshire Grange when it opened in 2012. I am passionate about cooking and I love my role at Cheshire Grange. One of the best parts of my job is meeting our residents and finding out what their likes and dislikes are - I truly enjoy preparing home-cooked favourites and it's very rewarding to see everyone enjoying chatting over a delicious meal and a glass of wine.
I love to work with the nursing and care teams to ensure that the food is not only tasty but also nutritious. I enjoy the challenge of preparing special diets for anyone who may need to have things done a little differently and strive to ensure all meals are appetizing and presented beautifully. In my spare time I enjoy spending time with my family especially when we can all get together for a big family meal - which is usually cooked by me!
Show More
Carl Marsden
Having worked with Barchester for over 10 years, I was really happy to join Cheshire Grange on opening. As well as my responsibility for the upkeep of the home, I am also the Health & Safety Champion. I thoroughly enjoy my role and take great pride in keeping our home safe and well-maintained. I have a great deal of experience in this area and this has given me a wealth of knowledge that I put to good use for the benefit of everyone at Cheshire Grange.
Show More
Amy Fitzpatrick
Hi, my name is Amy and I am Head of Housekeeping and have worked at Cheshire Grange since 2014 in the role of  Housekeeping Assistant. I enjoy working with the housekeeping team. I like talking to residents and making sure their rooms are clean and tidy. I want to help residents remain as independent as possible.  I work hard to ensure that the home maintains Baychester's high standards and that they work to create a relaxed, personal atmosphere for residents, relatives and staff.
Show More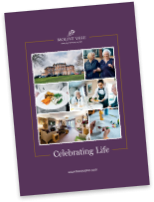 Read our brochure 'Providing great quality care and wellbeing' for more information on how we're here to help you and your loved one.
Read brochure
Food & Nutrition
Activities & Events
Care & Facilities
What happens now?
Are you ready to discuss your individual care requirements? Pick up the phone and talk to us, book a visit to our care home or come and take a look around our facilities.
Our fees and contract
We want to be as transparent as possible about how we charge for the different services we provide as well as what's included in our contract. Please click the links below to find out more about our fees and contract.
View typical fees
View Our Contract
Useful downloads
Here to help you make the right decision about your care requirements.
Frequently Asked Questions
What types of care does Cheshire Grange Care Home offer?

Cheshire Grange Care Home offers Nursing care, Residential care, Dementia care, Respite / Short stay, Services for under 65.
45