Meet the Bloomfield Care Centre team
Our trained team of professionals work together to create the best possible experience for those living in the home, striving to deliver excellent care services in a warm, homely environment. You can find out more about some of our wonderful staff members below:
Jing Wen
General Manager
Hi, my name is Jing Wen and I am the General Manager here. Welcome to our website!
Julia Maphosa
My name is Julia,
I have been working at Bloomfield for 11 years and I absolutely love my job, helping others means so much to me and no 2 days are the same. I started here as a carer and worked my way up to unit manager. In my spare time I like to spend it with my family.
Emily Lamb
Hi my name is Emily and I am the Home Administrator here at Bloomfield Care Centre. I have worked at Bloomfield since August 2020. My hobbies include watching my children play Rugby and looking after my very own birds of prey. 
Claire Perry
My name is Claire Perry
I have worked at Bloomfield for 6 years, I started out as activities assistant and then moved on to reception/admin assistant for the last year.
I really enjoy my role here at Bloomfield and knowing I make a difference to the whole home is key,
In my spare time I like to go away with my partner and visit my daughter.
Show More
Lisa Iles
Hi, I'm Lisa, I've been at Bloomfield for over 12 years in various roles, starting as a Hostess. I am currently working within the activities team, which I love. I really enjoy making the residents smile. maintaining their independence and generally brightening their day with the fun activities we do.
Show More
Pawel Kwaitkowski
I began my catering career at Bloomfield in January 2011, when I held the post of kitchen assistant, as time passed my love of cooking grew and I found myself experimenting with menu's as a second chef, a post I held for seven years before being promoted to head chef this year. I pride myself on the quality, taste and the presentation of my dishes for residents to enjoy.
Show More
Anna Cacayan
I started my journey with Barchester in 2002 as a nurse, before being promoted to Unit Manager on our Memory Lane community.
I am passionate about working with the elderly and I am focused on providing the best possible care for them. I do believe that my team is caring and provides the best possible person-centred care to our residents.
Show More
Dee Gulliford
I have been at Bloomfield since 1990. I have been in the care for even longer, and I find it very rewarding. I like to ensure that all residents are cared for as if they were my own family. I think it is important that they feel well-supported and as at home as possible.
Emma Brown
Senior Healthcare Assistant
I first started at Bloomfield in 2005 as a weekend Receptionist. By 2007, I was a Senior Carer. In 2016, I was given an opportunity in a more senior role within a different care company. After 6 months there, I realised that I wanted to be in a more hands-on role, and was lucky enough to be taken on by Bloomfield again. I find working at Bloomfield to be very rewarding, and I am open to new challenges each day.
Show More
Marvie Tero
Hi, I am Marvie and I am from the Philippines, I joined Bloomfield in January 2021,
Caring for others is something that is very close to my heart, I am working hard to progress my career and learn new skills each day, the team here at Bloomfield is amazing and we support each other to be the best we can,  in the short time I have been at Bloomfield I have already been made head of unit. 
In my down time I like to listen music, go for walks and enjoy the outdoors as much as i can.
With the help of the Barchester learning program I hope to continue to develop and move my career forward. 
Show More
Tanya Griffiths
I have worked for Barchester at Bloomfield Care Centre for over 2 years now. I really enjoy my role. I am always happy to take on new challenges and embrace them all.I love spending time with all the residents and hearing their stories. 
Alison Wilkinson
I have worked at Bloomfield Care Centre for 8 years now. I love my role and the team I work with. Before joining the team here i supported people in their own homes. I feel I have lots of experience in both fields. The most rewarding thing is making sure people are at ease and comfortable in their surroundings.
Show More
Lucy Mills
I started my career with Barchester in Oct 2020. Previously to this i worked in retail for a large clothes store. I currently work on our Memory Lane community supporting people living with dementia. I find this aspect of care really rewarding. I enjoy being part of a great team too.
Teresa Buck
Senior Healthcare Assistant
I have worked at Bloomfield since 2020. Previous to this i was a carer out in the community. Making people smile is the reason I do what i do and i just love it.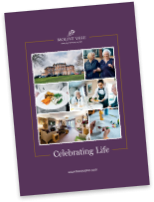 Read our brochure 'Providing great quality care and wellbeing' for more information on how we're here to help you and your loved one.
Read brochure
Food & Nutrition
Activities & Events
Care & Facilities
What happens now?
Are you ready to discuss your individual care requirements? Pick up the phone and talk to us, book a visit to our care home or come and take a look around our facilities.
Care enquiries
New care enquiry phone lines are open 8am-8pm
01761 441 511
All other calls
Our fees and contract
We want to be as transparent as possible about how we charge for the different services we provide as well as what's included in our contract. Please click the links below to find out more about our fees and contract.
View typical fees
View Our Contract
Useful downloads
Here to help you make the right decision about your care requirements.
25