Yvonne McCord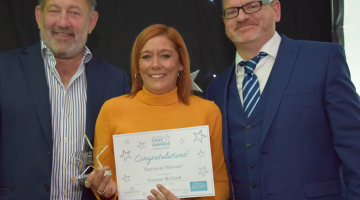 Staff and residents at Chester Court in Bedlington are celebrating after Care Assistant, Yvonne McCord, was named 'Carer of the Year' at the Barchester Care Awards 2018.
Simon Richell, Care & Quality Manager Diverse Services at Barchester, and a judge for the Carer of the Year category described Yvonne as "emotional and warm, with a caring personality. Yvonne won divisional winner for being an excellent role model for her team and her peers. Freely dedicating her own time above and beyond her working hours, Yvonne's passion for care is a core part of her character, and it shows in her close friendships with the people she cares for. Building trusting relationships with residents is so important to their peace of mind, and Yvonne's dedication truly sets the standard of care."
Congratulations Yvonne!
Other Finalists: