Meet the White Lodge Care Home team
Our staff are what hold the home together. Each one of these team members are dedicated to providing high quality care and services to those we support, and ensuring that residents enjoy all aspects of life at our home. See below to meet some of our friendly faces:
Ramona Gherendi
General Manager
Hello - my name is Ramona Gherendi. I am the General Manager here at White Lodge. Welcome to our website!

I began my nursing career in 2004 in Romania as a cardiac nurse and moved to the UK with my family in 2011. I have worked in adult general nursing in the UK since then.
I joined Barchester Healthcare in 2018 as a Clinical Lead and was promoted to Peripatetic Deputy Manager in 2020. I am proud to have now been appointed General Manager of this lovely, rural home, White Lodge.

I love working in nursing and care and am committed to delivering person-centred support for residents at White Lodge. Over the years I have worked in various care environments where I developed a particular passion for palliative care.

My focus at White Lodge is to ensure residents have the best possible life and experiences every single day, supported by the skilled and caring team here.
I get to know every resident personally and my door is always open to them and their families.
Ioana Morar
Hello. I am Ioana Morar and I joined the White Lodge team as Deputy Manager in July 2020. I began my nursing career in 2004 in Romania as an orthopaedic nurse and I moved to the UK with my family in 2013. I have worked in the care sector since then and I am passionate about working closely with families to offer support and guidance on the most appropriate type of care for their loved ones. I believe it is important for care staff to understand what a difficult and emotional journey this can be for residents and their families. White Lodge is a beautiful home and I am very pleased to be working with such hardworking, caring and supportive colleagues.
Show More
Elizabeth Sikazwe
Hello. I am Elizabeth. I qualified as a nurse in 1985 and joined White Lodge in 2003 as a RGN. I was later promoted to Unit Manager and am now Clinical Lead. I really enjoy making sure residents get the medical support they need to feel as well as they can. I oversee clinical training for the White Lodge team and I ensure residents have their medication and treatment reviewed regularly. I also make sure that nursing processes are understood and followed by the team.
Show More
Thresiamma Skariya
Hello. I am Thresiamma and I qualified as a nurse in 1984. I joined the  White Lodge team in 2006, as a Senior Nurse. Over the years I have undertaken additional training and been promoted to Unit Manager on the Treetops Unit. I really enjoy my role, ensuring that people get the care and support they need in our lovely community. I also like getting to know resident's families, so that they are reassured their loved ones are well looked after.
Show More
Nita Rana
Hello. I am Nita. I joined White Lodge as a Carer in 2018 and have since qualified as a Care Practitioner. I am originally from Nepal and now live in Swindon with my family. I enjoy my work at White Lodge, supporting residents with their care and making life as comfortable and enjoyable as I can. I work with a great team here and I feel encouraged to develop my professional skills. I like meeting new residents and their families so that I can make their move here as smooth as it can be.
Show More
Margaret Scott
Hello I am Margaret, White Lodge's Activities Coordinator.  I have worked in activities for many years and love working with residents to make their lives fun and interesting.  Having fallen for an Irishman I moved across the world from New Zealand just over 10 years ago to start a new life in the UK. 
I am experienced at working with those living with dementia and I am committed to a person centred approach that is resident led. I like to lead a regular schedule of activities that is in line with Barchester's Life Enrichment Programme focussing on mind, body and soul, along with special events.  
Show More
Carol Suckling
Hello I am Carol the White Lodge administrator.  I have worked as an administrator for Barchester for over 20 years.  I worked at Rose Lodge in Cambridgeshire for 14 years, then from 2014-2020 I worked for a divison of Barchester as the National Support Administrator, supporting homes all around the country.  Originally from Swindon and with our children no longer at home we made the decision to move back to Swindon and I started working at White Lodge.   
I thoughly enjoy working in care homes supporting the residents and families.  
Show More
Bret Richardson
Hello I am Bret, I recently joined White Lodge as Head of Maintenance.  I am skilled carpenter and decorator and take pride in all of my work.  With Carl's landscaping knowledge we look forward maintaining this beautiful home.
Tracy Richardson
Hello. I am Tracy, Head housekeeper at White Lodge. I am responsible for cleaning, housekeeping and infection control as well as managing the other members of the Housekeeping Team. We ensure residents' rooms and shared areas are cleaned daily and I maintain stock levels of the products and equipment essential for keeping White Lodge clean, tidy and safe for residents, visitors and staff. I enjoy my role and like to meet all residents and their families.
Show More
Resident Ambassador
Hello. I'm Jeanie and I was born in Glasgow. I was Matron of a care home for many years and I am looking forward to my role in helping new residents settle into the home. I like to be active and I enjoy gardening and meeting new people.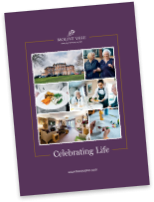 Read our brochure 'Providing great quality care and wellbeing' for more information on how we're here to help you and your loved one.
Read brochure
Food & Nutrition
Activities & Events
Care & Facilities
What happens now?
Are you ready to discuss your individual care requirements? Pick up the phone and talk to us, book a visit to our care home or come and take a look around our facilities.
Care enquiries
New care enquiry phone lines are open 8am - 8pm
01666 718 341
All other calls
Our fees and contract
We want to be as transparent as possible about how we charge for the different services we provide as well as what's included in our contract. Please click the links below to find out more about our fees and contract.
View typical fees
View Our Contract
Useful downloads
Here to help you make the right decision about your care requirements.
202