Meet the Newlands Care Home team
Our wonderful team comprises nurses, carers, activities coordinators, chefs, housekeepers and more. These people are here to ensure that residents enjoy their time at the home and are supported to live life to the fullest. Meet some of our staff below:
Kim Whelan
General Manager
Hello, my name is Kim, and I am the General Manager here at Newlands. Welcome to our website!
I have worked for Barchester since January 2019. I relocated here to Workington from County Durham. I have been a registered nurse since 1982, and I have worked predominantly in the social sector in nursing and care homes. I have a special interest in working with people who are living with dementia.
Here at Newlands, we endeavour to enhance the lives of all of our residents. We are proud of the care we offer and would be delighted to show you around our home.
I would like to introduce to my lovely team, and look forward to meeting you.
Sharronn Eufemio
Hi my name is Sharronn, I have been a Registered General Nurse since 2005 and have predominantly worked within the nursing home environment during my career and I enjoy working with our elderly generation. I have recently taken on the role of Deputy Manager here at Newlands Care Centre and I am enjoying working within the team.
Show More
Lee McAllister & Walter Brash
Hi, we are Lee and Walter and we are the Maintenance team here at Newlands. 
Lee joined the team in February 2017. In maintenance we get lots of opportunities to interact with residents whilst visiting their rooms to attend to various tasks.
We carry out a wide range of work in-house that all aids towards the care and safety of those we support. This is an extremely enjoyable role to have.
Show More
Sachin Karkannavar
Hi, my name is Sachin and I am the Head Chef here at Newlands.
I have a Bachelor's Degree in Hospitality & Culinary Art, after which I joined the Accor group of hotels in India as Kitchen Executive Trainee in 1997, upon completion I went on to explore the world and joined the Cruise industry in 1998 to 2019 in which time I rose from CDP to Head Chef in 2014, I have been based in Cumbia since 2012.
I joined as Head Chef at Newlands in November 2020 and have been passionately creating healthy nutritious balanced diets for our residents, I have found the environment at Newlands second to none.
Show More
Allison Wilkinson
Hi my name is Allison, I have worked at Newlands since 2007 and became head housekeeper in October 2021. I love being here for the residents and it makes my day to see them smiling and having fun.
Judith Birbeck
Registered Mental Health Nurse
I am a Registered Mental Health Nurse and I have been working at Newlands since 2019. Making a difference to our residents is fundamentally the biggest privilege within our role. I am passionate about providing the best practice palliative care, supporting both residents and family during the most difficult of times.
Show More
Lisa Moffat
I came to Newlands in 2020 and I am a Registered General. My passion is in palliative care and work with people with dementia.
Lynsey Braber
I am a Registered General Nurse and have had various roles in the NHS and community. I came to Newlands in 2020 and my passion is in wound dressings and helping people who suffer with mental health issues. 
Sara Robinson
I have worked for Barchester for over 23 years starting as a carer, progressing to a senior carer and in 2017 became a care practitioner. My team and I strive to make each resident's days as meaningful and fulfilling as possible.
Wendy Taylor
I am a care practitioner on the Lakelands unit. I started my career as a carer in 2016 and trained as a care practitioner in December 2019. I love spending time with the residents and hearing all their stories; it's like a history lesson every day.
Housekeeping Team
We would like to introduce members of the Housekeeping team here at Newlands who work hard to ensure that the homes environment is maintained to a high standard. They work hard to create a relaxed, personal atmosphere for residents, relatives and staff.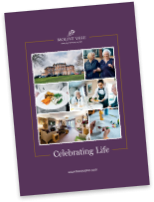 Read our brochure 'Providing great quality care and wellbeing' for more information on how we're here to help you and your loved one.
Read brochure
Food & Nutrition
Activities & Events
Care & Facilities
What happens now?
Are you ready to discuss your individual care requirements? Pick up the phone and talk to us, book a visit to our care home or come and take a look around our facilities.
Our fees and contract
We want to be as transparent as possible about how we charge for the different services we provide as well as what's included in our contract. Please click the links below to find out more about our fees and contract.
View typical fees
View Our Contract
Useful downloads
Here to help you make the right decision about your care requirements.
135