Meet the Longueville Court Care Home team
Our wonderful team comprises nurses, carers, activities coordinators, chefs, housekeepers and more. These people are here to ensure that residents enjoy their time at the home and are supported to live life to the fullest. Meet some of our staff below:
Constantin Ulian
General Manager
Hello, my name is Constantin, and I am the General Manager here at Longueville Court. Welcome to our website!
Originating from Romania, I finished my Registered Nurse training in 2012 before moving to the UK in 2013. I'm passionate about providing the highest of quality care across all our residential, nursing and dementia friendly communities. Through continued personal development and workplace training at advanced nurse, and management levels I'm in a strong position to provide support and guidance to the Longueville team.
I have worked within several large, and small care organisations, before joining the Barchester family in 2020. Now in the position of General Manager at Longville Court I warmly embrace the opportunities this position will give me. At Longueville Court we pride ourselves on our excellent care and the skills our staff possess.  It is my aim to maintain and strengthen the happy, friendly and caring environment our residents, and visitors to the home deserve.
Louise Haigh-Walsworth
I qualified as a nurse in 2009 and began my career in acute medicine in Yorkshire. I then moved to London where I gained a wide range of skills and experience working for a nursing agency across the city for 4 years. After that I moved to Peterborough and joined Longueville Court as a nurse in 2016. I was promoted to Unit Manager of our Young Disabled Persons' unit, which I thoroughly enjoyed. I then became Clinical Lead, and in 2022 was promoted into my current role of General Manager. Residents and staff here at Longueville Court are incredible and make each day enjoyable.
When I am not at work I enjoy spending time with my family and friends, and jetting off to see various parts of the world. I am also an avid supporter of Leeds United football club.
Show More
Emma Messenger
Hello. I am Emma and I have worked for Barchester Healthcare at Longueville Court since March 2016. I work with a brilliant team in the Administration Department and have been made to feel extremely welcome within the home. I find my job extremely enjoyable and rewarding, and I look forward to my future with the company.
Show More
Denise Slack
Hello, my name is Denise and I have worked at Longueville Court for 19 years! I love my job and the home, meeting and greeting all new residents, their families and friends to our beautiful home. I work within the amazing administration team and thoroughly enjoy coming to work. Longueville is a wonderful community, our residents and staff are like one big family. I look forward to meeting you soon.  
Show More
Helen Davies
Hello, my name is Helen and I'm a Unit Manager at Longueville Court. I'm a qualified nurse and I've worked within this beautiful home for over 20 years. I enjoy meeting new people, and getting to know our residents, we are a super team who work well together. In my spare time I love eating out, and finding new Sea Food restaurants and Antique shops to browse. 
Show More
Daniela Birladeanu
Hello. I am Daniela and I am responsible for cleaning, housekeeping and infection control as well as managing the other members of the Housekeeping Team. We ensure residents' rooms and shared areas are cleaned daily and I maintain stock levels of the products and equipment essential for keeping Longueville Court clean, tidy and safe for residents, visitors and staff.
Show More
Lee Dixon
Hello. I am Lee. I joined Longueville Court in March 2019 and it is my responsibility to maintain the home and gardens and to arrange for repairs when necessary. I also have responsibility for safety aspects of the building including checking the water supply and fire alarms. In my spare time I enjoy going on long walks with my dog.
Show More
Ani Borisova
Hello. I am Ani and I am the Unit Manager on the Skylark community at Longueville Court. I have been a  nurse for  41 years in total and have spent 17 years working at Longueville Court. When I am not working I enjoy spending time in my home country of Bulgaria, seeing my family and friends.
Menchu Howell
Hello. I am Menchu Howell and I am one of the Unit Managers here at Longueville Court. I really enjoy caring for residents ensuring they are as well and happy as they can be.
Artur Majewski
Artur is the Head Chef at Longueville Court and is responsible for creating delicious, nutritious meals three times a day, as well as other refreshments, snacks and treats. He manages the kitchen team and the dining room hosts to ensure every resident can choose food they enjoy, when they wish to eat it. The team offers a mix of residents' favourites and new dishes from the current season's menu. Artur takes the time to speak with every new resident and respite guest to discuss their food preferences. He also ensures any dietary needs are catered for and that food is of a consistency that people can enjoy and swallow easily. Artur and his team are also pleased to provide cakes and treats for birthdays and other special occasions.
Show More
Michaella Walker
I started here at Longueville Court in late September 2020. I'm the all new singing & dancing Head of Activities.
As a qualified fitness & dance instructor, I think it's really important to keep all our residents actively fit & to make sure they have mental stimulation.
Having run my own events business for over 25 years, I'm definitely a people person, who is caring & friendly with a bubbly personality.
Show More
Emily Killingworth
Hello, my name is Emily and I'm one of the Team Leaders here at Longueville Court, I've been a care assistant for over 7 years and absolutely love my role, the residents we care for and the team members I work with. I have worked across all communities at Longueville and enjoy meeting new residents and taking time to chat with the family of residents we have, the atmosphere here is so friendly. Following my maternity leave I was so proud to come back as a Team Leader.
Show More
Alpha de Ocampo
Hello, my name is Apha and I'm a Team Leader within Longueville Court. I've been with Barchester since 2009 and work with an amazing team. It is an honour to care for our wonderful residents. I'm a local lady, married with two sons.
Karen Vitas
Hello, I'm Karen a Care Assistant within the team here at Longueville Court. I live locally, and have enjoyed working here since 2018, everyday is different and helping our residents is so satisfying. I enjoy long walks in the surrounding countryside and completing the odd jigsaw.
Maria Shale
Hello, I'm Maria one of the Care Assistants here at Longueville Court, I've worked as part of the amazing care team since 2019, and have a special interest Elderly Dementia Care. 
Gladys Maseko
Hello. My name is Gladys, I've worked at Longueville Court within the Dementia community since 2019. I love looking after our residents and putting a smile on their faces.
Lisa Russell
Hello. My name is Lisa and I joined the care team here at Longueville in April 2022. The wellbeing of our residents is my priority. In my spare time enjoy tapestry and walking.
Esther Penamora
Hello. My name is Esther and I've worked within the Longueville care team for over 3 years. I love caring for our wonderful residents. At home I enjoy cooking Thai food, and trying new recipes.
Anna-Marie Fountain
Hello. My name is Anna-Marie and I've been part of the Care team here at Longueville Court since 2019. I get great pleasure from helping our residents. I have great memories of this beautiful home from when my grandmother resided here. 
Loyola Duffy
Hello, my name is Loyola and I'm a Carer here at Longueville Court, I've worked within the home for 7 years and been a carer since I was 16-years old! I absolutely love my role and caring for each of our wonderful residents. In my spare time I enjoy croquet and cross-stitch work.  
Sukmaya Jolmi
Hello. My name is Sukmaya, and I worked within the Housekeeping Team here at Longueville Court since 2020. I love getting to know our residents and keeping their rooms and the home clean and tidy. I live locally, and have a young family to keep me busy outside of the home.
Laximee Thapa
Hello. My name is Laximee and I have worked within the Housekeeping Team here at Longueville Court for 5 years however, I've been part of the Barchester family for over 7-years. I work within laundry and enjoy gardening in my spare time.
Liliana Nedelcu
Hello. I'm Liliana, I've worked within the Housekeeping Team since 2018, I enjoy supporting our residents, and keeping the home clean to the highest of standards. Outside of work I enjoy baking, my speciality is chocolate cake!
Karina Dunn
I have been at Longueville Court since October 2002 when I joined as a Domestic Assistant. I soon moved into my current role as an Activities Coordinator which means I provide person-centered activities for all of our residents.
My aim is to bring fun, laughter, and home comforts to all of those we care for. As an Activities Coordinator I enjoy encouraging our residents to participate in enjoyable, achievable activities. I like to make sure Longueville Court is part of the local community and our usual programme of activities includes outings, pub lunches and having guests and entertainers at our home.
Show More
Atanas Kostov
Hello. My name is Atanas and I'm part of the Hospitality team here at Longueville Court. I've worked here for over 18 years and love creating new dishes for our residents to try. Variety is the spice of life!
Emma Malcolm
Hi, I'm Emma, the hairdresser here at Longueville Court. I adore making our residents' day by spending 121 time with each of them to make them feel special and have a wonderful experience in our salon. Whether that's a cut, colour or perm; I'm here to help. I work on a Wednesday and can be booked through reception. 
Show More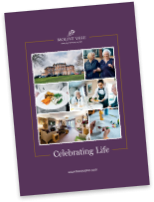 Read our brochure 'Providing great quality care and wellbeing' for more information on how we're here to help you and your loved one.
Read brochure
Food & Nutrition
Activities & Events
Care & Facilities
What happens now?
Are you ready to discuss your individual care requirements? Pick up the phone and talk to us, book a visit to our care home or come and take a look around our facilities.
Our fees and contract
We want to be as transparent as possible about how we charge for the different services we provide as well as what's included in our contract. Please click the links below to find out more about our fees and contract.
View typical fees
View Our Contract
Useful downloads
Here to help you make the right decision about your care requirements.
104