Meet the Lanercost House Care Home team
From nurses and carers to chefs and housekeepers, staff in our home are here to deliver high quality care and services to those we support. Check below to meet some of the friendly faces you are likely to see when visiting our home:
Janette Lawrence
General Manager
My name is Janette Lawrence and I am the General Manager here at Lanercost House.

I have many years of nursing and management experience and work hard with my team to provide a kind, caring and comfortable environment for our residents.

We pride ourselves in taking forward the values of Barchester Healthcare when planning the holistic needs of our residents and welcome families to be part of this process.

I operate an open door policy so please feel at ease to call in for a chat with either myself or one of the team if there is anything you would like to discuss.
Catalin Radu
I joined Barchester Healthcare in April 2017. I thoroughly enjoy looking after the Residents and spending time chatting to them and supporting their daily activities of life. I am proud to lead this unit with a whole team approach.
I continue to develop my skills to support our Residents on a day-to-day basis, I enjoy my job and enjoy any training that helps with my continued development that enhances the delivery of great Quality of Care to my Residents within the Home.
Show More
Caroline Wilcox
I qualified as a registered general nurse in 1992, and began working in care homes straight away. I have undertaken staff nurse posts as well as working as a registered manager before joining Lanercost in 2005. We have an open door policy here at Lanercost, and I extend a warm invitation for you to visit our home and take a tour to see what we have to offer you or a loved one looking for care.
Show More
Susan Graham
Hi, my name is Susan and I am an Activities Coordinator at Lanercost House. I have over 10 years' experience with Barchester and absolutely love my job. I started in Barchester in Lochduhar and have held a variety of roles before moving into activities.
I like to involve the local community in events within the home, so we have connections with local churches, schools and community groups. Our residents enjoy pet therapy, personal centered time and lots of external entertainers, who come into the home regularly as well; in addition to fairs, monthly coffee morning and so much more.
Show More
Joy Laws
My name is Joy and I started working for Barchester in 1994 as a Care Assistant and eventually took on the position of Senior Carer. I obtained my NVQ Level 2 & 3 in Health and Social Care and an opportunity arose to move into a Physiotherapy Assistant role, which really appealed to me, as I feel it gives me hands-on experience and allows me lots of one-to-one time with residents.
Show More
Becky Lightowler
Hi,  My name is Becky and I am the administration assistant here at Lanercost. I am new to Barchester, having previously worked in the NHS, and I am really enjoy working with our wonderful residents and alongside a great team, helping to provide a friendly face to those who enter our home.
Christina Weyman
I am a kind, caring and compassionate qualifies nurse. I have worked in the NHS hospital for over 20 years. I am currently working for Barchester care home: I have been working in private care for over 10 years. I have both theory and practical experience in dementia care. I want to make a difference by putting theory into practice and helping the residents to enjoy a good quality of life. Residents need their loved ones as part of the support mechanism and as a nurse I respect and value family input and support, and will work together to maintain the quality of care. We hope there will be a cure for dementia soon.
Show More
Egle Orante
Hi, my name is Egle, I joined the Barchester Healthcare family in 2018 September as a Lifestyle Activities Coordinator at Woodland View care home in Colchester. In 2021 August I moved to Carlisle and was transferred to Lanercost House care home, here promoted and became A Head of Activities.
Here at Lanercost House, I organize a variety of activities and social events within the home and in the local community, such as creative gardening, arts and crafts, gentle exercise sessions, and singalongs with live singers and musicians, plus much more.
I am able to develop excellent relationships with residents and their families, providing support and I always go that extra mile! I am very passionate about my role, as it is very important to us as a team that every individual is able to live the life they wish, feeling fulfilled in their mind, body, and soul, maintaining past hobbies, yet have the opportunity to try new experiences.
As we never stop growing and changing, it is important that we maintain an up-to-date Getting to Know Me booklet. With your help, the activities scheduled for your loved ones will be as relevant and enjoyable as possible.
Our team will endeavour to promote residents' well-being through meaningful activities.
For more information about our activities, or if you would like to join us, please contact one of the team. You will be most welcome!
Show More
Layla Utting
Hi, my name is Layla and I am the Senior Nurse here at Lanercost House care home. I have worked here at Lanercost House for eight years and I can honestly say I love coming to work and caring for the residents.
Making a difference to our residents is fundamentally the biggest privilege within our role. I am passionate about providing the best practice palliative care, supporting both residents and family during the most difficult of times.
Show More
Nicoleta Turiac
Hi, my name is Nicoleta and I am Activities Coordinator in Carlisle Suite here at Lanercost House. I joined the team in 2021 November and have been loving my job to provide the best quality life enrichment to our residents with challenging dementia. I am a very creative and sensible person, this makes me the best at one-to-one, sensory, reminiscing, and creative sessions.
Show More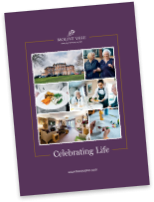 Read our brochure 'Providing great quality care and wellbeing' for more information on how we're here to help you and your loved one.
Read brochure
Food & Nutrition
Activities & Events
Care & Facilities
What happens now?
Are you ready to discuss your individual care requirements? Pick up the phone and talk to us, book a visit to our care home or come and take a look around our facilities.
Care enquiries
New care enquiry phone lines are open 8am - 8pm
01228 370563
All other calls
Our fees and contract
We want to be as transparent as possible about how we charge for the different services we provide as well as what's included in our contract. Please click the links below to find out more about our fees and contract.
View typical fees
View Our Contract
Useful downloads
Here to help you make the right decision about your care requirements.
96