Meet the Kingfisher Lodge Care Home team
From nurses and carers to chefs and housekeepers, staff in our home are here to deliver high quality care and services to those we support. Check below to meet some of the friendly faces you are likely to see when visiting our home:
Katrina O'Hagan
General Manager
Hi, my is Katrina and I am the General Manager here at Kingfisher Lodge. Welcome to our website!
I'm a Registered Nurse with experience working in a variety of health and care settings, including acute hospital care and community & registered nursing homes. I am passionate about maintaining and improving the quality of life for those who require support. I also have a keen interest in supporting adults with a variety of cognitive impairments.
Fiona Mason
Fiona is responsible for the administration of the home and works closely with the General Manager and Heads of Departments to ensure the smooth running of Kingfisher Lodge. Fiona is supported Julie, Paris and Vicky.
Fiona has been with Kingfisher Lodge since March 2013 and is a very committed member of the management team, Fiona brings a wealth of administration experience from her previous role of working for the Local Authority.
Show More
Karen Brickell
Hi, my name is Karen, and I am the Head Chef here at Kingfisher Lodge. I was one of the first chefs to work here at Kingfisher lodge when we first opened its doors back in 2012.
I am lucky enough to have also worked at other Barchester homes. I really enjoy not only the cooking but the life outside the kitchen in and around the home in the lounges and dining rooms, chatting and joining in singalongs and activities with all the staff.
I really do thrive from interaction with the residents and enjoy listening to suggestions and unusual things to cook. I will always surprise residents with a special meal and a birthday cake.
Show More
Mark Stone
Mark is our Second Chef. He interacts really well with our residents, treating the resident of the day with great importance. Mark listens and takes on board feedback from residents in a positive way.
Charlene Morrison
Hello, My name is Charlene and I am the activity lead here at Kingfisher Lodge, I moved into the care sector in February 2022 after I decided I wanted a more rewarding career. 
As a Lifestyle Activities Coordinator, I will be spending time with each resident and their loved ones to build a detailed picture of each individual, so that each person's stay with us is as meaningful as possible.
Thanks to the uniqueness of each resident, I am always enjoying new experiences in my role. My goal is to create an activities program that caters to the capabilities of residents, including, but not limited to, individual and group activity. 
I will be forging strong relationships within the community and developing a pool of talented individuals that can supplement our in-house team to bring out the best in those we support.
As we never stop growing and changing, it is important that we maintain an up-to-date Getting to Know Me booklet. With your help, the activities scheduled for your loved ones will be as relevant and enjoyable as possible.
I'm very much looking forward to working with all of you.
Show More
Mandy Evans
Mandy joined Kingfisher in February 2016. She is loved by all residents and has great communication skill with loved ones. Everyone loves Mandy's stories about Wales and she often tells residents long tales from the valleys.
Elizabeth Hudson
Liz has been with Barchester for over a year now and brings fun and laughter to the home on a daily basis.
George Tantrum
George is the singing carer at Kingfisher Lodge. George is a great team leader loved by all. His cheerful nature makes him a joy to be around say both staff and residents.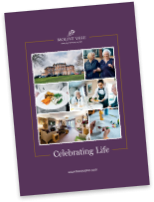 Read our brochure 'Providing great quality care and wellbeing' for more information on how we're here to help you and your loved one.
Read brochure
Food & Nutrition
Activities & Events
Care & Facilities
What happens now?
Are you ready to discuss your individual care requirements? Pick up the phone and talk to us, book a visit to our care home or come and take a look around our facilities.
Care enquiries
New care enquiry phone lines are open 8am - 8pm
01225 560 597
All other calls
Our fees and contract
We want to be as transparent as possible about how we charge for the different services we provide as well as what's included in our contract. Please click the links below to find out more about our fees and contract.
View typical fees
View Our Contract
Useful downloads
Here to help you make the right decision about your care requirements.
90