Meet the Kernow House Care Home team
From nurses and carers to chefs and housekeepers, staff in our home are here to deliver high quality care and services to those we support. Check below to meet some of the friendly faces you are likely to see when visiting our home:
Leigh Stanley
General Manager
Welcome to Kernow House, my name is Leigh and I am the General Manager at the home.
I am a registered mental health nurse. Prior to becoming a nurse, I spent 13 years as a soldier, serving with a commando in Iraq, Afghanistan and other overseas operations. I became interested in post-traumatic stress disorder and decided to train as a nurse. During this nurse training, I discovered a particular interest in working with dementia and decided to pursue a career in this.
As Manager, I put my leadership skills to good use when managing the home. I ensure we deliver person-centred care in a therapeutic manner and share my knowledge with other staff, both within the home and with outside professionals.
I acknowledge that whilst residents are at the forefront of our home, it is important that staff are supported, so the care we deliver as a whole home is filled with passion and enthusiasm.
I am always available for any enquiries you might have.
Sarah Sharland
I am an occupational therapist and have worked at Kernow House for many years. As part of my OT work, I have supported the management team. I believe in a holistic approach to supporting and caring for residents. Supporting residents to lead a good quality of life filled with meaningful activities is important as is supporting residents' independence. As an OT I have experience and knowledge of how to best achieve these goals. Having a good working relationship with relatives, staff and other professionals is important. I am always available if anyone would like a chat or have any concerns.
Show More
Jo Balcombe
Jo is a Registered General Nurse as well as a Registered Mental Nurse. She has many years of experience working as a nurse and has a wide range of knowledge from her background working mainly in community based jobs and managing teams. Jo is compassionate and empathic and particularly enjoys working with relatives to ensure residents get the best possible care.
Show More
Emma Metherell
You will see Emma sitting at the desk by reception where she greets visitors, answers the phone and deals with enquiries. Emma is always happy to help wherever she can. She has returned to Kernow House to a role she had many years ago after a period of time working as a carer in another home, so Emma has lots of experience. She also has a friendly nature and is quick to help.
Show More
Bea Porup
Bea has many years of experience working in elderly care and both experience and training in dementia care. She has also worked extensively with people with Huntington's disease. Bea works closely with Sue, Jackie and our management team, nurses, carers and kitchen team to ensure our home has a vibrant environment with lots of events happening and varied opportunities for having both new and familiar experiences, making sure the people living here lead a rich and fulfilling life.
Show More
Sharon McWalter
Sharon is one of a team of admin assistants working at the front desk. Sharon has had a career working for various companies in admin roles. She has a background working in a hotel, an insurance company and in the NHS, where she has organised different clinics, so Sharon has a wealth of experience. She will always help with enquiries and greet you with a friendly hello.
Show More
Rose Chapman
Rose is a Registered General Nurse working as clinical lead on Petherwin. Rose has many years' experience caring for people living with dementia in care homes. The experience gained, means Rose has great empathy and works determinedly to make a difference for residents, so they can live the best possible life.
Show More
Daniel Hill
Dan is a chef with a big passion for cooking and previous experience working in restaurants and hotels. He leads a team of chefs and kitchen assistants who are devoted to delivering excellent food for everyone we support. Dan and his team are always very accommodating in meeting anyone's special wishes and take up a cooking challenge willingly and with great enthusiasm.
Show More
Tom Roberts
Tom is a plumber by trade, but he has several years of experience doing general maintenance in nursing homes. Apart from plumbing, he particularly enjoys woodwork and anything electrical. Tom is always on hand to do any job requested of him – and there are many, varied jobs to do. He is also our Health & Safety Champion.
Show More
Andrew Fuge
Andrew is our Maintenance Assistant. He has worked in Kernow House for several years as a Carer, so he is well aware of how important good maintenance support is for residents and their loved ones. Andrew likes to be useful and helpful and he has a special interest in gardening and decorating. He will also continue to work as a carer occasionally, so he is a true 'Jack of all trades'.
Show More
Karen Holden
Karen is our head housekeeper and leads a dedicated team of housekeepers and laundry assistants, who work tirelessly to keep our home clean and in good order. They also do the laundry and iron resident's clothes with great care.
At home Karen enjoys spending time with her friends and family. She also reads a lot but her greatest passion is DIY.
Show More
Jackie Easton-Evans
Jackie supports residents to take part in meaningful occupation and enjoyable life activities. She supports residents to maintain independence by accessing, adapting and providing suitable equipment and is proactive in her support of the life enrichment approach to caring for those who live at Kernow House.
Show More
Megan Robinson
Megan is Clinical Lead on Petherwin unit. She is a general nurse, who has worked in the NHS with trauma orthopaedics specialising in the care of elderly patients. Megan has also been a district nurse and worked in other care homes. She brings lots of nursing experience with her and wants to focus on nutrition knowing that good nutrition can increase a person's well-being. Megan is also enthusiastic about the care on Petherwin being activity lead so residents experience life enrichment.
Show More
Alison Kyle
Alison has worked as a dietician for over 25 years and has a background in the NHS and hospitals, but she has also worked in the community. She has extensive knowledge and experience as a dietician. At Kernow House, she assesses people with regards to nutrition and hydration needs and she provides modified diets as appropriate, sometimes by using supplements or artificial feeding.
Alison works closely with other professionals, especially speech and language therapists and she also works with our catering staff to ensure all residents have a good and balanced diet.
Show More
Dr. Stephen Pearson
Consultant in Older Adult Psychiatry
Dr. Pearson acts as a specialist advisor to Huntington's Disease at Kernow. He has worked with us in this capacity for many years and is a very experienced clinician. He advises and shares his vast knowledge and expertise in the management of Huntington's Disease and is accessible to staff and residents via telephone and e-mail, as well as regularly making visits to the home.
Show More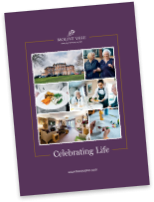 Read our brochure 'Providing great quality care and wellbeing' for more information on how we're here to help you and your loved one.
Read brochure
Food & Nutrition
Activities & Events
Care & Facilities
What happens now?
Are you ready to discuss your individual care requirements? Pick up the phone and talk to us, book a visit to our care home or come and take a look around our facilities.
Our fees and contract
We want to be as transparent as possible about how we charge for the different services we provide as well as what's included in our contract. Please click the links below to find out more about our fees and contract.
View typical fees
View Our Contract
Useful downloads
Here to help you make the right decision about your care requirements.
89