What our families say: Iddenshall Hall Care Home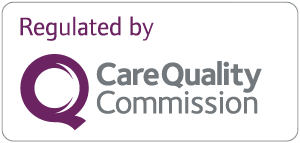 "Mum's stay at Beeston View was lovely. The staff were very kind and considerate, and the accommodation was excellent. The reason she was moved was to be in the same home as her sister and local to the family. The staff are a credit to the home."
Robert C
carehome.co.uk rating: 5 out of 5
"When my father first came to Beeston View, he was distressed, but once he settle in and with the help of the conscientious and caring staff, my father felt happy and content as he was made to feel comfortable, sadly, as my father reached end of life. I cannot express how grateful I was to the care workers, nurses and staff that did their utmost to make my father as comfortable as possible."
Alexandra P
carehome.co.uk rating: 4.55 out of 5
"Initially, my grandad was unhappy about being in residential care, however, the staff have worked their magic to make him feel welcome and part of a caring environment. He did learn to love the staff and this is down to them working above and beyond their job."
Z P
carehome.co.uk rating: 4.67 out of 5
"The care that my grandad received from the staff at Beeston was very caring and personable towards him. He was very relaxed and content during his stay."
P B
carehome.co.uk rating: 4 out of 5
"I can't thank the entire team at Barchester Iddenshall Hall and Beeston View Memory Lane Community downstairs facility enough. Their care and attention to my dad's well-being are exceptional, having been visiting throughout the Covid-19 pandemic, whenever the rules allowed. It is a pleasure to see how the staff have responded to the additional rules they have had to endure and it is lovely to now visit in a more back to normal environment. I could single out a couple of people who I have contact with but it would be unfair as I know there is more to the team than the people we see on every visit. Thank you for keeping dad safe and happy and for taking the time you do."
William S
carehome.co.uk rating: 5 out of 5
"Mum's home has been downstairs at Beeston View for many years now, and we regard it as her home and the wonderful staff as an extension of our family. The last two years have been very difficult for everyone, but I always have felt reassured that Mum's care would continue to be excellent, knowing how caring and trustworthy the staff are. When you go to visit, there is always a lovely, warm atmosphere; you are greeted by smiles and sometimes singing, and all the residents are treated with great dignity and respect. Mum says very little now, but I can tell she is happy and content."
K T
carehome.co.uk rating: 4.42 out of 5
"The care staff are kind, patient and compassionate. My mum stayed for respite care and felt very comfortable and happy. I always found the care staff very friendly, approachable and helpful. Mum's needs were considered all the time and she had a good supply of cheese and onion crisps, which she loves. Thank you so much. Some feedback for the management - it would be good to have knobs on the drawers and the room had a slight urine smell, although the room looked spotlessly clean."
W B
carehome.co.uk rating: 4 out of 5
"From the first day that I brought mum to Beeston View the staff couldn't be more helpful. Nothing is too much trouble and are always on hand to assist. The staff are not only very good at their job they are also lovely people. There is always a good selection of food served it puts my mind at rest knowing that mum is being well cared for."
Brian D
carehome.co.uk rating: 4.92 out of 5
"Mum has lived in Beeston view for two years now. This last year has been unthinkable for many but to be apart from your parent with advanced Alzheimer's, it's heartbreaking. I wanted to write this review as a way of showing my gratitude for a couple of the carers especially. Mum has formed a strong bond with the two carers in Beeston View and sees them as family. I can honestly say they also treat her as family and for this, I'm truly grateful. They have been my lifeline this past year and I know they've kept her going. Also this last couple of weeks mum had a short stay in hospital and, again, without these two carers, I wouldn't have been able to cope. When I struggled to get information from the hospital, they helped me and informed me of every move that was being made with mum. Since she has been back to Beeston they have welcomed her back like family. I can't tell these girls enough how thankful I am. They are true heroes in my mind and deserve a medal. Thanks so much, ladies."
Tracie G
carehome.co.uk rating: 4.42 out of 5
"Before you decided to spend over £60,000 a year on care for your relative, consider is it because you think you are doing the right thing buying expensive care. I did, but now I feel I did the wrong thing. My mother was a resident first in the residential unit, then the dementia unit and until last week a resident of the Dementia Care Unit, where we removed her to a new home that is half the cost and where she seems to be much happier. During the lockdown, my mother lost nearly five stone in weight in as many months, but no one seemed overly concerned, she was no longer obese or diabetic. Also, during the lockdown, she fell and fractured her shoulder. I am pointing no fingers, but I do not know what was happening to my mother during this time. She was a prisoner of the regime. When we finally saw her five months later, all I can say its that she looked like a "tramp". When we complained directly to the Managing Director, who is now on just under £2 million he couldn't even be bothered to write to me."
John
carehome.co.uk rating: 1.17 out of 5
"Just been to visit mum at Beeston View in their new screened off room, it was brilliant. We chatted to mum for nearly half an hour. The carers had helped mum to make a lovely card, which was passed on to us, and we have shared with the family, this was a wonderful gesture and touched all our hearts. Thanks to all the staff for doing what you do, looking after a dementia patient is not easy. We look forward to the time when we can come and visit without screens and maybe take mum for a ride out in the car. Please keep doing what you are all doing."
Sue L
carehome.co.uk rating: 4.92 out of 5
"The staff at Beeston View have been amazing. My mum was discharged from hospital into their care. They have gone beyond what they should do, staying on late with her long after they should have gone home simply because she asked them not to leave her. Not only were they caring staff to her they helped us as her family every step of the way, particularly in her final days."
J W
carehome.co.uk rating: 5 out of 5
"I would highly recommend this care home to anyone who is considering going into 24-hour care. I have an elderly aunt (95-year), suffering from dementia, who has been receiving respite at the home. From the moment she arrived, she has received excellent care from the staff. The staff have exceeded my expectations, helping to make my aunts transition from home life to 24-hour care as easy as possible. The staff are shining examples of genuine, caring people who are trying to make the residents as comfortable as possible in the environment that they now find themselves in. They are a credit to themselves and to the company that they work for, well done, keep up the good work."
John B
carehome.co.uk rating: 4.08 out of 5
"The lady I visit cannot speak highly enough of the staff and the facilities provided. I myself visit once a week and find staff and management very helpful. The cleanliness of the whole building is exceptional, as is the layout in the dining room when set for meals, as good as top hotels. The staff are obviously aware of resident's needs with regard to meals and mobility, which is so important. I cannot speak highly enough of the whole environment"
Ann V
carehome.co.uk rating: 4.75 out of 5
"Our experience of this care facility has been excellent, the staff are so helpful and go out of their way to assist in all matters. My mother has been well looked after and is happy with her surroundings. I would recommend this home without hesitation."
John P
carehome.co.uk rating: 5 out of 5
"A big thank you to all the staff for their kindness towards my grandmother. Without their support, the transition would have been unbearable for her. This is now her home, and they have made this possible. Thank you again."
Alistair T
carehome.co.uk rating: 4.17 out of 5
"This home is excellent. Staff are extremely welcoming and treat the residents with respect and kindness. The home was clean and smells lovely, none of which odours you may associate to a care home. There is always something going on and all staff are engaged with the residents. The atmosphere is relaxed and fun."
G H
carehome.co.uk rating: 5 out of 5
"Amazing team of carers - respectful, genuine, kind and treat Mum like a special individual. Lovely location and good rooms. They make a difficult situation much easier for the whole family to handle."
J L
carehome.co.uk rating: 4.58 out of 5
"Iddenshall Hall resembles a 5-star hotel rather than a care home. The rooms are light and airy and there is a beautifully decorated lounge and dining room but most importantly the staff are amazing, they are so friendly and caring. My mum has been there for over 12 months and refers to them as family. I know that they consider her welfare and happiness to be their number one priority and that gives me total peace of mind. I would not hesitate in recommending them."
Alison W
carehome.co.uk rating: 5 out of 5
"After two bad experiences, my husband settled well in the two weeks (respite) at Beeston View. It has given me an opportunity to recharge my batteries in the knowledge that he is being well cared for and is "content" to be here."
G L
carehome.co.uk rating: 4.33 out of 5
"Very caring and helpful staff. Always willing to talk to relatives."
K S
carehome.co.uk rating: 4.67 out of 5
"A family environment. Care staff are very responsive to the needs of residents. My aunt is always very well dressed and her personal hygiene is excellent. I have observed the meals being served and they are of good quality with several choices offered. The staff are always visible, complaints (if any) are discussed and rectified immediately. Staff always willing to discuss family needs."
Linda W
carehome.co.uk rating: 4.92 out of 5
"Choosing a residential home for a loved one is not an easy decision but Beeston View offers a very warm welcome both for residents and their loved ones. All the staff are very caring and treat the residents with great dignity."
K T
carehome.co.uk rating: 4.5 out of 5
"Very caring family atmosphere. Nursing staff and carers are patient and nothing is too much bother. Always ready to help at all times."
Dilys W
carehome.co.uk rating: 5 out of 5
"My husband, who has a diagnosis of Alzheimer's (confirmed diagnosis 2013), had been attending Beeston View for daycare 2 x weekly since September 2018. He became more troubled and psychotic around Christmas, and after a month of trialling different doses of medication and lots of visits to the psychiatrist, I was offered a respite bed for my husband at Beeston View. The family and myself were concerned he would not sett, but the staff were amazing, and by the end of the first week he surprised us all. He was made permanent after 2 weeks and he has settled so well - all down to the care and attention of the wonderful staff."
Sarah G
carehome.co.uk rating: 4.42 out of 5
"My father has stayed here for respite on a couple of occasions and has settled well which is a great comfort to me. The staff are always happy to help. My father enjoys to walk and his mobility is not the best but he loves the garden and also can view it from the room. It's clean and the food is good and he is always complimentary about the place which speaks for itself."
D S
carehome.co.uk rating: 4.58 out of 5
"I have been extremely impressed by the care provided to my mother in law who suffers with advancing Alzheimer's. The location, its design and layout along with the exceptional staff have provided some peace of mind to my wife and family during a really difficult time. Thanks to all."
Gavin G
carehome.co.uk rating: 5 out of 5
"Excellent care. Carers always visible and helping residents with daily tasks. They sit and eat with the residents at meal times, giving help when needed. They encourage everyone to eat together and socialise in the lounge. My mother-in-law is treated with respect and always clean and tidy, as are all the residents. The rooms are spacious and have en-suite facilities. Carers are always willing to sit and speak with you regarding your relative and are very knowledgeable of dementia care. The whole atmosphere is very transparent from the management down to the carers. Visitors are welcome anytime. The place is very clean. The dining room has lovely linen tableware with napkins - a nice touch."
T I
carehome.co.uk rating: 4.75 out of 5
"A very caring environment. My mother has been in Beeston View for over two months. She is kept safe and receives excellent care. The carers are attentive, polite and exceedingly kind to all residents. The rooms are large for residents and have en-suite facilities. You can bring in your own furniture to ensure familiarity. The meals are varied and residents offered a choice. Food/snacks/fruit on offer all day, plus tea/coffee/fruit juice/water. Medical staff are on call and they have connections with a local doctor who visits each week. The open plan dining and lounge area is good and staff are always visible in these areas. Residents are encouraged to eat and socialise together. Activities are arranged. My only criticism is that towels are not always available in ensuite but are supplied immediately if you ask a carer. In-house hairdresser."
J I
carehome.co.uk rating: 4.75 out of 5
"I have just visited my mum and want to say a huge thank you to the manager and her team. Mum is flourishing and every member of the team deserves praise and thanks. Mum is treated with respect, dignity and they help her maintain her little garden outside her patio door. This has been such a difficult year for Mum and all of us. With the support of Barchester Iddenshall Hall, we are building happy experiences each time we visit. Mum adores the staff and above all the manager. Thank you for your compassion, understanding and support to the family."
Rosie G
carehome.co.uk rating: 5 out of 5
"My husband has been spending one day per week in daycare. The staff have been extremely pleasant and helpful. We have looked for a slightly cheaper option for full-time care, we found the commitment for his years off-putting."
M C
carehome.co.uk rating: 4.3 out of 5
"My wife was admitted recently and I am impressed by the welcome and arrangements for settling her in. Early indications are very favourable."
S D
carehome.co.uk rating: 4.75 out of 5
"It is a relief to have mum at Idenshall Hall and Beeston View. She tells me the staff are kind and they look after her. She has a very active day and has put on weight because the food is good and tasty. Thanks to all at Iddenshall Hall."
Rosie G
carehome.co.uk rating: 4.83 out of 5
"My mother was a resident at Beeston View for the last four years. During that time she received excellent quality care and was always treated with kindness and dignity. The behaviour of residents in the dementia unit is often quite challenging and yet throughout that, the staff are able to relate to and to treat the residents in a friendly and caring manner - never losing sight of the human being trapped inside. The environment is pleasant, with enough space and the food is good. I am very grateful that my mother was able to have such good care during this last phase of her life and I could not give Beeston View a higher rating for the service it provides. If asked to give a score, it would be 5/5."
D M
carehome.co.uk rating: 4.75 out of 5
"First Christmas for my dad in the home, we are so happy that the staff are so positive and happy. Especially with the special days; Christmas and new year."
Mike R
carehome.co.uk rating: 5 out of 5
"My mother is well cared for and is safe which is a comfort to us as a family. Staff are on the whole lovely. We have had one or two issues but these were quickly addressed when raised. Food is good. Cold drinks are available in rooms and hot drinks brought regularly. Rooms vary- mum has a small window which she has difficulty seeing out of. She has some of her own furniture and cleaning could be a little better. Although mum is given an all over wash daily and is bathed, I would like the latter to be more often."
Carol W
carehome.co.uk rating: 3.83 out of 5
"Lovely food and well cared for."
Joyce P
carehome.co.uk rating: 4 out of 5
"I find it a good stay on the whole. The staff on night duty were really good, bringing me cups of tea when asked for one. One or two of the carers were a bit unhelpful and impatient but on the whole, I would rate it excellent with good food. Plenty of choice as well."
Evelyn R
carehome.co.uk rating: 4.08 out of 5
"My wife receives a high level of care and support. Prompt and efficient support when I pressed the emergency button. Staff have a pleasant and supportive manner."
Ronald H
carehome.co.uk rating: 4.45 out of 5
"I have no other experience but reading press reviews I should consider this care to be excellent. The staff seem to be helpful and courteous."
B D
carehome.co.uk rating: 4 out of 5
"My 95 year old dad has just spent his first two weeks in his first care home. He was anticipating that moment with dread. But he seems to have enjoyed it. This is because of the amazing care staff who with a blend of professionalism, good humour and dedication make what my dad thought would be a terrible experience into - really - quite a good one. Well done all of you."
Ken C
carehome.co.uk rating: 4.33 out of 5
"Generally good, staff helpful and friendly although overstretched sometimes. Varied activities laid on throughout the year."
V S
carehome.co.uk rating: 4.17 out of 5
"Over the last few days, my mum has been receiving end of life care. I cannot praise the staff here enough. She has had such love and care and this has been extended to us, her family, at this difficult time."
C L
carehome.co.uk rating: 4.25 out of 5
"What can I say? Excellent care and service at all times. Brilliant caring staff."
Chris K
carehome.co.uk rating: 4.92 out of 5
"My father who suffers from Parkinson's disease and Lewy-body dementia spent three weeks of respite care at Beeston View. My mother, myself and all the family were very impressed with the care he received. The staff were excellent as were the facilities."
Susan S
carehome.co.uk rating: 5 out of 5
Iddenshall Hall was a happy place for my aunt to spend her last few years. All of you treated her with the utmost care, especially in the last few weeks when she was really poorly. She was comfortable, treated with dignity and her love of playing the piano was always respected. I cannot thank you enough.
Dear all of mum's new friends at Iddenshall,
It was never mum's wish to end her life away from her home, however, the ease with which she settled into Iddenshall and the lack of any agaitation to return is a testament to the wonderful care and affection she recieved from you all.
Hopefully you all caught glimpses of mum's wonderful character and sense of humour which shone through despite her ill health. There are many wonderful moments from the last few difficult weeks that we will cherish forver. It was so comforting to that she had formed strong relationships with so many of the staff. You are all very special and you perform your work in such a commited and caring way, preserving dignity and comfort at a difficult time in many people's lives.
It's strange to think that someones possesions end up in one little room, however, 'Room 8' had such a feeling of peace and tranquilty and very much became to feel like mums home. It very much supports the concept that the home really is all about the person and not about possesions.
We all wish to thank you as a family for the support and comfort you have shown to us all over the last few weeks. I especially would like to thank Laura who's care was exceptional and who's companionship and friendship will never be forgotten.
I cannot name everyone individually, however, I hope you will all know that everyone one of you both day and night, including the activities team, the catering team, the domestic staff and the gardeners have become very special to us as you have all taken part in what was a priviledged time in our lives.. to say goodbye to a very special lady.
With affection,
All the family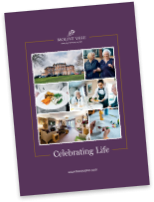 Read our brochure 'Providing great quality care and wellbeing' for more information on how we're here to help you and your loved one.
Read brochure
Food & Nutrition
Activities & Events
Care & Facilities
What happens now?
Are you ready to discuss your individual care requirements? Pick up the phone and talk to us, book a visit to our care home or come and take a look around our facilities.
Our fees and contract
We want to be as transparent as possible about how we charge for the different services we provide as well as what's included in our contract. Please click the links below to find out more about our fees and contract.
View typical fees
View Our Contract
Useful downloads
Here to help you make the right decision about your care requirements.
Frequently Asked Questions
What types of care does Iddenshall Hall Care Home offer?

Iddenshall Hall Care Home offers Residential care, Dementia care, Respite / Short stay.
86