Meet the Iddenshall Hall Care Home team
From nurses and carers to chefs and housekeepers, staff in our home are here to deliver high quality care and services to those we support. Check below to meet some of the friendly faces you are likely to see when visiting our home:
Patricia McCormack
General Manager
Hi, my name is Pat and I am the General Manager here at Iddenshall Hall & Beeston View. Welcome to our website!
Thank you for taking the time to look further into what the home has to offer to you or your loved one. Here is an opportunity to look at some of our staff team in the home, who all play a vital role in day-to-day life.
I have been a qualified nurse since 2013 and my background is with the NHS as a Deputy Ward Manager and joined Barchester Iddenshall Hall & Beeston View in 2019 as the homes Deputy Manager.
I am responsible for running this beautiful, purpose-built home and my passion is to provide an outstanding service for those that we support in a warm and pleasant environment. We look forward to you visiting us.
Andrea Lawrence
Deputy Home Manager / Clinical Lead
Hi, my name is Andrea and I am the Deputy Manager/Clinical Lead Nurse here at Iddenshall Hall & Beeston View and joined the team in August 2020.   I qualified in 2016. I worked within the hospital clinical environment since qualifying and was shortly promoted to a senior role as a Sister. As a result I  bring a wealth of knowledge and experience to the home.   My role is to support the general manager in planning, directing and delivering a high standard of person-centred care, assisting the day-to-day running of the home, along with providing leadership and applying my clinical knowledge to implement the delivery of care to all residents.
I am passionate about providing the best possible care and a home-from-home environment for those we support.
Show More
Julie Hallam
My Name is Julie I has worked for Barchester for a number of years gaining my NVQ in Business Administration level 2 and 3. I have 12 years previous experience as a care assistant and gaining a NVQ level 2, 3 and A1 Assessors award in care, I am is able to support and advise all those families who face the daunting task of trying to find a suitable care home for their loved ones. I work closely with the General Manager to ensure the efficient and smooth running of the administrative Team and financial systems within the home.
Show More
John Pomphret
John leads the catering team, creating and developing seasonal home cooked menus that are nutritious and varied. John ensures he knows each resident and their preferences, keeping them satisfied with a diverse and delicious range of meals. The team also try to 'out cook' each other, especially on the cake and biscuit front!
Show More
Gary Kirk
Hi, my name is Gary and I have worked across Beeston View and Iddenshall Hall since 2015. I am part of a team that delivers a maintenance service to both sites. Maintenance is paramount when it comes to our residents, relatives and colleagues and my role is to keep the home environment up to the highest safety and quality standards that the Barchester Brand demands.
Ultimately creating a safe and warm place for our residents to live and my colleagues to work. I also manage and deal with contractors, keeping records up-to-date for our audits.
Show More
Sally Stead
My name is Sally, and I have a dedicated team that work hard to ensure that the home maintains Barchester's high standards, and that they work to create a relaxed, personal atmosphere for residents, relatives and staff. Residents are clearly the focus for this team, who ensure that all laundry and housekeeping is delivered to a high standard.
Show More
Chris Lightfoot
Chris is our Head Gardener, he has been with us since August 2010.
Chris worked in a Bank for 15 yrs, ending up as Bank Manager in Commercial Underwriting. He always had a passion for Gardening and Landscape design, entering local charity fundraising garden events in Malpas with his own garden. When Chris took early retirement from the bank he used his time to fulfil his passion at home. When this position became available here he sent in photos of his own garden and this helped to get him his current role. He has found his niche in life. He sees his role as being able to create a suitable and fulfilling environment for the residents to enjoy in their later years of their lives.
Chris won Winter Barchester in Bloom in 2010 and was presented his award by Charlie Dimmock. He was also a finalist in 2013
Show More
Luisa Painemilla
Hello my name is Luisa, I am an Activities Coordinator at Iddenshall Hall & Beeston View.  My work is very rewarding and it is a pleasure planning events & activities each month.  I enjoy interacting with residents and learning about people's interests, preferences and experiences.
I have worked with the elderly over five years and also for fifteen years in the social field as an Activities Coordinator for different social groups in three countries. I have a Degree in Social Integration, A Certificate in Theatrical Psychology & A Music Therapy Certificate. In the past I have worked for Local Authorities and in a Cerebral Palsy Home.
Show More
Karen Sharpe
Hi, My name is Karen.  I am an Activities Coordinator here at both communities Iddenshall Hall & Beeston View.
My aim is to always deliver a wide range of fun and stimulating activities which are appealing, can be enjoyed and are inclusive to all of our Residents.
There is nothing more rewarding to me than seeing smiling faces and hearing real laughter!
Show More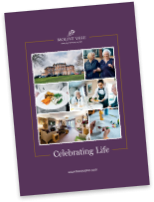 Read our brochure 'Providing great quality care and wellbeing' for more information on how we're here to help you and your loved one.
Read brochure
Food & Nutrition
Activities & Events
Care & Facilities
What happens now?
Are you ready to discuss your individual care requirements? Pick up the phone and talk to us, book a visit to our care home or come and take a look around our facilities.
Our fees and contract
We want to be as transparent as possible about how we charge for the different services we provide as well as what's included in our contract. Please click the links below to find out more about our fees and contract.
View typical fees
View Our Contract
Useful downloads
Here to help you make the right decision about your care requirements.
Frequently Asked Questions
What types of care does Iddenshall Hall Care Home offer?

Iddenshall Hall Care Home offers Residential care, Dementia care, Respite / Short stay.
86