Meet the Hall Park Care Home team
Our wonderful team comprises nurses, carers, activities coordinators, chefs, housekeepers and more. These people are here to ensure that residents enjoy their time at the home and are supported to live life to the fullest. Meet some of our staff below:
Jodie Rakhra
General Manager
Hi, my name is Jodie and I am the General Manager here at Hall Park. Welcome to our website!
I come to Hall Park with 20 years experience in the care sector and have worked at Hall Park since 2011, when the doors were first opened! I am excited to be working here and am very proud to be part of a wonderful team of people, all dedicated to supporting our extraordinary residents to live the best lives they can. I look forward to meeting you on your next visit.
Amy Ferris
Amy was promoted to Deputy Manager in 2021.  Previously Amy's role was Senior Care assistant and began working at the home in 2014.  Amy has achieved a high level of qualification in Health and Social Care and reached NVQ Level 3.  Amy enjoys her job & cares for all the residents with a smile and is a lot of fun.
Show More
Jane Smith
Jane has over 25 years experience in senior healthcare positions and ensures only the highest standards of care is provided to our residents.
Lisa Moore
My care team and I provide the highest standard of care for residents at all times. I have lots of passion for what I do with over 20 years experience, gaining promotion along the way. I look forward to seeing you on your next visit.
Kami Kaur
Kami has worked at Hall Park as a receptionist and admin assistant since 2015. In November 2021 Kami became the homes administrator.  Kami really enjoys her job always looking forward to meeting and greeting visitors with a smile.
Alphy George
I originally started working with Barchester from 2018.  My favorite part of the job is getting to know the specific interests of the individual residents living here and helping them continue them whilst living at Hall Park.  I joined the home in May 2022 having previously worked at our sister homes Edingley Lodge and Wilsmere House.
I get to learn something new and the resident gets to continue doing something they really love. It's a great feeling to know you can make such a difference to someone's day.
Show More
Manjit Atwal
Receptionist & Admin Assistant
Manjit supports many administrative processes in the home in addition to working as a receptionist. Manjit is highly personable and friendly putting people at ease immediately on arrival to the home. Manjit looks forward to meeting and greeting you either over the phone or in person when you next visit.
Show More
Anton Elvin
Anton has been a Second Chef for over 2 years and most of all enjoys creating delicious Roast dinners, birthday buffets and now has a keen interest in baking and creating lovely birthday cakes
Anton lives locally which suits as this helps with a good work life balance
Anton 
Show More
Natasha Lindo
Natasha is the Activities Coordinator here at Hall Park. Natasha really enjoys her job as no two days are ever the same. The life enrichment and daily activities program aims to provide stimulation for the mind, body and soul by engaging with residents daily.  We all love to use our imagination and here we encourage creative activities. We also have a minibus which is used weekly to take residents out to cafes, local beauty spots and day trips.
Show More
Jamie Wallis
My name is Jamie and I am the Head of Maintenance at Hall Park. I have been working here for over 6 years and really enjoy my job. No day is ever the same and I take great pride in ensuring the rooms at Hall Park are always snag free and looking their best. I am also responsible for maintaining the lovely gardens.
Show More
Charlotte Hough
Hi, my name is Charlotte and I am Head Housekeeper here at Hall Park. I have worked at Hall Park as a senior care assistant for 10 years and then took the position has head housekeeper. Me and my team strive to keep the home looking its best. I ensure reporting relating to laundry and domestic cleaning are completed accurately and on time.
Show More
Dawn Draycott
Dawn is a House Keeper and began working at Hall Park in 2015. Dawn has also had 2 years' experience as a carer.  Dawn takes great satisfaction in knowing residents are really happy when their clothes come back to their room smelling clean, feeling fresh and on a same day turn around arrangement.
Show More
Kim Smith
Kim has been a carer at Hall park since 2019, she loves spending time with the residents and encourages people to have fun by dancing & singing!  Kim really enjoys her job
Gail Aitken
Gail has worked at Hall Park for over 8 years as a housekeeper and support to the hostess team.  Most of all Gail loves working with residents taking great pride in all that she does at the home for everyone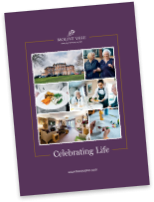 Read our brochure 'Providing great quality care and wellbeing' for more information on how we're here to help you and your loved one.
Read brochure
Food & Nutrition
Activities & Events
Care & Facilities
What happens now?
Are you ready to discuss your individual care requirements? Pick up the phone and talk to us, book a visit to our care home or come and take a look around our facilities.
Our fees and contract
We want to be as transparent as possible about how we charge for the different services we provide as well as what's included in our contract. Please click the links below to find out more about our fees and contract.
View typical fees
View Our Contract
Useful downloads
Here to help you make the right decision about your care requirements.
48452