Meet the Four Hills Care Home team
From nurses and carers to chefs and housekeepers, staff in our home are here to deliver high quality care and services to those we support. Check below to meet some of the friendly faces you are likely to see when visiting our home:
Eleanor Wilson
General Manager
Hi, my name is Eleanor, and I am the General Manager here at Four Hills. Welcome to our website!
I have been nursing since 1972, having begun my career as a Nursing Assistant in one of the largest psychiatric hospitals in the county. I continued to develop my career, working in various specialties in both hospital and community in NHS Lanarkshire. My last post within the NHS before taking early retirement was as a General Manger for Motherwell Locality, with an area wide lead for older people with mental health problems, including dementia.
My retirement was short lived and, after a brief period of rest and relaxation, I joined Barchester as Deputy Manager at Alexandra Court in Glasgow, where I worked happily for two years. I joined sister home, Drummond Grange on a temporary basis at the beginning of 2014 and found the welcome I received from residents and colleagues overwhelming, and as such was delighted to be offered the opportunity to join the team on a permanent basis.  In 2016, I won a Resident Engagement Award at the 18th National Care Awards because of the proven positive effect I have had on residents and staff whilst working at Drummond Grange.
In August 2022 I transferred to our sister home, Four Hills and I extend a warm invitation for you to visit us and I look forward to meeting you!
Melanie Gibson
Melanie started work at Four Hills in 2004 and has been promoted recently to the Deputy General Manager of the home.  Her experience as a nurse gives her the attributes to ensure the home is run efficiently, clinically safe and also to have a happy environment. Melanie is both approachable and experienced – the main attributes of a good manager.
Show More
Tracy Libby
Tracy combines her expertise in providing not only first class care in the home but also ensures that everyone is trained to a high standard ensuring that the team develop their skills. Tracy was the BHC Divisional Winner for Care Practitioner of the Year in 2019. Tracy is a valuable team member for both Four Hills and Barchester.
Show More
Camille Hughes
Camille has been working for the home for 15 years and has recently been promoted to Unit Manager where she is doing a great job. Camille is a dedicated nurse and both residents and staff love her.
Margaret Grandison
Head of Unit Maryhill House
Margaret leads a unit that provides great care to a variety of vulnerable people many of whom require end of life care. She is a compassionate and caring nurse and we are lucky she has been part of the home since August 2001.
Belinda Swart
Head of Unit - Lambhill House
Belinda has 20 years-service with the company. She runs a tight ship and "her" residents always come first. Belinda makes sure that her team not only deliver a high standard of care but create an environment of calmness and fun.
Annie Murray
Annie joined Four Hills in 2014 in the Laundry department before moving to front of house in Jun 2015. After Annie's hard work and continuous support to the home, Annie was promoted to Administrator in February 2022.
Annie loves to interact with residents and families and does not only a great job at supporting our residents, but our staff too.
Show More
Paul Murray
Paul, our Head Chef, is very passionate about his work and regularly takes part in The Big Breakfast, where he hosts a fancy breakfast with some of the residents. Paul also holds demonstrations on Pizza making and cake decorating along with developing delicious menus for every resident.
Wullie McQuade
Senior Head of Maintenance
Wullie, also known as Mr Four Hills. has been working in the home since its opening in 1993. He is loyal to the home and the residents who live here, making sure everything is maintained to the highest standard. He was recently promoted and assists other homes too.
Lesley Keogh
Lesley started her role as Care Assistant in 2014 and in May 2022, moved into her new role as Admin Assistant.
Lesley loves being front of house and getting to meet and greet all the visitors who come the home. Lesley still continues to do the occasional care shift as she loves spending time with the residents.
Show More
Eileen Orr
Eileen joined the Four Hills Family in 1999 and has worked in various roles since. Eileen originally started as a Kitchen Assistant, then moved on to Domestic, before moving on to her current role as Activities Assistant since 2017. 
Eileen loves to bring joy to residents lives from putting on meaningful and engaging activities. From in house entertainment to trips out, our Activities team always have something going on to keep our residents engaged and stimulated. 
Show More
Marie Crainey
Marie joined the Four Hills Family as an Activities Coordinator in 1999.
Marie really enjoys her job and she says the best part of what she does is interacting with residents and bringing lots of social interactions into their lives.
Liz Carty
Liz has worked at Four Hills since 1993. Liz started as a Kitchen Assistant originally, but moved to the Activities team in 2001.
Liz thoroughly enjoys her job and loves putting smiles on residents faces. Liz feels it is a very satisfying and rewarding role. 
Resident Ambassador - Rose
Rose has been a resident here at Four Hills since 2015 and takes an active part in our life enrichment programme and the homes resident forum.   Rose is the voice of the resident group and as an Ambassador will meet with our residents to find out their values, feedback and any ideas for  improvement. Rose will also take part in the recruitment process by being part of the interview panel and plays an important part in introducing new residents to the home.
Show More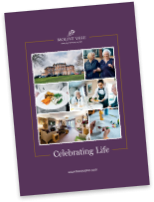 Read our brochure 'Providing great quality care and wellbeing' for more information on how we're here to help you and your loved one.
Read brochure
Food & Nutrition
Activities & Events
Care & Facilities
What happens now?
Are you ready to discuss your individual care requirements? Pick up the phone and talk to us, book a visit to our care home or come and take a look around our facilities.
Our fees and contract
We want to be as transparent as possible about how we charge for the different services we provide as well as what's included in our contract. Please click the links below to find out more about our fees and contract.
View typical fees
View Our Contract
Useful downloads
Here to help you make the right decision about your care requirements.
66