Meet the Cherry Blossom Manor Care Home team
Our trained team of professionals work together to create the best possible experience for those living in the home, striving to deliver excellent care services in a warm, homely environment. You can find out more about some of our wonderful staff members below:
Gigi Despojo
General Manager
Welcome to Cherry Blossom Manor's website; my name is Jeranie 'Gigi' Despojo and I am the General Manager here. I hope you find everything you're looking for!
I have been a General Registered Nurse for over 25 years now. I was a Community Health Nurse for a long time and also had a few good years of working in a nursing classroom as a Clinical Instructor.
I also worked as a Deputy Manager, eventually working my way up to the role of General Manager for a residential, nursing and nursing dementia care home. It was 3 years of making great differences to the lives of residents and their loved ones. 
Personally, nothing is good or outstanding if you don't make a difference in the lives of people you work for and with.
I always try to add value in people; helping others to succeed is more rewarding than my own success.
Good success is when you value people, find ways and opportunities to make their lives a little bit better and then keep that balance with your own family.
Luca La Porta
Luca joined us at Cherry Blossom Manor as Head of Unit in June 2018, and was promoted to Deputy Manager later in the year. Luca is looking forward to supporting all the staff at the home.
Cristina Doroban
Cristina joined us in 2016, starting as a Healthcare Assistant. Christina then became a Nurse on our Wellington Unit.  
Cristina's dedication and knowledge was quickly recognised and it wasn't long before she was promoted to Unit Manager of our Bramley Unit, which is our designated dementia unit. 
Cristina love's her job and the new challenges it brings every day. She works alongside a great team who are like a second family. 
Show More
Jude Townsend
Hi, my name is Jude, and I am a Care Practitioner here at Cherry Blossom Manor.
Ali Mather
My name is Ali & I joined Cherry Blossom Manor 8 months after the home opened. Previous to working, here I worked in the banking sector and, for 10 years, I also worked in domiciliary care. Both of my previous roles have given me a good insight into my current role.
I love working at Cherry Blossom Manor; I really enjoy meeting all the residents & spending time with them, every day is different.
My 'working dog', Bailey, comes to work with me every day; he has been keeping us all company since 2012. He brings happiness to all the residents, who love to treat him with biscuits.
Show More
Angela MacQuillin
I have been the Lifestyle Manager for Cherry Blossom manor Since October 2014. Before this I worked for the local authority for 12 years as part of a team for behaviour support and child protection.
I am a sociable person and, between my family and work, I can be found hanging out with friends or volunteering in local groups.
My role within the home involves promoting independence and well-being for residents, family and staff. This is done by meeting their mental, physical and social needs.
Show More
Tess Grossmith
Tess has been with us at Cherry Blossom for over 4 years.  She started her career with Barchester as a HCA and then diverted to our Admin team as Admin Asst.  In her free time Tess enjoys nothing more than Socialising with family and friends.  She has also been known to completely re-decorate a whole room while everyone else was at work.
Show More
Stefan Cora
Hi, my name is Stefan, and I am a Senior Nurse here at Cherry Blossom Manor.
Guang Zhan
Hi, my name is Guang, and I am a Nurse here at Cherry Blossom Manor.
Martha Baluma
Hi, my name is Martha, and I am a Nurse here at Cherry Blossom Manor.
Rupi Kaur
Rupi Started working for Barchester Healthcare in 2016 as a Healthcare Assistant whilst training to be a Care practitioner. Once she qualified, Rupi transferred to our home to take up her new role, covering all of our units.   Rupi is currently training to become a Nurse. 
Angel
Hi, my name is Angel, and I am the Head Chef here at Cherry Blossom Manor.
Bogdan Opar
As Maintenance Manager it is my job to ensure the home looks as good as new. I make sure all en-suite rooms, communal areas and corridors are decorated to a high standard.  No job is either too big or too small.  I also ensure that all the gardens, along with the courtyard are colourful all year round for our residents and families to enjoy.
Show More
Cristian Simion
Hi, my name is Cristian and I am Maintenance Assistant here at Cherry Blossom.
Lillian Wood
Lillian has joined the Housekeeping Team as Head of Department, overseeing Housekeeping and Laundry within the home.  Since joining the team she has updated systems in place and has shuffled the team to allow them to work more efficiently.
Lillian has an open door policy and can often be found with residents and staff discussing anything and everything.
When not at work Lillian can be found with her grandchildren where she enjoys nothing more than getting them messy so they have dirty laundry to take home to mummy!
Show More
Greg Cruz
Hi, my name is Greg and I am a Laundry Assistant here at Cherry Blossom. 
Sarah Vickers
Hi, my name is Sarah and I am a Carer here at Cherry Blossom. 
Tracy Carter
Hi, my name is Tracy, and I am a Care Assistant here at Cherry Blossom Manor.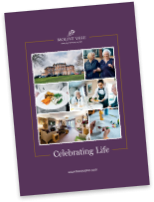 Read our brochure 'Providing great quality care and wellbeing' for more information on how we're here to help you and your loved one.
Read brochure
Food & Nutrition
Activities & Events
Care & Facilities
What happens now?
Are you ready to discuss your individual care requirements? Pick up the phone and talk to us, book a visit to our care home or come and take a look around our facilities.
Care enquiries
New care enquiry phone lines are open 8am-8pm
01256 441 575
All other calls
Our fees and contract
We want to be as transparent as possible about how we charge for the different services we provide as well as what's included in our contract. Please click the links below to find out more about our fees and contract.
View typical fees
View Our Contract
Useful downloads
Here to help you make the right decision about your care requirements.
43