Meet the Broadway Halls Care Home team
From nurses and carers to chefs and housekeepers, staff in our home are here to deliver high quality care and services to those we support. Check below to meet some of the friendly faces you are likely to see when visiting our home:
Julie Willmouth
General Manager
Hi, my name is Julie, and I am the General Manager here. Welcome to our website!
I am so pleased & excited to be General Manager of Broadway Halls. I have worked in care for over 20 years.  I am passionate about my job, I treat every resident with respect & their families & friends too. I lead my team by example and will never ask them to complete a task I am not prepared to do myself. My focus is to ensure the well-being and happiness of every resident in our care
Liz Murray
I have been working for Barchester Healthcare since 2015. I am proud to be Deputy Manager at Broadway Halls.  My aim is to support our residents every day to experience comfortable fulfilled, happy and satisfied lives. Working for Barchester allows me to be able to personalise our residents' journey at the highest level. My job is to offer a variety of support both clinically and mentally for our residents and to guide the team. 
Show More
Julie & Nicky
We are passionate about working with our residents and making their days enriched, fulfilled and happy.  We have both love working with the elderly and enjoy coming up with ideas for activities and events, every day is special. We love to hear singing, laughter and see our residents learning new skills and sharing their stories with us.
Show More
Dawn Taylor
I have been the Administrator at Broadway Halls for 9 years and have over 20 years' experience in this role within the care industry.
My role involves dealing with all the finances within the home and as such, this means having daily contact with families and residents, something which I love.
No two days are the same and being able to interact with our residents is an important part of the role. We have a fantastic team in the home which makes my role much more enjoyable.
Show More
Matt Brown
My role involves supporting the nurses, ensuring the safety and well-being of the residents is always at the forefront of the home.
I wasn't entirely sure what career I wanted to take, but once I attended the CHAPS training programme, I knew exactly what I wanted to do. I enjoy my role and I am constantly learning every day!
Show More
Wendy Brookes
I started at Broadway Halls many years ago, and have been progressing in my career throughout my. I began as a carer then trained to become a Senior and also a trainer within the home. 
My CHAPS role allows me to work closely alongside nurses and develop my clinical and management skills, and the role also adheres to many aspects of a registered nursing role.
I love my position and I am ready to continue learning and face any challenges that come my way!
Show More
Olivia Riese
I started at Broadway Halls as a kitchen assistant, and through training and determination, I have worked my way to the position of Head Chef.
Working in a care home as a chef, I have to think more about the eating needs and dietary requirements of the residents.
There are various textures of food, special diets, diabetics, vegetarians and so much more. It can be challenging, but I love it and have an amazing team to work with!
Show More
Shane Parkes
I am the Maintenance man at Broadway Halls and can firmly say its a great place to work. we make sure all the technical and environmental work is carried out to ensure a safe and secure running home.
There is great rapport between staff  and everybody is willing to help out when ever they can, it really is one big team. Interacting with the residents is great and there is always laughter throughout the home. Its a fantastic place.
Show More
Valerie Adams
Reception / Administration
My name is Valerie I am a Receptionist & Administrator at Broadway Halls, my role involves supporting front of house and customer services.
I enjoy meeting residents and their families and love showing people around our wonderful home so they get to see what Broadway Halls has to offer.  We are like a family, every day is so different and I love being busy so its the perfect role for me.  
Show More
Lyndsey Holloway
I love the interaction with our residents, families and visitors.  I very much enjoy being involved in the day to day running of reception to make sure all visitors feel welcome and I support my colleagues and residents.
Jane Finley
I am receptionist & admin support at Broadway Halls. I have previously worked in a few care home settings including working as a care assistant then moving on to scheme support in an assisted living setting.  I enjoy a wide range of aspects of my role, interacting with people including residents, relatives, colleagues & visiting professionals.  I enjoy the fast pace of the role, no two days are the same. I am passionate about delivering first class customer service & approach every task with enthusiasm and willingness.  
Show More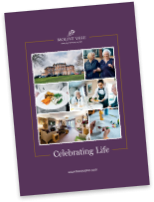 Read our brochure 'Providing great quality care and wellbeing' for more information on how we're here to help you and your loved one.
Read brochure
Food & Nutrition
Activities & Events
Care & Facilities
What happens now?
Are you ready to discuss your individual care requirements? Pick up the phone and talk to us, book a visit to our care home or come and take a look around our facilities.
Care enquiries
New care enquiry phone lines are open 8am - 8pm
01384 382272
All other calls
Our fees and contract
We want to be as transparent as possible about how we charge for the different services we provide as well as what's included in our contract. Please click the links below to find out more about our fees and contract.
View typical fees
View Our Contract
Useful downloads
Here to help you make the right decision about your care requirements.
48442