Meet the Bluebell Park Care Home team
Our trained team of professionals work together to create the best possible experience for those living in the home, striving to deliver excellent care services in a warm, homely environment. You can find out more about some of our wonderful staff members below:
Rachel Smith
Senior General Manager
Hi, my name is Rachel and I am Senior General Manager here at Bluebell Park. Welcome to our website!
Thank you for taking the time to look further into what we have to offer to you or your loved one. Here is an opportunity to look at some of our staff team in the home, who all play a vital role in day-to-day life.
I am a qualified nurse with over 25 years of experience in the care sector. I love working at Bluebell Park and really enjoy getting to know the team, residents and loved ones.
I am devoted to making a positive difference to peoples' lives and ensuring that those we support at the home can live as comfortably as possible.
I look forward to welcoming you to our home.
Sarah Bradbury
Sarah has been the administrator at Bluebell since September 2012, and has worked in accounts since leaving school. She really enjoys working at Bluebell and has found everyone friendly and helpful since she joined.
In her spare time she enjoys walking, birdwatching and following Derby County football club. She enjoys doing all of this with her 8 year old son Billy.
Show More
Juna Jose
Hi, my name is Juna and I am Head of Woodland View here at Bluebell Park.  I completed my nurse training in India in 2006 and I moved to England in 2010 where I started my career in 2011 with Bluebell Park. I became Head of Unit in July 2015 and it was the best decision I have made. 
Nigel Wilcox
I joined Bluebell Park in September 2019, but I have worked in the care sector for a number of years. I love interacting with the residents, and it's a nice feeling knowing that I am making a difference to their lives. 
I am excited about the future of working for Barchester, and I hope to bring much experience and knowledge to an already great team.
Show More
Tracey Solomon
My priority is to make sure that the residents know that their home is well cared for and kept clean and tidy to the highest of standards. I love my role here at Bluebell Park and being part of a team that puts residents first.
Jonathan Trout
Before getting into music therapy, I was a violinist and conductor. Through this career, I had experienced the enormous enrichment that music provides and the idea of working in music therapy had been bubbling in me for some time. However, it was a conversation in a pub which finally spurred me to do it; I was talking to a violinist who plays in an orchestra I conduct. She is a music therapist and asked if I would like to spend a day with her as an assistant. I did this and it is true to say it was a life changing experience. I came straight home, got on the internet and tracked down a course with Nordoff Robbins.
I graduated with my Master's degree in 2013 and have been working at Bluebell Park ever since. It wasn't my first time at the home though, as I spent my placement year working here!
Show More
Angela Reittie
I started my career in 1984 as a trainee chef and I still love to cook!
I have been at Bluebell Park since the opening in October 2010; I started as the second chef. Then became the Head Chef in June 2015 and love it!  We all provide a high quality catering and dining experience to all our residents and vistors. Our menu is a four week menu, where we use fresh products daily.
In my spare time I am kept very busy with my 3 children and Husband but when I get a minute to myself I enjoy reading.
Show More
Clare Cunningham
I have been working here at Bluebell Park since 2014. No two days are the same here and I enjoy the challenge of working with the residents and their families. Here at Bluebell there is a very homely, friendly atmosphere.
Kerry-Anne Doyle
Hi, my name is Kerry, I joined Barchester Bluebell Park in February 2012 as a carer and have progressed my career to become a senior carer, a position which I have held for over 4-years. I really enjoy my work and developing relationships with our residents is the best part of my job as they all have a story to share.
Show More
Claire Hazell
Hi, My name is Claire and I am an activities coordinator here at the home. I have worked at Bluebell Park since 2020 and prior to joining worked as a teaching assistant for 17 years.  I decided I wanted a change from the school environment but wanted to remain in the caring sector. 
 I enjoy working for Bluebell Park mainly because I find the role very rewarding and I love to spend time with the residents, listening to their life stories and experiences.  Every day is different and I love to see smiles on their faces whilst enjoying the activities that I provide.  It gives me a huge amount of pleasure to know that I have made a difference to their lives.  There is never a dull moment with them.
My hobbies include walking, cycling and nature.  Spending time with my family and friends is also high on my priority list
Show More
Tanella Robinson
My name is Tanalla and I have worked at Bluebell Park for 3 years.  I started here as a Carer and decided to move over to Activities as I really enjoy spending quality time with the residents, whether it be spending 1:1 time with them or participating in group activities. When we all come together and everyone is interacting, smiling and laughing, it makes me very happy."
Show More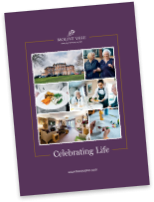 Read our brochure 'Providing great quality care and wellbeing' for more information on how we're here to help you and your loved one.
Read brochure
Food & Nutrition
Activities & Events
Care & Facilities
What happens now?
Are you ready to discuss your individual care requirements? Pick up the phone and talk to us, book a visit to our care home or come and take a look around our facilities.
Care enquiries
New care enquiry phone lines are open 8am - 8pm
01332 425 696
All other calls
Our fees and contract
We want to be as transparent as possible about how we charge for the different services we provide as well as what's included in our contract. Please click the links below to find out more about our fees and contract.
View typical fees
View Our Contract
Useful downloads
Here to help you make the right decision about your care requirements.
26