Meet the Alice Grange Care Home team
Our trained team of professionals work together to create the best possible experience for those living in the home, striving to deliver excellent care services in a warm, homely environment. You can find out more about some of our wonderful staff members below:
Raciel Sagun
General Manager
I am extremely passionate in my aim that Alice Grange is to become the best care home in Suffolk, and I believe we will achieve this by delivering the very best in person-centred care. 
I qualified as a nurse in the Philippines in 1995 and worked as a critical care nurse in Saudi Arabia.
My career in management started fourteen years ago and I am delighted to work with the residents, their families and staff here at Alice Grange.
My door is always open to discuss the care we provide so please drop in for a cup of tea.
Rashmi Nair
Nurse, Memory Lane Community
I worked as a carer from 2010 and then qualified as an RGN in 2013. I have always worked in Dementia Care through a number of different settings including hospitals and other care homes.
I started working at Alice Grange in 2015 and I love it here. Barchester care homes have much better facilities and people than many other settings. The management and staff here work really well together and it means this is a brilliant home to work in.
I am now privileged to be part of the team on our Memory Lane community, where we strive to make sure that each resident feels at home and that each family knows their loved one is being looked after by truly caring professionals.
Show More
Grace Santos
Hello, my name is Grace and I have worked at Alice Grange as one of the Senior Nurses since 2012. 
I love my role here and I am fortunate to have a hardworking team who see the residents as extended family. I enjoy taking the time to learn as much as possible about each new resident from their families and themselves. 
I am very proud of our recent CQC inspection result as I know it reflects the great care that we provide at Alice Grange.
Show More
Livia Oana
Hi, my name is Livia and I am the Administrator here at Alice Grange. 
I started working at Alice Grange as a carer and became the Administrator in 2020. My team and I coordinate and facilitate all administration within the home for residents and staff. My role includes supporting residents and their families with any financial matters that arise, whether they need help setting up a new Sky subscription, ordering newspapers or simply getting some extra shopping in.
Show More
Titus Varkey
I started working here in 2008. I am responsible for the day-to-day operation of the kitchen and dining room, including training, ordering, and menu planning. I like to find out residents' likes and dislikes.
After lunch, you will find me chatting to residents and visitors to get their feedback about the food and service we deliver.
Individual nutrition and dietary needs are especially important to me and I take great pride in knowing that the food we serve helps to improve residents' well-being here at Alice Grange.
Show More
Luminita Maraloiu
Hi my name is Lumi and I am one of the Senior Carers on our Memory Lane community.
I have been lucky enough to work at Alice Grange since 2018, we have a brilliant team here and we all work very well together. As part of the team on Memory Lane I support our wonderful residents who are living with dementia. I am very proud of my role at Alice Grange and it is great seeing how well the residents respond to our care.
Show More
Konrad Rudski
Hello, my name is Konrad and I am a senior carer at Alice Grange care home.
Working at Alice Grange is great because we have such a supportive team and a brilliant group of residents.
Emily Birt
Hello, my name is Emily and I am a Senior Carer here at Alice Grange. I have been working at Alice Grange since 2014 and I love my job. 
I work in care because supporting people to live their fullest possible life is very rewarding. At Alice Grange I have been privileged to work with a dedicated team who supported me to win Carer of the Year at the 2016 Care Awards. 
One of the best parts of my job is welcoming new residents, getting to know them and working together to achieve their goals.
Show More
Keith Whatmore
Hi, my name is Keith Whatmore, I am the Head of Maintenance at Alice Grange. My role is to ensure that the home is always in tiptop condition.
Since joining the team I have also taken on the role of Health & Safety Champion. It is my duty to keep the building in good repair and ensure everyone's safety.
Alice Grange is a lovely home with lovely gardens, and everyone who visits us is guaranteed a warm and welcoming hello. I take great pride in our gardens and I ensure that our home is kept to a very high standard.
I'm here to help in any way I can, and will always make time for a quick chat.
Show More
Margaret
Margaret is our Resident Ambassador.
As Resident Ambassador, Margaret provides invaluable insight and perspective from a residents point of view on the day to day management in the home. 
Margaret befriends new residents to help make the transition to life in our home as friendly as possible by introducing herself to them on their first day and offering to show them around, accompany them for dinner and to activities. 
Margaret is a fantastic advocate for our home.
Show More
Edith Tacusi
Hi, my name is Edith and I am the Activities Coordinator here at Alice Grange. 
Our Activities programme is aimed at ensuring that our residents have stimulating, life enriching activities available every day. Our calendar includes live music performances, animal therapy, behind the scenes tours of landmarks, themed dining and various resident-led social clubs. 
We are always pleased to support new residents to continue pursuing their hobbies and interests, and to incorporate new ideas each month. 
Show More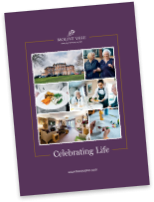 Read our brochure 'Providing great quality care and wellbeing' for more information on how we're here to help you and your loved one.
Read brochure
Food & Nutrition
Activities & Events
Care & Facilities
What happens now?
Are you ready to discuss your individual care requirements? Pick up the phone and talk to us, book a visit to our care home or come and take a look around our facilities.
Care enquiries
New care enquiry phone lines are open 8am-8pm
01473 849862
All other calls
Our fees and contract
We want to be as transparent as possible about how we charge for the different services we provide as well as what's included in our contract. Please click the links below to find out more about our fees and contract.
View typical fees
View Our Contract
Useful downloads
Here to help you make the right decision about your care requirements.
6