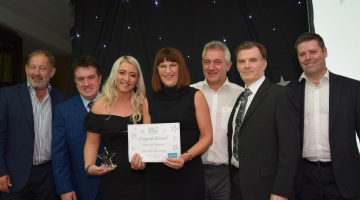 Staff and residents are celebrating at Fours Hills Care Home in Glasgow after the home was named 'Team of the Year' at the Barchester Care Awards 2018.
Gareth Williams, Director of Learning and Development and a judge for the Team of the Year category, said of the team that "It says a lot about a team that has outstanding long service. At Four Hills there were 4 staff together which collectively had over 100 years' service working at the home, which demonstrated to me that they were a team that worked. Each member of the whole team were adaptable to each other's needs, helping out in other departments when needed, enthusiastic about contributing to the greater good at the home with personal sacrifices, all whilst laughing and clearly enjoying working together."
Congratulations Four Hills!
Other Finalists: