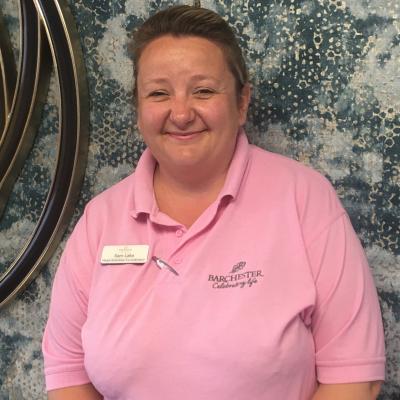 Meet our Activities Coordinator, Sam Lake
My name is Sam and I lead our Activities Team at Woodside House.
I have been at Woodside House since 2004 and I love it here. I am responsible for ensuring that the residents are able to participate in sociable, fun and rewarding activities. My team and I are very passionate about our work and love putting smiles on the residents' faces.
We involve the residents in the planning of our activity calendars and encourage residents to continue with the hobbies that they have enjoyed throughout their lives. We will support every resident to try new things and we love learning from our residents every day.
Activities at Woodside House
Our activities team deliver a wide variety of mentally and physically stimulating activities and events for those we support, including coffee afternoons, which we hold every month for the local community, regular outings in our minibus, and visits from entertainers and musicians. Monthly resident meetings help us to ensure that those living here are getting the most out of our activities programme, and that our social events reflect their interests and capabilities as best as possible. From growing our own vegetables to making giant paper-mâché animals, there is always something fun going on at Woodside House.
Activities and Events Partnerships
As part of our bespoke life-enrichment programmes, we host a number of live virtual events in the home on a regular basis through a number of partnerships with places of interest and world class performance companies
Life at Woodside House Care Home
,
,
Shopping Trip
We had a lovely shopping trip in Norwich this week making the most of the late summer weather and the town being a little bit quieter now that the school term has started up again.
Clothing was the main item on the agenda but birthday presents for the grandchildren were not to be forgotten either.
As always we made time to stop off in Marks and Spencer for their great tea, coffee, cakes and scones.
Show More
,
,
,
,
,
,
Animal Cuddle Therapy
The wonderful team from Cuddly Cavies came to visit Woodside House, allowing residents (and some excited staff) to get up close to their adorable furry critters. The well-behaved guinea pigs create a fun atmosphere wherever they go. 
The Cuddly Cavies are a brilliant therapeutic experience and we love having them visit.
Show More
,
,
,
Norwich Cathedral
Some of our lovely ladies took a trip to Norwich Cathedral this week and visited Dippy the Dinosaur who is on display there.
This was a particular treat for resident Doreen because she used to work at the Cathedral in the accounting office. She enjoyed having a look at her old workplace and all the residents enjoyed seeing Dippy and the Wave Sculpture before having a lovely picnic on the grounds.
Show More
,
,
,
Norwich Library
We took a lovely trip to the fantastic Norwich Library which is in Norwich Forum. The smell of books, thousands of new stories and adventures to discover and limitless borrowing!
Our residents joined the library and borrowed some books before enjoying coffee and a scone in the cafe. We will be making regular trips to the library and other Norwich landmarks over the next few months.
Show More
,
,
,
,
,
,
,
,
Alpaca Fun At Woodside House
Woodside House was full of animal mischief on Tuesday when a group of alpacas came to visit the home!
Residents at Woodside House were pleasantly surprised to see their new furry friends roaming around their garden as Bumble Barn paid a visit.
General Manager Elena said: "Our residents have really enjoyed their unusual visitors today. We knew that having the farm here would be a bit of fun for all our residents. We are always looking for new activities for the residents and today we have seen the seen the enjoyment and the therapeutic influence animals can have on people."
Resident Pam was very excited by the Bumble Barn's animals: "As a child I used to love going to the farm and seeing the animals. Today was very enjoyable and it was wonderful that the animals were free to roam amongst us."
The two alpacas named Bumble and Bee are both two year old males, who enjoyed being fed apples and carrots by the residents. Their super soft coat was remarked upon by all those who petted them. Bumble Barn has eight alpacas and the others are due to visit Woodside House in the future.
Show More
Enjoying An Afternoon Tipple
Our lovely ladies often enjoy a glass of wine or a G&T in the afternoon. 
Whether relaxing in one of our beautifully appointed lounges, sunbathing in the garden, listening to music in the Atrium, or even propping up the bar in our onsite pub - a glass of your favourite drink and the company of good friends completes the day nicely!
Show More