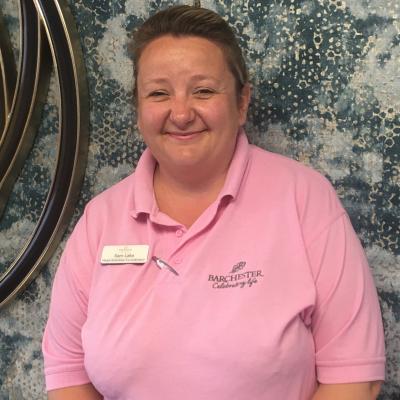 Meet our Activities Coordinator, Sam Lake
My name is Sam and I lead our Activities Team at Woodside House.
I have been at Woodside House since 2004 and I love it here. I am responsible for ensuring that the residents are able to participate in sociable, fun and rewarding activities. My team and I are very passionate about our work and love putting smiles on the residents' faces.
We involve the residents in the planning of our activity calendars and encourage residents to continue with the hobbies that they have enjoyed throughout their lives. We will support every resident to try new things and we love learning from our residents every day.
Activities at Woodside House
Our activities team deliver a wide variety of mentally and physically stimulating activities and events for those we support, including coffee afternoons, which we hold every month for the local community, regular outings in our minibus, and visits from entertainers and musicians. Monthly resident meetings help us to ensure that those living here are getting the most out of our activities programme, and that our social events reflect their interests and capabilities as best as possible. From growing our own vegetables to making giant paper-mâché animals, there is always something fun going on at Woodside House.
Life at Woodside House Care Home
Trips Out Are Back On The Agenda
Socially distanced trips out are back in the calendar at Woodside House. First trip was to a local garden centre to choose some items to spruce up the gardens at Woodside House. Of course had to stop for some tea and cake whilst the sun was shining!
,
,
,
,
,
,
,
,
Miniature Donkeys Visit
We enjoyed a wonderful afternoon being visited by the adorable miniature donkeys from Mini-donks!
Miniature Donkeys For Well-being (Mini-donks) are a fantastic organisation that bring joy wherever they go. Created to bring a mood boosting, friendly miniature donkey to anywhere that requires a well-being boost. 
We love it when these guys visit and we have even sponsored them in the past. Residents got up close for feeding, cuddles and even the occasional face-lick!
Show More
Visit From The Lord Mayor And Sheriff Of Norwich
Councillor Dr Kevin Maguire, Lord Mayor of Norwich and Caroline Jarrold, Sheriff of Norwich have visited Woodside House to meet residents and the home's General Manager, Elena.
Mayor Maguire and Sheriff Jarrold chatted with residents and enjoyed a tour, including the home's onsite pub. Both dignitaries were interested in how the home was able to keep the resident's spirits high and entertain them over the pandemic period, but were also especially interested in how the home and Barchester Healthcare was able to support the staff to work through the difficult period.
Impressed with the home, Sheriff Jarrold commented that: "It has a very peaceful environment is very welcoming."
General Manager at Woodside House Elena Sandu said: "It was lovely to have both the Lord Mayor and the Sheriff here today. The residents were delighted that they were able to visit us and see our home. It was wonderful to be able to explain all the activities that we have been providing for the residents and to show off our beautiful home. We hope that both the Mayor and Sheriff will come to see us again soon! The Mayor and Sheriff showed great empathy for how the staff were supported to continue doing their great work."
Activities Coordinator, Sam Lake said: "The Mayor and Sheriff were asking about how things have changed now that we can have the hairdresser, entertainers and therapy animals back into the home. I explained that just yesterday we had the miniature therapy donkeys in the garden and the barber was also in this week, these have a huge impact on the residents."
Show More
,
,
,
,
,
,
Opening The Junction Bar
Residents and visitors at Woodside House care home enjoyed a night of grins with the opening of a brand new miniature pub in the home. Boasting a range of beers, wines and spirits, along with non-alcoholic options, residents were able to relax in the newly built Junction Bar. The onsite pub was the brainchild of Activities Coordinator Sam and Head of Memory Lane Community Angelica. Sam sourced many of the items required through Ebay and the home's talented Head of Maintenance Tony built and decorated the room.
For opening night the Hospitality team at the home provided a spread of sweet and savoury treats to compliment the drinks and create a party atmosphere.
General Manager, Elena said, "Our residents and guests had a wonderful afternoon and evening catching up and enjoying their favouorite tipple. We do our best to provide a wide range of activities and entertainment at Woodside House as part of the lifestyle enrichment programme for residents, and this will be an ongoing favourite!"
One resident said "It felt great to finally walk into somewhere and order a drink and then sit and chat with friends. I can't wait for my family to visit and have a drink with me."
Woodside House care home is run by Barchester Healthcare, one of the UK's largest care providers, which is committed to delivering personalised care across its care homes and hospitals. Woodside House provides residential care, nursing care and dementia care for 60 residents from respite care to long term stays.
For more information please contact Elena Sandu, General Manager at Woodside House on 01603 702002 or email Elena.Sandu@barchester.com
Show More
,
,
,
Smoothies For Vegetarian Week
National Vegetarian Week has inspired the chef and her team to create a range of smoothies designed to enhance resident nutrition, well-being and digestion. 
Each of our residents and staff have slightly different nutritional requirements and our wonderful award winning chef has created smoothies to meet each individuals needs as well as impress their taste buds. 
Smoothies, shakes, snacks, meals, drinks, desserts, cakes and treats are all carefully provided to ensure every resident has a balanced nutritional diet and that they enjoy everything they eat. 
Show More
,
Flower Arranging In The Atrium
Flower Arranging In The Atrium
A lovely relaxing afternoon was spent flower arranging in our beautiful Atrium with a wonderful tea service delivered by our hosting team alongside fresh fruit and home-baked cakes.
Flower arranging classes are just one of the ways that residents hone and share their skills whilst helping to create a wonderful environment in at Woodside House.
Show More