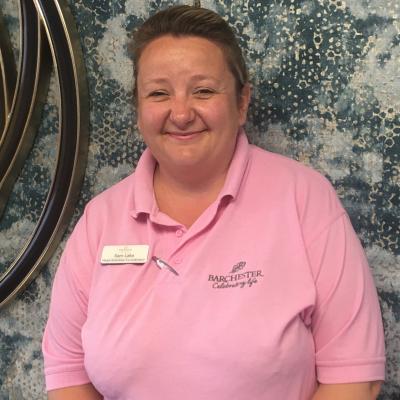 Meet our Activities Coordinator, Sam Lake
My name is Sam and I lead our Activities Team at Woodside House.
I have been at Woodside House since 2004 and I love it here. I am responsible for ensuring that the residents are able to participate in sociable, fun and rewarding activities. My team and I are very passionate about our work and love putting smiles on the residents' faces.
We involve the residents in the planning of our activity calendars and encourage residents to continue with the hobbies that they have enjoyed throughout their lives. We will support every resident to try new things and we love learning from our residents every day.
Activities at Woodside House
Our activities team deliver a wide variety of mentally and physically stimulating activities and events for those we support, including coffee afternoons, which we hold every month for the local community, regular outings in our minibus, and visits from entertainers and musicians. Monthly resident meetings help us to ensure that those living here are getting the most out of our activities programme, and that our social events reflect their interests and capabilities as best as possible. From growing our own vegetables to making giant paper-mâché animals, there is always something fun going on at Woodside House.
Activities and Events Partnerships
As part of our bespoke life-enrichment programmes, we host a number of live virtual events in the home on a regular basis through a number of partnerships with places of interest and world class performance companies
Life at Woodside House Care Home
,
Flower Arranging
Our resident always look forward to our flower arranging sessions and this week have been working hard making some bright colourful arrangement to go along with the bright weather we've been having.
,
,
,
,
Alpaca Visit
Here at Woodside we couldn't wait to have this visit back resident so love the alpacas they are so soft and calm and we are able to feed them.
,
,
,
Jubilee Celebrations
Here at Woodside we celebrated queens jubilee with hosting a bbq for our family and resident we all had a lovely time enjoying sun shine and fabulous food and drinks
Mini Bus
Here at Woodside house we love mini bus outing days resident love nothing better than getting out and about for some well-deserved coffee and cake and social interaction and having look around the local garden centre.
,
,
Mini Donkeys
Here at Woodside house we had a very enjoyably visit from the miniature donkeys resident always look forward to these visit resident take part in feeding and petting the furry friends and the little donkey walk all round the home
,
,
,
Fossil Exhibition
to celebrate Mary Annings birthday and to commemorate the unveiling of her memorial statue in Lyme Regis, Kirk and his family held a fossil exhibition of Norfolk fossils. The exhibition was a tribute to Mary Anning and consisted of finds found on Norfolk beaches. Residents enjoyed the finds and discovering the history of prehistoric Norfolk.
Show More