Meet the Winchester House Care Home team
Our staff are what hold the home together. Each one of these team members are dedicated to providing high quality care and services to those we support, and ensuring that residents enjoy all aspects of life at our home. See below to meet some of our friendly faces:
Liza Burchell
General Manager
Hi, my name is Liza, and I am the General Manager here at Winchester House. Welcome to our website!
I have a degree in Nursing and have been a registered nurse for about 26 years now. I also have diploma in Healthcare Leadership and Management level 5.  
I came over here in 2000 from the Philippines as an overseas nurse. I have variety of experience in supporting the young physically disabled/neuro-disability, palliative care, elderly care and dementia care. I have worked on different levels in care and management, including healthcare assistant, nurse trainee, staff nurse, unit manager and deputy manager, until I became the General Manager of Winchester House in January 2020.
I have excellent leadership skills and I am very passionate in what I do. I am highly motivated and challenges interest me. I am an open, honest and approachable person.
Now that I am at Winchester House, I will lead the team with integrity and I will motivate and empower people to embrace the change with me in achieving success, and will continue to look for ways to improve the life of our residents. I will always go the extra mile to ensure that residents get the best quality care we can offer.
Toni Marie Arana
Non-Clinical Deputy Manager
 Hi, I am Toni, I am the Clinical deputy manager here at Winchester House. I have a BSC in nursing and have 19 Years' experience in a care setting/environment.
I am passionate about delivering a high standard of person-centred care. I do love my residents and i will put their happiness and well-being at the heart of everything I do
Show More
Cora Lou De Felipe
Unit Manager - Shorts Terrace
Hi, I am the Unit Manager of Short Terrace. I am a registered nurse with over 25 years' experience, I came from the Philippines in 2006 but before then I worked in the U.A.E as a general nurse. When I come to England I joined Barchester Healthcare as a career and worked my up from registered nurse to Unit manager.
Show More
Marissa Abi Alk
Unit Manager - Peters Mews
Hi, I am the Unit Manager of Peters Mews. I have been a nurse for more then 40 years, I enjoy working with different people both colleagues and clients. It brings me pride and joy to be able to share my experiences and knowledge.
Shazia Mirza
Care Practitioner - Cathedral
Hi, My name is Shaz and I am a care practitioner for Cathedral Square.  I have been at Winchester House since 2008.  I started here as a Carer and worked my way up to a Care Practitioner in 2014.  I am passionate about my work.
Amber Aspinall
Hi my name is Amber
"As head of activities, I believe in delivering events and activities that truly enrich the lives of residents and ensure they feel connected with their community. The activity team plan activities to ensure that they cater to the different resident groups and individual requirements. This can mean that one day organising a communion service or entertainers; and the next, organising boat trips and outings in the local area. Every day is different."
I went to art college after school and I still paint regularly, I play the clarinet and can play the piano, I have previously been a children's entertainer (mostly Disney princesses) - all of which I think have really helped with planning and delivering activities. I've worked with teenagers as a substance misuse counsellor which also included tailoring one to one activities to individuals.
Show More
Peter Grant
I have worked for Barchester Healthcare for over 5 years and have been the Head of Maintenance here at Winchester House for almost as long. In addition to completing routine maintenance for the home, there are often special projects that need to be managed, such as equipment breaking down that requires fixing as soon as possible.
I am the home's fire trainer as well, so I am responsible for fire safety and training within the home. 
Show More
Tanya Goldsmith
My dear mother was a resident at Winchester House and was very happy here. After she passed away in 2013, I decided to apply for a job here as member of the housekeeping team. I love working here so much and I enjoy being able to put smiles on people's faces every day. In 2016, I was promoted to Head Housekeeper.
I love the environment of Winchester House; no day is the same and I am very grateful to Barchester for giving me this opportunity. I hope that I will be here for many more years!
Show More
Mrs Tracey Coyd
I am the Team Leader on Shorts Terrace. I have been in Care for 30 years and at Winchester house since 2017. I have always had a Passion for Caring.
Mrs Agata Szymanska
Non- clinical Deputy Manager
Hi my name is Agata, and I'm non-clinical Deputy Manager at Winchester House. I have been working for Barchester Healthcare for the past 11 years, originally starting as a health care assistant, followed by other roles within the home. Over the years my passion for Winchester House has grown and I love being part of such a wonderful team. My main responsibilities now are to support my GM Liza,  in all aspects of her work as well as supporting my colleagues in all other departments.
Show More
Toni Goseley
Hello, my name is Toni and I am the Administrator here at Winchester House. I joined Winchester House in April 2021.  I find helping the residents and their families really rewarding.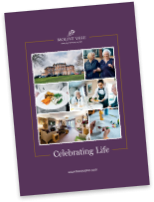 Read our brochure 'Providing great quality care and wellbeing' for more information on how we're here to help you and your loved one.
Read brochure
Food & Nutrition
Activities & Events
Care & Facilities
What happens now?
Are you ready to discuss your individual care requirements? Pick up the phone and talk to us, book a visit to our care home or come and take a look around our facilities.
Care enquiries
New care enquiry phone lines are open 8am - 8pm
01634 624 959
All other calls
Our fees and contract
We want to be as transparent as possible about how we charge for the different services we provide as well as what's included in our contract. Please click the links below to find out more about our fees and contract.
View typical fees
View Our Contract
Useful downloads
Here to help you make the right decision about your care requirements.
206