Meet the Wimborne Care Home team
Our staff are what hold the home together. Each one of these team members are dedicated to providing high quality care and services to those we support, and ensuring that residents enjoy all aspects of life at our home. See below to meet some of our friendly faces:
Emma Glanville
General Manager
Hello and welcome to our website.
My name is Emma and I am the General Manager at our lovely home on Hayling Island. I am extremely  passionate about delivering exceptional person centred care to our residents and ensuring high standards of support and service. All our residents should have the opportunity to live their lives to the fullest in a safe and homely environment.
I have worked with Barchester over 10 years now, and progressed to General Manager I am pleased to be at Wimborne and ensure excellent care and service is delivered at all times. Barchester have celebrated 30 years in delivering outstanding care to the sector and I will ensure it is maintained at Wimborne for our teams and wonderful residents.
I am truly excited to leverage my current skills on a wider basis with Barchester. This company has an excellent reputation within the care sector for delivering high quality care. I adore working with my team to achieve the high standard of care on a daily basis.
I look forward to meeting with you soon, please come in anytime for Tea and cake and chat, our door is always open.
Janet Nest
Hello, I'm Janet and joined the team at Wimborne Care Home in 2018 as a Senior Carer, I got to know our residents and their families really well during this time. I have recently been promoted to Head of Care to provide additional support to our General Manager, ensuring we provide the very best care for our residents. 
Show More
Vikki Sweeney
Hello, welcome to our website! My name is Vikki and I have recently joined the team as the Home Administrator. I previously worked in home care and really enjoying role here, looking after staff records, payroll and resident accounts. 
Alisha Malik Ridley
Hello, my name is Alisha and I am the Activities Lead at Wimborne! I was born in East Sussex so I am quite new to Hayling Island, however I am not new to working within an Activities role. I have a background in musical theatre and drama, and have always loved performing and making people smile through singing and music. Working within a home is such a rewarding and fun job and I love being able to make a difference to someone's day, I am really looking forward to working with the residents here at Wimborne.
Show More
Hayden Jones
My name is Hayden and I am the Head Chef here at Wimborne.
I have recently been promoted to head chef and am really enjoying my role, I am very passionate about cooking for the residents here at Wimborne and look forward to the feedback I receive. I am passionate about getting to know the residents likes and dislikes and enjoying trying new recipes and also taking requests to incorporate into my menus. I also look forward to cooking at our big events and hope that the families also enjoy my cooking.
Show More
Kerry Smith
Hello, my name is Kerry and I joined the team at Wimborne nearly 9 years ago, my experienced is varied from catering on film sets for actors, many who are household names to chef at restaurants! I love cooking the traditional dishes our residents enjoy, pies and roasts are favourites plus sweet cakes and pastries. My Victoria sponges are very popular. I regularly try new recipes and get feedback from residents, its so important they have have a choice of dishes to tempt them, from the meals they cooked for their families to the more adventurous.  
Show More
Caroline Samuels
Hi, My name is Caroline and I am the Administration assistant here at Wimborne care home. 
Danielle Hill
Hello I'm Danielle and my role is to support our housekeeping and laundry team to keep everything sparkling in our home! I joined the team in January 2021 as a member of the bank staff, then took a permanent role and promoted to Head of Housekeeping at the end of 2021. This is my first job in care and I have loved getting to know our residents 
Show More
Kate Jones
Hi, my name is Kate and I am the Life Enrichment lead here at Wimborne Care Home. I have been working at the home for 6 months as a care assistant and I recently decided I wanted to step in to this new position so I could make an even greater impact on our resident's lives and the lives of their families. I have been a scout leader on the island for 10 years and this is something I really enjoy. I have always wanted to make a difference and I am really looking forward to doing that here.
Show More
Gary Washbrook
Gary is responsible for the maintenance of the home and also the upkeep of the gardens.  Gary claims to be getting a great deal of job satisfaction and is looking forward to the opportunities that Wimborne will bring.
Leanne Sparks
Hi, My name is Leanne and I am a night, senior care assistant here at Wimborne care home.
Lucy Ward
Lucy started working here at Wimborne in 2008 as part of the housekeeping team. She then decided she would like to become a carer and eventually became a senior carer after achieving her NVQ level 3 in care.  
Care Team
Please meet Rizalisa, Zoe, Dawn and Ann, a few of our care team members.
Our dedicated caring staff provide the highest level of person-centred care for those we support, with a wide and varied activities programme, insuring that residents always sit at the centre of everything we do at Wimborne.
Show More
Gemma Pitman-McGrath
Clinical Development Nurse
Hello, my name is Gemma and I am a Clinical Development Nurse for Barchester. I have worked in the Nursing Home sector all my working life and have worked in a variety of roles. I worked as a carer throughout my nursing training and I qualified in 2008. I worked as a Nurse in a Nursing Home on the Isle of Wight, before becoming the Manager of the home. I was the Manager for 2 years before joining Barchester in 2017.
I cover a region of 10 homes and my role as a Clinical Development Nurse is to support the care homes within my region to deliver quality care to our residents. I am the person our General Manager's and the nursing and care teams can contact if they need support, advice and guidance on any clinical elements of care within the home. I am dedicated and passionate about the delivery of high quality care and clinical standards.
Show More
Trevor Jones
Hi, my name is Trevor and I am Operational Trainer here at Wimborne Care Home.
I have been working for Barchester for nearly 9 years, 2 years as a Carer and 6 years as a Trainer. My background has been in training for the last 20 years.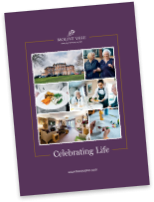 Read our brochure 'Providing great quality care and wellbeing' for more information on how we're here to help you and your loved one.
Read brochure
Food & Nutrition
Activities & Events
Care & Facilities
What happens now?
Are you ready to discuss your individual care requirements? Pick up the phone and talk to us, book a visit to our care home or come and take a look around our facilities.
Our fees and contract
We want to be as transparent as possible about how we charge for the different services we provide as well as what's included in our contract. Please click the links below to find out more about our fees and contract.
View typical fees
View Our Contract
Useful downloads
Here to help you make the right decision about your care requirements.
205