Reviews for Westwood House Care Home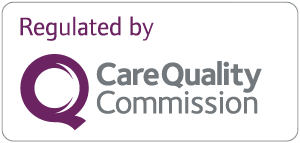 What our families say on carehome.co.uk
"This is a friendly home, and the staff are wonderful. My uncle gets great care, and the staff are very understanding to every resident and their needs. They were brilliant over the Covid period to keep everyone safe."
Mary H
carehome.co.uk rating: 3.92 out of 5
"The home is beautiful. Full of professional and friendly staff. The garden is big and is very well-kept. My nan is very well cared for by staff and the management seem very varied and keep my nan engaged and entertained."
Terence S
carehome.co.uk rating: 5.00 out of 5
"Very happy with the care I get from the home. Staff are always very helpful and friendly."
S V
carehome.co.uk rating: 4.67 out of 5
"I find the home an excellent place to live, and the very kind staff and management to care for your needs."
John D
carehome.co.uk rating: 4.75 out of 5
"My grandfather lived with me for nearly 15 years. He developed dementia and we kept him at home for as long as we could. Unfortunately, we had to place him in a care home at the beginning of the pandemic and the emotional distress was unbearable at times. The care home we placed him in was not great and we moved him to Westwood House towards the end of 2021. As with all transitions, there were teething problems however, I cannot stress enough how the staff at Westwood House worked swiftly and compassionately to listen to and address my concerns. The manager has gone above and beyond to reveal how much she and her staff care. One of the carers has looked after me as well as my grandfather when I have visited after a long day at work. Staff at Westwood have quickly become extended family. Visiting feels like a home should be a warm, friendly and happy place to be."
Michele K
carehome.co.uk rating: 4.08 out of 5
"All the staff are friendly and courteous and very polite. The staff were very quick after mum had a fall and had to go into hospital for 2 to 3 days and mum enjoyed the company. For her very short stay in Westwood House and her tea as she loved her tea."
T B
carehome.co.uk rating: 5 out of 5
"Lovely to see things opening up after Covid-19. Always such a warm welcome by all staff and so nice to be able to move around freely and to chat and meet other residents. Barchester Westwood House Care Home is always immaculately clean, inviting and friendly. No member of staff fails to welcome you or assist in any way they can. It's always a pleasure to visit and I leave in the knowledge that mum is being tremendously well looked after, both medically and equally importantly in a caring and loving way. As the weather improves, it's lovely to get back into the gardens. Thank you to the manager and your amazing team."
G N
carehome.co.uk rating: 5 out of 5
"Very professional, listening and communicative in difficult times. Staff are attentive despite being highly pressed for time. They will listen to any issues and offer solutions or help. Overall Care is very good."
Nick R
carehome.co.uk rating: 4.17 out of 5
"All the carers and support staff provide an excellent standard of care to my mother. Their attitude and approach are very caring and attentive. The managers are aware of all the relevant issues and address them effectively. I feel comfortable when I leave my mother after visits that she is being very well cared for."
J P
carehome.co.uk rating: 4.58 out of 5
"At all levels, the staff at Westwood House are unfailingly cheerful, caring and compassionate. They are responsive to any of our concerns about my mother-in-law. They react speedily. We consider Westwood House as part of our extended family. They have also offered very helpful advice about Barchester's services in other parts of the UK."
C T
carehome.co.uk rating: 5 out of 5
"Barchester took my husband with severe dementia when other homes wouldn't because of his behaviour and wandering. They have taken great care of him and he has settled into a happy routine there. They have a good visiting system."
Janet T
carehome.co.uk rating: 4.83 out of 5
"Recently a lifelong friend who was a resident at Westwood House Care Home passed away. During the period of over two years that my friend was a resident at Westwood House, the carers always showed the utmost kindness and compassion, always caring and professional at all times. Visitors like myself were always made very welcome, updating regularly on our loved ones care. Westwood House including residents rooms was always clean and well presented, with no awful smells. Meals were also well presented and appetizing."
Christopher H
carehome.co.uk rating: 4.67 out of 5
"Activities are excellent. The activities coordinator is very good, she always tries to get everyone to join in."
S V
carehome.co.uk rating: 4.91 out of 5
"On one occasion I noticed 2-3 staff on social calls on their mobiles, lovely staff on the whole. The outdoor grounds are a bit run down, pigeon poo on some of the chairs and tables. Dead plants. Staff on their mobiles was not a good look while residents sat alone. One woman was crying in her room and her door was shut. I thought perhaps nothing could be done for her and the staff are extremely busy. Can't comment on activities as I don't see them. I get the idea Mum doesn't go outside much for fresh air."
M K
carehome.co.uk rating: 4 out of 5
"I have been here since 2004 and have nothing but good words to say about the home and the activities provided."
J D
carehome.co.uk rating: 5 out of 5
"Lovely experience visiting - staff very friendly and attentive."
J R
carehome.co.uk rating: 5 out of 5
"My mother has been a resident at Westwood House for a year now, following a stroke, and the experience has been a very positive one. She was immediately made very welcome, settled in well, and all her needs - including medical - have been fully met. The staff are all friendly and caring and have gone out of their way to help Mother and her immediate family including through the testing Covid restrictions. The quality of nursing and personal care fully meets our expectations. Mother's room is attractive and comfortable, and the home generally has a positive atmosphere with good facilities. I would strongly recommend Westwood House to others."
Jonathan T
carehome.co.uk rating: 4.67 out of 5
"'An amazing team' is the most suitable way I can describe the staff at Barchester Westwood. Finally visiting indoors has resumed which much added workloads but once again, they rise to the challenge and continue to be the friendly, caring and professional group of people that confirm to me that my mum is absolutely in the best place. Thank you to the team."
G N
carehome.co.uk rating: 5 out of 5
"Very smooth COVID testing when I arrived and full PPE provided. During my visit, the nurse called in and chatted. I always feel I can phone at any time and be able to talk to staff members about my aunt."
R M
carehome.co.uk rating: 4.89 out of 5
"Excellent in every respect. Manager and staff are great. My brother is looked after very well. Would recommend Barchester Care to anyone."
H C
carehome.co.uk rating: 3.75 out of 5
"Mum says she would certainly recommend Westwood House. She feels confident here, after seven months. She says she shouldn't have favourites, but she appreciates everyone works so hard. Staff are friendly, thoughtful, helpful always and have excellent attitudes. Mum feels at home here. The garden has provided two delightful visits so far. Mum would love more supervision getting her teeth brushed daily. Thank you for everything."
S O
carehome.co.uk rating: 5 out of 5
"My mother has moved from another care home which has closed. The staff welcomed all of us and my mother has settled in well. She was given time to adapt and is now happy with the new carers and staff. Overall excellent communication and care."
J P
carehome.co.uk rating: 4.58 out of 5
"I have recommended two people to Westwood as I have been so delighted with the care my friend receives. The staff are so caring and friendly - all deserve much praise."
P R
carehome.co.uk rating: 4.75 out of 5
"Very helpful management when a place needed urgent during the lockdown. I cannot comment on all the options due to covid I have not yet been inside the home. I have recommended the home to two other families who have taken up a place, since."
Jill A
carehome.co.uk rating: 5 out of 5
"The atmosphere at Barchester Westwood House Care Home is one of warmth, kindness and friendliness. All of the staff I have met have exemplified those characteristics and have often gone above and beyond in the care they have given my mother. The home appears to be exceptionally well managed but with a lightness of touch that contributes perfectly to the atmosphere of informality and inclusion."
Rebecca D
carehome.co.uk rating: 4.75 out of 5
"I obviously am not physically in the building as I used to be when visiting, but I know my mum is very well cared for and I have immense gratitude and respect for the staff who risk so much to deliver their best. My mum gave her life to Jesus Christ at the age of 5 and has consistently followed ever since. I honestly believe that Westwood House is one of his great blessings to us."
M K
carehome.co.uk rating: 4.33 out of 5
"The care and compassion from all the staff for my mum was outstanding and the support they showed me was incredibly comforting. The facilities are clean and very well looked after. But mainly, the team were amazing."
A B
carehome.co.uk rating: 4.92 out of 5
"The staff and management have been constantly updating and communicating throughout the pandemic. The only issue I had was the lack of chiropody."
Carmine P
carehome.co.uk rating: 4.29 out of 5
"Everyone at Westwood has worked very hard indeed to care and reassure our loved ones during the lockdown period. It is wonderful to be able to visit in the garden but I am sure plans are underway to facilitate indoor visits in the colder months whilst keeping everyone safe. First-class care."
P R
carehome.co.uk rating: 4.92 out of 5
"Mum entered Barchester two days before lockdown. The team here have done everything they can to make this time as easy as possible. The care and love they have shown have made this period so much easier to manage. We would recommend Barchester Westwood without hesitation."
M B
carehome.co.uk rating: 5 out of 5
"Very friendly staff. Clean and tidy. The visit was very well organised; careful due to covid-19."
N C
carehome.co.uk rating: 4.91 out of 5
"Staff is very helpful and very caring, are looking after my brother very well, feeding him, bathing him, and shaving. Meals are very appetising. All in all, I am very pleased."
H C
carehome.co.uk rating: 4.25 out of 5
"Friendly, caring staff. Welcoming, kind and considerate. High standards of safe-guarding, keeping relatives informed regularly. Nice contemporary refurbishment to a high standard. Appreciate facilities for visitors - toilet and tea and cake! Very happy Mum is in this particular care home."
Marianne K
carehome.co.uk rating: 5 out of 5
"I'm so glad my mum is at Barchester. As a family, we picked it for care and consideration of my mum. From being scrawny thin from failure to eat meals through dementia, she's progressed to eating well again. She's happy and reassured by the staff, who haven't changed during the time she's been in (more than two years ago). What's outstanding is feeling the sense that she's being cared for, and the familiarity the staff have with her, and her feeling of being comfortable with her position there. I can't remember the number of homes that were looked at between the three of us children, but I'm so grateful my sister found this home, compared to others, we all decided from visiting that this was the one. Most importantly, during the Covid-19 pandemic, they've kept my mum protected, and kept us updated all along the way. I am glad to say of us was finally able to visit from a safe distance today (I believe currently 3 metres). Great to see her, and thank you Barchester for the care you gave."
Mark A
carehome.co.uk rating: 4.5 out of 5
"My mother, a very independent person, has been a resident since April of last year. She has been made to feel welcome. Although her independence has been hampered by her physical condition, she is allowed as much autonomy as possible. Nurses and carers have met with her needs which can be quite demanding of staff's attention - particularly the timely administering of drugs by nurses. My frequent visits also have been accommodated. During this frightening time of COVID-19, they have ensured that she, along with all residents and indeed staff, have been kept as safe as humanly possible. This no. 1 objective of ensuring a safe, secure and modern environment - whilst also being warm and homely - means I recommend Westwood. Highlights: the staff's tireless work, the meeting of resident's daily and recreational needs, the lounge, the garden, dining area make it very pleasant."
Nick R
carehome.co.uk rating: 4.58 out of 5
"When my Mum needed residential care, I contacted 40 care homes and visited 24. Westwood stood out as the best for Mum's needs and the one that she would like the most. She has settled and now considers it to be her home. Most importantly, it meets her high standards of comfort and care; she was a senior nurse. We have been so impressed by the care provided before and during the Covid-19 pandemic. Although we can't visit, Westwood has employed excellent protocols to manage care for each resident individually to try and keep all residents and staff safe. They have enabled contact using new technology and kept us regularly updated. I am most reassured though that whenever my brothers visit they always come out saying "we made the right choice". I completely agree."
Nikki R
carehome.co.uk rating: 4.92 out of 5
"Westwood House provides an amazing level of care and attention. Even during this dark period when we are unable to visit loved ones, they have strived to keep us in touch via all platforms of social media and their attention to detail is phenomenal. The staff are extremely friendly, caring and proactive in arranging activities etc. The facilities have all been refurbished this year and the place is immaculate. I could not be more pleased with the decision I made to use this home."
Nicola T
carehome.co.uk rating: 4.92 out of 5
"I chose Westwood House for my aunt, who has dementia. From day one she was treated as an individual and a person, rather than an entity. The nursing care is very good, and there are plenty of activities to keep residents busy on a day-to-day basis."
Nicola T
carehome.co.uk rating: 4.67 out of 5
"We highly recommend Westwood House Care Home. My friend was cared for with such care by all the staff. They are professional, skilled and show loving care. My friend was here for 8 weeks and couldn't have had a better environment."
R H
carehome.co.uk rating: 5 out of 5
"I don't know when I have received such TLC. The staff were excellent and couldn't have been more kind and helpful. One's every need was attended to and made for a very comfortable stay and a much-needed rest. The residents were also very welcoming and friendly. Altogether to be recommended. Thank you all very much."
Vera L
carehome.co.uk rating: 4.75 out of 5
"I am happy how my husband is being looked after. All the staff workers are very helpful."
I M
carehome.co.uk rating: 3.5 out of 5
"The staff, most of whom have worked at Westwood House for more than 5 years, reassured me it was a good place to work. Secondly, all the staff, without exception, were smiling, friendly, helpful and courteous. The dining room is very pleasant. The food delicious. The nursing staff were lovely, so kind, respectful, patient and caring, they looked to do their best for my husband. We chose Westwood House for several reasons. Recommended to me by friends. We liked it because it was "homely" not clinical. It is clean. Finally, Westwood House is a very good care home, 10 minutes from where I live. A big plus when visiting."
V W
carehome.co.uk rating: 4.75 out of 5
"I cannot recommend Westwood House highly enough. Every member of staff treated my father (and, in fact, the whole family,) with care, respect and kindness. After months in hospital, it was really like a homecoming when he arrived at Westwood House. The whole team did everything they could to make his last weeks comfortable and happy. Thank you all."
Diana S
carehome.co.uk rating: 4.58 out of 5
"My mother seemed to find her experience in the home 'a new chapter' in her life rather than a steady degeneration of her faculties. Several members of staff went above their main duties to make her final days more bearable. At the end, four carers came to offer their condolences and complimentary comments, which made the final throes much more bearable."
D C
carehome.co.uk rating: 3.75 out of 5
"From the moment w arrived with Dad, the warmth, friendliness and care were evident. The staff are very caring and treated Dad with dignity, care and respect. The family felt very reassured that Dad was well cared for and safe, with his interests catered for. Thank you to all the staff."
Sarah Y
carehome.co.uk rating: 4.42 out of 5
"My mother came to Westwood House over 7 years ago from hospital where she had been treated for a severe delayed grief reaction at the loss of my father whom she had married when she was 21 years old and still adored. She was 94 years old at that time. She blossomed in the warm, loving atmosphere of Westwood House. The quality of care which she received from all the staff was outstanding. It was a great comfort to us that she was so happy there. While she loved coming out and seeing her children, grandchildren and great-grandchildren, she was always happy to return to Westwood House to see the nurses and carers who had almost become part of her family too and to share, with them, news of her offspring and the events of her day out. She made many friends among the residents and staff and the staff there always made us, her family, very welcome, so that they became our friends too. She died, aged just over 100, having received faultless, dignified, care throughout."
Richard P
carehome.co.uk rating: 4.67 out of 5
"I have visited a patient in this home over the past year and have always been impressed with the establishment. The reception staff are welcoming, professional and the staff always seem helpful and caring. Having been in the nursing profession, I am aware of criticism in the sector and am impressed with your home in Sydenham. Well done!"
M G
carehome.co.uk rating: 3.33 out of 5
"Westwood House is an exceptional care home which my father and my late mother lived. The staff are excellent, they really care and go the extra mile and they do feel like an extended family. It may have a lot to do with continuity of staff and well-run management that gives the very homely atmosphere and friendliness. I hope to be staying here myself in the future."
Ian J
carehome.co.uk rating: 4.92 out of 5
"Thank you to all the wonderful staff at Barchester Westwood House Care Home. You all made it a "home", a proper home, for my mum. Every one of you should be proud. You lovely, lovely people."
Keith M
carehome.co.uk rating: 4.92 out of 5
"Westwood House is such a caring home with the most amazing and supportive staff. Nothing was ever too much for them and the care they gave to my mother in the last year of her life was fantastic. They were respectful, genuinely caring and were always available to have a chat with my family and I if ever we needed it. It was a worrying time looking for care homes and I instantly had a good vibe when I first contacted the home. This remained the same throughout my mother's time at the home. I would thoroughly recommend."
Jane C
carehome.co.uk rating: 4.67 out of 5
"I have been a resident in the home for almost three months. When I arrived, I could barely walk and my blood sugar levels were quite high. I leave on October 2nd. Now I can walk - with a frame, several hundred yards, without a break and my blood sugar levels are considerably low. I am entirely satisfied with my stay at the home which was recommended to me by medical staff. I feel the home is caring and sympathetic and the staff are excellent."
Anthony H
carehome.co.uk rating: 5 out of 5
"I thoroughly recommend Barchester Westwood Care Home as they provide an extremely efficient service and are all very dedicated to their work. From management to carers. They always treat you with respect and are always there to hear of your complaints if you may have any."
John D
carehome.co.uk rating: 5 out of 5
"I just have to praise the wonderful staff at Westwood. My hundred-year-old mother is becoming increasingly frail and it is just wonderful to see how the carers are constantly personalising the level of care they give to her. Their attention to detail is quite amazing. I watched as one incredible carer gently asked my mum to lean forward after she had been helped into her wheelchair so that the carer could gently smooth the back of my mum's cardigan ensuring that it was totally comfy for her! One mention that my mum had begun to get rather uncomfortable sitting in her wheelchair and immediately a pressure cushion was placed in her chair. The same brilliant carer then made sure that everyone knew to use the cushion each time she was in her wheelchair. The thoughtfulness and kindness of the carers are amazing. Everything they do is absolutely for her comfort - they know her so well and meet her every need. Thank you to all those amazing carers and nurses!"
Lizzie H
carehome.co.uk rating: 5 out of 5
"My mother's appearance has always been extremely important to her. I am now extremely touched that now she can no longer dress herself, her carers take enormous care getting her up each morning. They involve her by helping her to choose her clothes, matching colours, appropriate jewellery and scarves. This is so important to her and makes her feel wonderful. They do her hair and apply a bit of makeup. Thank you to those wonderful carers. It means so much to her."
L H
carehome.co.uk rating: 5 out of 5
"My mother-in-law has resided in the nursing home for seven years. During this period, her physical and mental health has been met with great care, professionalism and compassion. She celebrated her 100th birthday and the day was full of love and joy with all staff and residents participating."
E P
carehome.co.uk rating: 4.5 out of 5
"It was a very difficult transition for my father coming into nursing care and the staff at Westwood House got him to a place of acceptance and comfort very quickly. The staff have always been very welcoming to me and my family and we feel very secure knowing that my father is getting the right care in the most compassionate way. It is also a testament to the management employed at Westwood House."
Rob M
carehome.co.uk rating: 4.83 out of 5
"In the time my Mum has been here, the care has been consistent and we are very pleased with all that has been done for her. The carers are good and patient with her. The standard of cleanliness is excellent and food very tasty. Staff are very welcoming to me when I visit."
Christine Q
carehome.co.uk rating: 5 out of 5
"Excellent staff. Nothing too much trouble."
J R
carehome.co.uk rating: 4.83 out of 5
"As a resident, I enjoy it here. I like the food and my room. The dining room is nice and bright."
I B
carehome.co.uk rating: 4.92 out of 5
"Since my Mother came to Westwood House she has been very happy. Staff are very good with her and she is cared for. I feel that there should be more activities that would help her with using the skills that she has. However, I would recommend Westwood House to anyone that needed their loved one to be cared for."
Dena E
carehome.co.uk rating: 4.36 out of 5
"My mother has been at Westwood House Care Home for five years. Over that time, care has been okay, though not perfect. But since the new manager has taken over she has really worked hard to get to grips with this and there is a noticeable improvement, especially on creating a warm and caring community, which is the most important thing. The refurbishment looks lovely, but warmth and caring are what really matter. Some staff were already outstanding at this, but, especially over the past year, the manager has really transformed the feel of the place and the way all staff interact with residents. This is to be applauded because effecting cultural change is incredibly hard, but at Westwood House Care Home it is noticeable the minute you walk in the door now. Well done all."
J C
carehome.co.uk rating: 3.83 out of 5
"I enjoy life at Westwood House as it is a caring and friendly environment and the staff and manager are always on hand to help."
John D
carehome.co.uk rating: 5 out of 5
"I visit my friend often and I find the staff very friendly and the home is very nice. My friend seems very happy here and I would recommend this home to friends."
Cetti P
carehome.co.uk rating: 4.92 out of 5
"Came nearly 3 years ago and have gradually needed more care which I have received with kindness."
Kathleen M
carehome.co.uk rating: 4.83 out of 5
"The overwhelming strength of this care home is the staff. They show compassion and care to both residents and their families that goes way beyond the norm."
T C
carehome.co.uk rating: 4.17 out of 5
"The refurbishment of the home has made a very big improvement to the place and seems to have made a positive difference to the standards of care. We hope this continues."
A T
carehome.co.uk rating: 3.58 out of 5
"Me and my family were very happy with all the care and kindness my mum received at Westwood House, the staff were always lovely and tried their best."
Jill M
carehome.co.uk rating: 3.83 out of 5
"My soon to be 90-year old mum has recently moved into the dementia floor at Westwood. Sadly after three weeks in the hospital, she went from independent living to needing full-time care. From the moment I met the general manager and was shown around the home, I knew that it was the right place for mum. First impressions were great in that Westwood don't ask you to make an appointment to view the home, the open door policy was so reassuring that what you see is what you get and there is no need to 'prepare' for visitors. Every single member of staff I've met there has shown compassion, warmth and humour towards the residents in their care, and although I am very sad about my mum's rapid decline, I have complete confidence that she is being looked after and cared for, even though she can no longer express any of this for herself. She's only been at Westwood for just under 3 weeks and I don't know what the future holds for her, but Westwood is home for her now and I'm immensely grateful for the care she's receiving."
Karen
carehome.co.uk rating: 4.83 out of 5
"I should just like to praise the amazing staff at Westwood House. Over the past few months, Westwood has been totally transformed as the Barchester Wow project has been carried out. The builders/ decorators were delightful but at times the wonderful Westwood staff were all working in a virtual building site. Throughout this, the residents continued to receive the highest level of care. The carers and nurses worked incredibly hard, in often noisy and difficult circumstances, to make sure that all the changes did not disturb the residents in any way. Westwood House now looks amazing but I just wanted to say a huge thank you to all the wonderful staff who coped so well during the renovation!"
Lizzie H
carehome.co.uk rating: 5 out of 5
"My 99-year-old mother has been living at Westwood House for six years and has been brilliantly happy there. Recently she has developed dementia and is very much more needy than she had been previously. I am just amazed at how all the carers and nurses have supported her so well as she has undergone these changes. The love and compassion they show is quite humbling! Nothing is ever too much trouble. They support her in an amazing way meeting her every need but at the same time gently helping her to be independent with the tasks she still can and enjoys to do. They are absolutely wonderful in the way they have supported me at this difficult time. A chat and a hug for this sad daughter after a difficult time with my lovely, but oh so different mum, means the world to me. A huge heartfelt thank you to the amazing staff at Westwood. They are very special!"
Lizzie H
carehome.co.uk rating: 4.92 out of 5
"We were really worried about moving my mum into a home but her LB Dementia was getting worse. The way that the whole team welcomed her and continue to treat her is amazing. Her condition means that some days she is calm and other days she completely irrational. The team fully understand how to help and comfort her, and nothing is too much for them. Mum's first language isn't English and she often forgets and speaks her own native language. The team handle this superbly, far better than we could ever have imagined. Mum's been a resident for nearly nine months now and we are completely happy that we made the right decision and have chosen the best care for her."
Tony
carehome.co.uk rating: 5 out of 5
"Westwood House is an excellent home with outstanding staff. My Mum spent four and a half happy years there until she passed away at the end of September. I feel that the level of staff commitment and care at the home ensured that my Mum was always happy and contented. My family and I have always felt very welcome there and staff were always friendly, caring, approachable and efficient. The staff on duty during my Mum's final days ensured that she was kept clean and comfortable at all times. They also provided our family with all the support we needed and all of this was done with tenderness and dignity. I found it amazing and touching that when staff finished their shifts they took the time to come and see my Mum and say their goodbyes before she passed away. I had always praised the team at Westwood House, but witnessing them taking the time to say goodbye and being emotionally affected, made me realise just how much they care about the residents."
Sue C
carehome.co.uk rating: 5 out of 5
"The care that the staff and management showed my mother during the year that she was there was both efficient and truly kind-hearted. My mother had really bonded with her regular carers and nurses and came to regard the place as her home, to which she wished to return to spend her last days, when the hospital could do no more. I was especially impressed by the tenderness that they exercised in the last few days both to my mother, myself and my siblings who had gathered in vigil for the end."
David P
carehome.co.uk rating: 4.75 out of 5
"My Mum has been a resident at Westwood House for the past 4 years. She currently lives in Memory Lane on the first floor. The care she continues to receive is excellent and all staff there always treat her with dignity and are caring and professional. I also find that if I ever have any queries or questions. there is always a member of staff ready to assist me in a friendly and approachable way. Today whilst visiting my Mum, I witnessed another resident who suffers from Dementia, being verbally rude to the staff on duty. However, the excellent care staff continued to speak and care for the resident in a polite, calm, caring and professional manner. This is just one example of how caring the staff are. Westwood House offers a very welcoming and friendly atmosphere throughout and it is always clean and the facilities are excellent. I would recommend this home to anyone who requires, residential, dementia or nursing care."
Sue C
carehome.co.uk rating: 5 out of 5
"My experience at Westwood House is excellent. You can do what you want, get up when you want, got to bed when you want as if it is your own home. The management are always there if you need them to answer any problems you may have. Carers always provide the care and support you need, so I would recommend this care home to anyone. The maintenance is also first class."
John D
carehome.co.uk rating: 4.58 out of 5
"I cannot praise this home highly enough on the way they look after their residents with dignity and compassion. Everybody seems to work with a passion for their residents best interests whatever they are. I have visited relatives in other homes, I only wish they had all been in this home."
James G
carehome.co.uk rating: 5 out of 5
"I should like to commend the maintenance manager at Westwood House care home. He works constantly to make my mother's care home a delightful place to be living in. He has recently painted all the communal areas in the most charming colours which also are aimed to help the dementia resident to create their own rooms. In spite of being constantly on the go, he finds time to have lovely conversations with the resident and will always do the "little jobs" that my mother often asks him to do! When the brake on her wheelchair broke, he immediately went online to find out where he could order another one! He is a great man!"
Elizabeth H
carehome.co.uk rating: 4.75 out of 5
"The staff are always friendly and caring and willing to go that little bit further. As you walk into the home from the receptionist and manager to the people who bring drinks and food and the cleaners, always make you welcome."
Vivien G
carehome.co.uk rating: 4.75 out of 5
"A friendly and welcoming atmosphere. The staff are caring and residents are respected. The home is clean. The menu is varied and usually well presented."
G L
carehome.co.uk rating: 4.67 out of 5
"Nothing is perfect in this world but I know of nowhere I would rather live home wise."
Kathleen M
carehome.co.uk rating: 3.08 out of 5
"My mother has been here for three and a half years. She is loved and cared for very well. She is now 102 years old and unable to do much for herself so relies on the carers who do a very good job."
Ann R
carehome.co.uk rating: 4.25 out of 5
"I am very happy with the care mum gets at Westwood House, mum is clean, fed and safe which she was not at home. Staff are always friendly and helpful and even though mum can be a bit difficult at times they are very kind towards her. We feel happy mum is at Westwood House."
Ann F
carehome.co.uk rating: 4.75 out of 5
"My mother has recently had a superb outing organised by Westwood House. She attended a special morning viewing, at the Dulwich Picture House, arranged specially for residents in care homes and those with dementia. At nearly 99 the trip to the cinema was a real highlight. She absolutely adored the whole experience - a tea and biscuit break during an interval in the film and of course the obligatory popcorn!! She could not thank Westwood House enough for such a super outing. The carers looked after so well and joined in with her enthusiasm!!"
Elizabeth H
carehome.co.uk rating: 4.75 out of 5
"The home was spotlessly clean. Warm welcome by all staff. Caring too. Nothing too much trouble with any questions raised concerning my mother."
H V
carehome.co.uk rating: 4.92 out of 5
"Me and my family are very happy with my mum's care at Westwood House. The staff are always very caring and friendly, the food always looks good and they make sure that my mum always eats. We can visit anytime which is good and they let my mum wander around, which she loves to do."
Jill M
carehome.co.uk rating: 4.25 out of 5
Please accept our grateful thanks for all the love and care given to our mum during her time at Westwood House and, in particular, the care given by Cynthia, Germaine, Roger & Sheila. We were kept fully informed during those last days and were aware of all the effort made to make Mum as comfortable as possible. The final hours were calm and peaceful with us holding her hand and stroking her face and chatting as sisters do, with Mum being aware that we were all together.
We would also like to thank Robert for caring for us and other family members, providing cups of tea and sandwiches and making sure we had all we needed. Please thank all your care staff on behalf of the family. I am sorry I haven't mentioned everyone by name, but we are truly grateful for all your care and kindness.
"All ailments are dealt with quickly and a local doctor is available speedily. The trip to the clinic or hospital is quickly arranged with an escort if family are unavailable. I wouldn't wish to go anywhere else."
Kathleen M
carehome.co.uk rating: 4.25 out of 5
"I enjoy living here at Barchester Westwood House Care Home as it is a very homely and very comfortable surroundings. the staff and carers are lovely people and there is always something to do and if you have any problems, the manager and deputy will always sort them out to provide you with a pleasant and comfy stay here."
John D
carehome.co.uk rating: 4.75 out of 5
"Whenever I visit my mother-in-law she is confident and happy in her environment, she enjoys the contact with staff and other residents. Her wishes are respected, her room although in my eyes rather small, is her sanctuary. It is wonderful to know she is happy where she is. Most of all she feels that if she becomes less able and ill, she trusts the home/staff to look after her."
Els P
carehome.co.uk rating: 4.42 out of 5
"Our mum was at Westwood House for just over two years. Although she felt low at times because of her situation i.e living with Alzheimers, loss of mobility, etc, she always felt safe and secure at Westwood. The staff were excellent and we felt that they genuinely cared for mum, we're going to miss seeing them."
Jane C
carehome.co.uk rating: 4 out of 5
"Care overall is satisfactory. Staff are very friendly."
Patricia M
carehome.co.uk rating: 4.08 out of 5
"My mother who is coming up to 101 has been in the home for just over two years. She is frail physically but mentally pretty alert. She is valued, respected and treasured, mainly because she appreciates what they are doing and thanks her carers. She is content, but doesn't join in the meals and activities offered. I would like the staff to do more to encourage her but appreciate they are overworked."
A R
carehome.co.uk rating: 3.58 out of 5
"The four years that I have been here has given me a lot of pleasure. My carers are so brilliant and look after me so well. They know me so well and go out of their way to do all the things they can to make me feel happy and well. My room is Westwood is a really happy place to be in. I also know that all the carers know my family well and will help me to get in touch with them if I should ever need to. At 98 and a half, this is a brilliant place to live."
Pat P
carehome.co.uk rating: 5 out of 5
"Staff are friendly, the care is good."
Ivonne R
carehome.co.uk rating: 4.25 out of 5
"I feel the staff at Barchester Westwood House Care Home have gone beyond their duty of care and support. My aunt who has had very challenging behaviour has received excellent care and treatment. The staff are always friendly and supportive and really appreciate every thing they have done."
Vivien G
carehome.co.uk rating: 4.83 out of 5
"My grandmother came to my house to celebrate her great daughters 11th Birthday. It was just wonderful to see her at a great age of 97½ enjoying the day so much. She is a wonderful granny, but it was especially wonderful to hear her talk about how happy she is in her care home. She talked about the amazing staff who are so caring and thoughtful. They know her so well and take enormous interest in her wider family and talk to her about us all!! I believe that is the amazing care and love she receives from Westwood House that enable her to enjoy busy family days so much. Thank you Westwood."
Rebecca M
carehome.co.uk rating: 4.82 out of 5
"I am happy with the care and friendship my mum gets at Westwood House I go in anytime and always feel happy, the food is good and they encourage the residents to eat and drink and joined in the activities. My mum has her own room which is pleasant and clean and my mum has settled in very well."
J M
carehome.co.uk rating: 4.25 out of 5
"Mum is safe and happy, she is well cared for, is always clean and well fed. We are always made welcome and are kept informed of anything about mum. The staff are friendly and always seem happy, we do not have to worry about mum now."
Ann F
carehome.co.uk rating: 4.92 out of 5
"My mum moved into the home in September and straight away was welcomed by the staff. The home is always clean and tidy and they have settled mum in nicely."
Kay B
carehome.co.uk rating: 4.25 out of 5
"I find at Westwood House, very good and have very nice surroundings, garden ect, and the lounge area where we sit and have lunch and chat and the time is our own. You can do what you like in your room, watch T.V listen to the radio, and rest if you prefer. Visitors come and visit you when they are free."
J D
carehome.co.uk rating: 4.75 out of 5
"I found this home on every visit to be clean, well staffed and patient care excellent. The whole atmosphere tells you all the staff really care about what they are doing. The staff seem to take the extra bit of time to make sure the residents are happy. If your relatives in the home are happy well cared for and treated with dignity then you are happy also. I cannot praise Westwood House staff highly enough."
James G
carehome.co.uk rating: 5 out of 5
"Barchester Westwood House Care Home has a wonderful member of staff who is the Host. He is absolutely brilliant with all the residents spending time chatting with them and taking a real interest in them as people. My mother values his company enormously and adores their chats together. He also takes the residents out for little walks or to the garden on sunny, warm days. Whilst I was away on holiday, the Host took my mother out for several walks which she absolutely loves. He really makes the days very enjoyable for her. Thank you."
Lizzie H
carehome.co.uk rating: 4.83 out of 5
Useful Guides and Information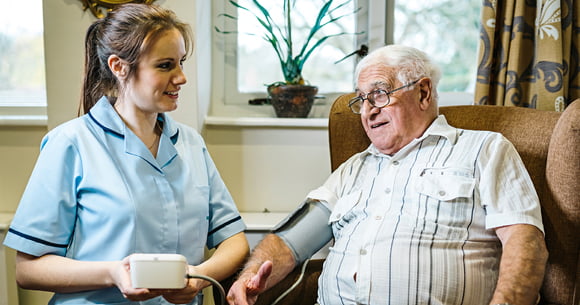 Care & Facilities
Our facilities are designed to the highest standards and the care we provide is delivered by passionate and highly-trained professionals.
Find out more about our care and facilities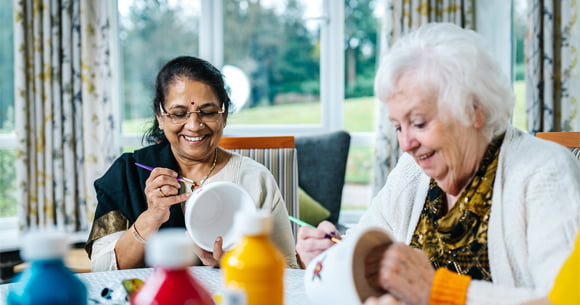 Activities & Events
Our activities programme is planned with individual tastes in mind, and residents always have the opportunity to try new and exciting things.
Find out more about our activities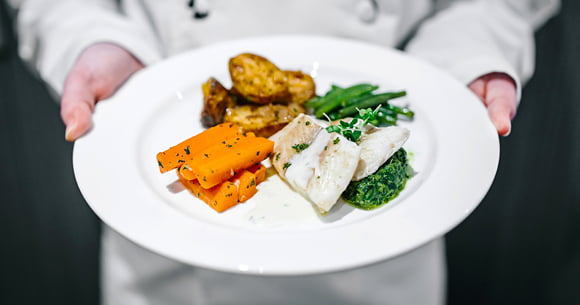 Food & Nutrition
We offer a constantly evolving menu that caters to the tastes and dietary requirements of those we support.
Find out more about our food & nutrition
Your next steps to finding care
Our team are here to help you when you are ready to talk about the care and support you need. Please call our team to arrange a visit and come and take a look around our home.
Call our team
Call our team for more information about our care home and to arrange a visit. Phone lines are open 8am-8pm
Send a message
We'll be happy to answer your questions about the next steps for moving into our care home. Send us a message online
Contact us
Download a brochure
Download our brochure to find out more about life in our care home
Download brochure
Our fees and contract
We want to be as transparent as possible about how we charge for the different services we provide as well as what's included in our contract.
View typical fees
View Our Contract
Frequently Asked Questions
What types of care does Westwood House Care Home offer?

Westwood House Care Home offers Nursing care, Residential care, Dementia care, Respite / Short stay, Services for under 65.
200