Meet the Westwood House Care Home team
Our staff are what hold the home together. Each one of these team members are dedicated to providing high quality care and services to those we support, and ensuring that residents enjoy all aspects of life at our home. See below to meet some of our friendly faces:
Mark Chakravarti
General Manager
Hi, my name is Mark, and I am the General Manager. Welcome to the website!
I have worked in the healthcare sector since 2015, in both public and independent services. As an experienced General Manager, I am extremely passionate about delivering exceptional, person-centred care to residents and ensuring the highest standards of support. Residents should have the opportunity to live their lives to the fullest. I thoroughly enjoy working with residents, their loved ones and the staff team here at Epsom Beaumont.
I am excited to leverage my current skills on a wider basis here at Barchester. This company has a good reputation for delivering high quality care and I love working with my team to achieve the Barchester goals.
I am very proud of my career achievements and establishing myself in a very complex and compliance-driven industry.
Catherine Decano
Catherine is our Deputy Manager and has been with us for many years. She knows this home very well and is 100% committed to Westwood House and our residents who live here.
She oversees the whole home and works very hard to support the Manager and the staff team to ensure that the home runs well and that quality care is provided at all times.
Show More
Joanne Thompson
Joanne is our  Administrator and is really pleased to be working for Barchester Healthcare. Joanne only started with us earlier this year but has already established herself in the home and is a valued member of the team.
Nicola Deegan
Receptionist/Administrative Assistant
Hi, my name is Nicola, and I am the Receptionist/Administrative Assistant here at Westwood House.
Carla Munoz
Hi, My name is Carla and I am the Head Housekeeper at Westwood House. I lead the team to maintain a clean and tidy home for our residents.
Liz Wickers
My name is Liz and I am the new activities coordinator at Westwood House. I have always lived and worked in Southwark and Lambeth boroughs. I spent 25 years within the education sector before deciding to try new roles. As well as teaching I have also had the privilege of being a personal carer in Dementia. I am so happy that I have been welcomed into the Westwood House family where I can continue to grow and develop.
Over the last few weeks I have been getting to know the residents and find out about their interests. I aim to offer a range of varied and tailored activities and group sessions that are meaningful to each of them. I am thrilled to be supporting the team in delivering fun, engaging and interesting activities for our residents.
I look forward to meeting you all!
Show More
Suresh Deonandan
Hi my name is Suresh, I am the Maintenance Manager here at Westwood House. I am  responsible for all safety aspects within the home and ensuring that we all live and work in a safe environment.
Rogelio Laccay
Known as 'Roger', he has been at Woodside House since 2004 and works alongside the General Manager and Deputy Manager to ensure that we deliver the highest standards of care we can.
Tatyana Dimitrova
Tatyana qualified as a Care Practitioner in 2018 at Westwood House and is really enjoying her new role within the home.
Dalton Baxter
Our head chef is Dalton Baxter, who manages our catering team. Raj Thonipadan is the second chef and Charlene & Sue are our kitchen assistants. They all work very hard together to deliver a high standard of food to residents. Please feel free to come in to try our food!
Lucy Sankey
My name is Lucy and I am a qualified Care Practitioner here at Westwood House. This is a fairly new role within Barchester and I now work alongside the Registered Nurses supporting them in their role. I work four nights per week and support the Night Nurses by administering medications and assisting with care planning and documentation.
Show More
Rajan Thondipan
Hi, my name is Rajan, and I am the second chef here at Westwood House.
Celia Mugwanga
Celia is a Carer on Memory Lane and has now been working with us since 2018. Celia is part of our team working towards 10-60-06 accreditation, which we hope to achieve later this year. She works closely with Sam and Eve, and strives to provide a good standard of care for all of our residents at Westwood.
Show More
John Dunsmore
John has lived with us at Westwood House since 2006 and, in 2017, he accepted the post of Resident Ambassador within the home. John fulfills this role by attending our monthly resident forums and also speaking on behalf of those residents who may not be able to attend. John is very active in this role and he does also get involved in some of our interviews with prospective staff. John also takes on the responsibility of ensuring our menus are on show over the weekends.
Show More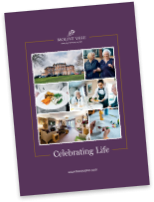 Read our brochure 'Providing great quality care and wellbeing' for more information on how we're here to help you and your loved one.
Read brochure
Food & Nutrition
Activities & Events
Care & Facilities
What happens now?
Are you ready to discuss your individual care requirements? Pick up the phone and talk to us, book a visit to our care home or come and take a look around our facilities.
Our fees and contract
We want to be as transparent as possible about how we charge for the different services we provide as well as what's included in our contract. Please click the links below to find out more about our fees and contract.
View typical fees
View Our Contract
Useful downloads
Here to help you make the right decision about your care requirements.
200