Meet the Westvale House Care Home team
Our staff are what hold the home together. Each one of these team members are dedicated to providing high quality care and services to those we support, and ensuring that residents enjoy all aspects of life at our home. See below to meet some of our friendly faces:
Anna Paule
General Manager
Hi, my name is Anna and I am an Operations Manager for Barchester, currently acting as the General Manager here at Westvale House. Welcome to our website!
Thank you for taking the time to look further into what we have to offer to you or your loved one. Here is an opportunity to look at some of our staff team in the home and who all play a vital role in day-to-day life.
I am kind and compassionate and I focus on providing a safe, warm and caring environment for everyone I support.  Any form of merit is a group achievement and when celebrated together creates an amazing workplace which rubs off on everyone.
I look forward to welcoming you to our home.
Paul Dillon
Hi my name is Paul Dillion and I am the deputy manager here at Westvale House care home. I have been working in care for over 20 years all Westvale. I started off as carer and moved up the ranks to senior care practitioner and now deputy manager. It is important to put all the residents at the centre of everything we do here at Westvale House after all this is their home.
Away from work I have been married for nearly 10 years and we have four children so family life is very important to me. I am also an Evertonian (for my sins) and a sci-fi fan.
I feel Westvale House is a great home where the staff really do all they can for the residents so please come and see us soon
Show More
Debbie Horan
Hi, my name is Debbie and I am a Registered General Nurse, I joined the team in July 2015.  I have been qualified since 2005 and have a broad background in oncology, haematology and chemotherapy.
Karen Willington
I joined Barchester in 2013 and it was my first role within the care Industry. I have over 25-years' experience in administrative roles. I am responsible for all the financial responsibilities in the home. along with all general administration. I take great pride in ensuring that, as much as possible, everything runs like clockwork. I am here to welcome you into the home and I am always happy to offer assistance and support.
Show More
Hayley Bentley
Admin Assistant - part time
I joined Westvale House in 2018 and I am really enjoying this role. Previously, I worked in customer service, but this is my first role within the care sector and I'm finding this new challenge very exciting and enjoyable.
Carl Bracegirdle
I have always worked in construction and engineering and really wanted a new challenge in a varied role, which I believe this position as Maintenance Manager gives me. I'm also a volunteer at Wigan Football and Rugby Club, which also keeps me busy and is a great way to ensure my skills are always honed.
Show More
Jackie McCormack
Hi, my name is Jackie and I'm a member of the Housekeeping team here at Westvale House. I pride myself on high standards of cleanliness and I am always looking to improve the service we provide for residents. I have been at Westvale since 2014, I love my job and I'm sure you will love this home too.
Show More
Chris Nicholl
Hi, my name is Chris Nicholl and I am the Head Chef here at Westvale House, I started here in December 2021.
I have been a chef for the past 40 years and worked in such places at the Savory group, Sodexho and Liverpool Football Club. I fully enjoy what I do, its not just a job to me its my passion.
I aim to bring lots of new and existing recipes for our residents here at Westvale and work on a person centred approach with everything I do.
Outside work I am a Scout leader and have been for the past 20 years.  I have attended the last 4  World scout jamborees taking the role of the catering manager and also been a key person in the organisation of the whole trip.
Show More
Kelly Moores
Hi, my name is Kelly Moores and I am one of the Activities Coordinators here at Westvale House.
I have been working in the care sector for the past 16 years carrying out different roles including carer, housekeeping and activities.  I am passionate about what I do and always aim to fulfil every target I set myself. I am really pleased to join Westvale and to be working with an amazing team striving to enrich the lives of our residents.
I have my GNVQ Level 3 in Health and Social Care and I am always looking to improve my knowledge with training and relevant courses.
Outside work I enjoy spending time with my family, dog walks and my young son most certainly keeps me on my toes.
Show More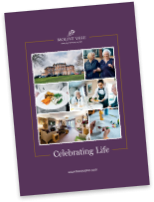 Read our brochure 'Providing great quality care and wellbeing' for more information on how we're here to help you and your loved one.
Read brochure
Food & Nutrition
Activities & Events
Care & Facilities
What happens now?
Are you ready to discuss your individual care requirements? Pick up the phone and talk to us, book a visit to our care home or come and take a look around our facilities.
Our fees and contract
We want to be as transparent as possible about how we charge for the different services we provide as well as what's included in our contract. Please click the links below to find out more about our fees and contract.
View typical fees
View Our Contract
Useful downloads
Here to help you make the right decision about your care requirements.
199