Meet the Tixover House Care Home team
Our staff are what hold the home together. Each one of these team members are dedicated to providing high quality care and services to those we support, and ensuring that residents enjoy all aspects of life at our home. See below to meet some of our friendly faces:
Ive Alexander
General Manager
Hello, my name is Ive, and I am the General Manager here at Tixover House Care Home. Welcome to our website!
Based in the heart of the Rutland countryside, our home is very picturesque, in a tranquil, rural location surrounded by farmland, very close to all the attractions of the lovely town of Stamford.
We treat people with dignity and respect. As a qualified nurse myself, I'm passionate about the care we provide and use all my skills and experience to support the team in providing our residents with a quality lifestyle and excellent care.
Originally from India, I joined Barchester as an overseas nurse, and with first class mentoring and training progressed to home manager here at Tixover House. The Tixover team offers high quality 24-hour residential, nursing and dementia care for residents requiring long-term and convalescent care, as well as respite breaks.
My door is always open, please feel free to visit our lovely home, to see our facilities and discuss your care needs. There's always a warm welcome, homemade cake and freshly brewed coffee waiting for you.
Natasha Briggs
Hello. My name is Natasha and I've been working in care since 2003. I joined the team at Tixover House in 2019 and am delighted to have been made Deputy Manager. I love every minute of my work here. The Tixover team and residents are like a family and I enjoy spending time with them all. In my spare time I like to go on long walks.
Show More
Charli Angeloni
Hello. I am Charli and I have worked at Tixover House since 2019 as a Healthcare Assistant. I am now Head of Care and I really enjoy working with residents and staff here - we are like one big family. Throughout the day I make sure our care teams provide a high level of support to residents from when they wake up in the morning. We get to know residents really well, including how they like their rooms, their support needs, their favourite foods and how they like to spend their day.
Show More
Tracey Davidson
Administration Assistant/Receptionist
Hello. My name is Tracey and you will find me on the reception desk where I greet visitors to Tixover House and support the General Manager with administration for our home. I joined the team in 2015 and I love working here. I like meeting and greeting family members and other visitors, and being the first point of contact for people seeking care for a loved one. Please ask me anything about the home and let me know how I can help you.
Show More
Sandeer Fernando
Hello. My name is Sandeer and i am the Administrator at Tixover House. I joined the team here in 2021 and I enjoy working with all my colleagues. I also like chatting to our residents and making sure I keep all their paperwork accurate for them and their families. When I am not working I like to spend time with my family and go on trips out.
Show More
Anthony Sleight
Hello. My name is Tony and I am the Head Chef at Tixover House. I have a big passion for food. I like to ensure all the residents enjoy their meals and have the right nutrition and hydration to feel well and healthy. I chat with them to find out what their favourite meals are and then put them on my menu plan. I also make the most amazing scones (if I do say so myself) and I love making cakes and other treats for celebrations and special occasions.
Show More
Joshy George
Hello. My name is Joshy and as a Peripatetic nurse I work across the region to provide additional support. I joined Barchester in February 2022 and love my role and placement at Tixover House. I'm passionate about the level of care we provide and enjoy working with the team here.
Tony Bond
Hello. I am Tony, Head of Maintenance at Tixover House.  I joined the team here in 2012 and my role involves checking all our equipment and utilities are working efficiently. I carry out planned and reactive maintenance of the home and gardens, liaise with contractors, and maintain health & safety records. I really enjoy my work and getting to know residents.
Show More
Debbie Bond
Hello. I am Debbie and I am Head of the Housekeeping Team at Tixover House. I enjoy making everyone's rooms as comfortable as they can be, and arranging them as residents like them, with homely and personal touches. The Housekeeping Team is vital in making sure our infection control processes are followed, and we have a programme of deep cleaning to ensure all areas of the home are maintained to high standards. We get to know residents really well.
Show More
Grazyma Warwick
Hello. My name is Gee and I've worked as a part of the care team here at Tixover House for over 4-years. I love my role and caring for our residents. In my spare time I enjoy taking are of my horses and riding. I have the pleasure of bringing them into see the residents whenever I can.
Katherine Smith
Hello. I am Kathy and I joined the Tixover House team in 2020. I specialise in dementia care and am the Dementia Champion at our home. I support residents in our Memory Lane community and advocate for them to ensure they receive the care and facilities they need and deserve. We offer person-centre care and specialist activities for residents living with dementia, including sensory activities and reminiscence time. Tixover is a big family to me.
Show More
Sally Hill
Hello. I'm Sally, I have been working at Tixover House within the housekeeping team for the last 14 years! I enjoy my daily interactions with each and every resident. They brighten my day, as I do the same for their laundry. I live locally and enjoy taking care of my animals, I am passionate about looking after our residents, and the Tixover resident Cat 'Charlie' who loves living within our beautiful home.
Show More
Nicola and Mariana
Hello. We are Nic (on the left) and Mariana. We arrange activities, entertainers and outings so there are plenty of things for residents to do. At Tixover House we offer something for everyone, including crafts, games, virtual visits to places of interest around the world, outings in the local area and parties.  We provide one-to-one time and sensory activities with residents who need more support. We also get to know families as they know so much about their loved ones' interests.
Show More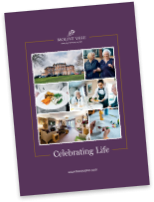 Read our brochure 'Providing great quality care and wellbeing' for more information on how we're here to help you and your loved one.
Read brochure
Food & Nutrition
Activities & Events
Care & Facilities
What happens now?
Are you ready to discuss your individual care requirements? Pick up the phone and talk to us, book a visit to our care home or come and take a look around our facilities.
Our fees and contract
We want to be as transparent as possible about how we charge for the different services we provide as well as what's included in our contract. Please click the links below to find out more about our fees and contract.
View typical fees
View Our Contract
Useful downloads
Here to help you make the right decision about your care requirements.
Frequently Asked Questions
What types of care does Tixover House Care Home offer?

Tixover House Care Home offers Nursing care, Residential care, Dementia care, Respite / Short stay.
187