Meet the Tandridge Heights Care Home team
Our staff are what hold the home together. Each one of these team members are dedicated to providing high quality care and services to those we support. Our wonderful team comprises nurses, carers, hosts, activities coordinators, chefs, housekeepers and more. Meet some of our staff below:
Natalie Davidson
General Manger
Hi, my name is Natalie, and I am the General Manager here at Tandridge Height. Welcome to our website!
I trained as a Social Worker with Kingston University and graduated in 2008. I began my career working with the Local Authority in South London and Maudsley. In 2011 I had the opportunity to join part of the Management team in a small chain of care homes, and this is where I developed my passion for care home management.
I very much look forward to beginning my journey with Barchester and the fantastic team here at Tandridge Heights.
Rekha Vijayshankar
Rekha is an experienced adult nurse having undertaken postgraduate training at King's College London. She is a specialist community public health nurse, a nurse prescriber, with particular interest in neuro disability,  and training in Palliative and End of life nursing (European Certificate). Rekha has worked extensively in the community leading community nursing teams for a large NHS trust. She has won numerous awards like the King's London Award, Nursing Times finalist 2019, Student Nursing Times Award for best community placement 2018, CLCH Diversity award 2019. Rekha's work in 0-19 community nursing leadership during Grenfell fire crisis was nationally recognised :
https://www.theguardian.com/society/2018/jun/27/grenfell-survivors-help-now-health-visitors-trauma-rekha-vijayshankar
She is also writer and a meditation teacher, who has taught and led meditation to various age groups for a number of years.
She lives in Oxted with her two "most wonderful children", a rescue dog and a cat.
Show More
Vali Stallard
My name is Vali Stallard and I am Senior nurse at Tandridge Heights. I am a trained ,registered nurse and have specialised in caring for the elderly for more than 17 years here in the UK .
I believe strongly in treating people as I would like to be treated, and I carry that through to the way I manage my team, care for the residents and support their families. I am passionate about providing great nursing care and believe that working in a care home environment gives me the opportunity to deliver the very best of care possible, build caring relationships and get to know each resident and their care needs in detail.
I also know that, as a team, we become a big part of our residents lives and that their happiness is just as important as their health. I am a dedicated professional benefiting from the experience of working effectively as a nurse for more than 30 years, as part of multi-disciplinary team overseas and in the UK; I have a record of managing busy caseloads, promoting services, increasing personal  and professional standards. I am very happy to be part of Barchester team here at Tandridge Heights.
Show More
Lisa Wheddon
I took up the role of Administrator in 2020 and I am very much enjoying my time here at Tandridge Heights.
Tammy Symonds
Hi, my name is Tammy, and I am a Care Practitioner here at Tandridge Heights. I am passionate about caring for the elderly and I love my job.
Kelly Sherwin
I started at Tandridge Heights in 2020. Previous to this, I have been working as a carer sine 2010, which has helped me to understand the needs, wants and the individuality of all of our residents.
My main responsibility is provide a varied and engaging activities schedule every day for our residents; this helps to keep them involved in social and uplifting activities. We love to have parties to celebrate birthdays, national days and special occasions.
Show More
Rachel Apps
Rachel joined Tandridge Heights in 2018 as a hostess. As a hostess, Rachel has the all-important role of providing a friendly, engaging and helpful service in our dining room and bar areas. It's a fulfilling role that gives her a real opportunity to enhance the lives of all our residents.
Rachel was recently named the Divisional hospitality champion of the entire South region as part of the Barchester Care Awards 2020 and is now off to the National Finals in October.
Show More
Kerry Karter
Hi, my name is Kerry, and I am an Admin Assistant here at Tandridge Heights. I am often first point of call for visitors and callers to the home.
Jane Clark
Jane has been at Tandridge Heights since January 2012. She provides our home with tasty and nutritious food, and is able to cater to individual dietary requirements.
Melanie Kalejaiye
I am the Second Chef at Tandridge Heights. I enjoy providing a high quality catering experience to all residents.
Robert Thompson
I am responsible for the maintenance of our lovely home and ensuring that everything is kept in good working order. Nothing is too much trouble and I love what I do.
Host Team
These are some of the host team responsible for providing a high quality catering and dining experience to all residents, guests and visitors.
Nikta Tavassoli
Nikta works with Tandridge Heights as a sole trader. Having studied at the respected SAME Institute of Foot Health Professionals, She is passionate about working as a fully qualified and insured Foot Health Professional.
Her services cover a range of foot care needs from routine nail cutting to more specialised foot care treatment like Corn, Callus and cracked skin, Fungal skin & nail and Diabetic foot care.
Show More
Kate Galloway
Kate works with Tandridge Heights as a sole trader to provide physiotherapy services. Kate qualified as a Physiotherapist in 2003 from Cardiff University. She joined the physiotherapy department at East Surrey Hospital and completed her junior rotations. In 2005, she became a Senior Physiotherapist in Trauma and Orthopaedics and was then appointed as Team Leader Physiotherapist in Trauma and Orthopaedics at Royal Surrey County Hospital in 2009. She then went to become the Rehabilitation Director for the South West London and Surrey Trauma Network in 2018. She has also worked at Kingsmead Physiotherapy Clinic since 2014 and has completed a range of post-graduate courses.
Kate works within the clinic setting but also in the community, both in patients' homes and within a range of nursing and residential care homes in the local area. She has a special interest in the management of Parkinson's Disease, the rehabilitation of older people, post-operative orthopaedic rehabilitation, and post trauma recovery. She runs an exercise and advice group for people with Parkinson's Disease. She also offers teaching to staff in care settings to include people moving and handling, falls prevention, exercise prescription, management of Parkinson's Disease and post-trauma management.  Kate has a special interest in the physiotherapy management of older people and has been treating residents at Tandridge Heights for many years.
She has a holistic approach to her treatment sessions, including strengthening and flexibility exercises, balance re-education, gait re-education, postural correction, exercises to improve/maintain fitness, falls prevention and practice of functional activities.
Show More
Nesang Tamang
Hi, my name is Nesang and I am a Care Assistant at Tandridge Heights. I enjoy looking after the residents.
Bishnu Tamang
I provide a high quality, infection-free laundry service, ensuring all laundry is maintained to the highest standards.
Dash Ventura
Dash is a member of the nursing team who joined us in October 2021. She had worked in general wards, emergency departments and COVID isolation units. She loves working with the residents and making time to attend to their needs.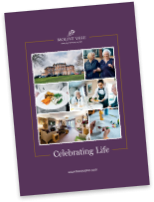 Read our brochure 'Providing great quality care and wellbeing' for more information on how we're here to help you and your loved one.
Read brochure
Food & Nutrition
Activities & Events
Care & Facilities
What happens now?
Are you ready to discuss your individual care requirements? Pick up the phone and talk to us, book a visit to our care home or come and take a look around our facilities.
Our fees and contract
We want to be as transparent as possible about how we charge for the different services we provide as well as what's included in our contract. Please click the links below to find out more about our fees and contract.
View typical fees
View Our Contract
Useful downloads
Here to help you make the right decision about your care requirements.
Frequently Asked Questions
What types of care does Tandridge Heights Care Home offer?

Tandridge Heights Care Home offers Nursing care, Residential care, Dementia care, Respite / Short stay.
174