Meet the Strachan House Care Home team
Our staff are what hold the home together. Each one of these team members are dedicated to providing high quality care and services to those we support, and ensuring that residents enjoy all aspects of life at our home. See below to meet some of our friendly faces:
Lara Masucci
General Manager
Hi, my name is Lara and I am the General Manager here at Strachan House. Welcome to our website!
Thank you for taking the time to look further into what we have to offer to you or your loved one. Here is an opportunity to look at some of our staff team in the home, who all play a vital role in day-to-day life. I have worked as an Ops manager with Barchester since 2008.
Before coming to Barchester I commissioned the home and have grown it with the team into the home it is today. I started in care 23 years ago and worked myself up from a junior care assistant to Nurse and eventually into Nursing Management. I have held Nursing and Management roles in Hospital, Hospice and Care Homes and have commissioned new luxury homes as well as turned around homes in need of improvement and support.
I am very passionate about ensuring the residents receive the best care and life experiences and bring my post graduate specialty in palliation, leadership and management wherever I go to support our fantastic care teams. I work with a long standing supportive team who aim to achieve the best for the home.
I look forward to welcoming you to our home.
Gemma Moriarty
I have worked at Strachan House since 2003. I started in the home as an admin assistant and was promoted to administrator in 2016. I love my job!
Gail Hunter
I have worked in Strachan House for 7 years. I first started as a carer before moving onto activities, which I really enjoyed. I started working on reception at the beginning of 2019 and with any new role you are forever learning. I believe I now have the best of both worlds as I work 3 days on reception and 2 days on activities.  This allows me to spend some quality time with our residents and enhancing they day-to-day lifestyle.  I am passionate about my roles within the home. Outside of work I like art, music, yoga, and spending time with my family at the weekends.
Show More
Mary Christie
I have worked at Strachan House for 16 years as Head Housekeeper. I enjoy my work as it is extremely varied and I get to meet lots of new people.  Strachan House is a very nice home to work in. Outside work I love spending time with my grandchildren, dog walking and bingo.  So all in all, life is very busy.
Show More
Nombedesho Omega Nigamlana
I am from South Africa. I am the night shift charge nurse. I joined Strachan house care home team in March 2004, I have been a qualified nurse for 24years, and I have worked in different fields in nursing. I enjoy working with Strachan house team.
Paul Dow
Hello, My name is Paul Dow and I am the Head Chef here at Strachan House,  I joined the team at Strachan House in July 2021 and I bring 30 years of experience with me.   I trained as a chef in an army kitchen before venturing into the hospitality industry in Foxton working in a hotel in Hythe.
I  then moved to Edinburgh to work in a high-class restaurant and stayed with the same company for 24-years before joining the team here at Strachan House. I look forward to my new  adventure and getting to know the residents and providing them with a high standard of food as they so deserve.
I love my family and spending time with them this is one of the reasons I wanted a new chapter to change my work life balance.  I also love football, golf and music. I look forward to being a part of the Strachan House team.
Show More
Michael Mercer
I have been at Strachan House Care Home since October 2020. I have been in the property maintenance industry for over 7 years. My role here is to ensure that the property and grounds are maintained to a high standard. An equally important part of my role is the very good relationship I have with the residents, relatives and the staff. In my spare time I enjoy watching football and spending time with my family.
Show More
Amanda Burgen
Mandy joined the Strachan House Family in April 2022 and comes with a vast amount of experience.
Mandy has a background of care and has also trained in Neurological Rehabilitation.
Having an enriched and fulfilled life is essential to the overall wellbeing of people and Mandy is thoroughly looking forward to supporting the residents and Families at Strachan House.
Show More
Corinne
Music therapy is based on the belief that everyone can respond to music. Even people who experience severe or complex physical and mental illnesses can be soothed through music. It can be especially effective in people diagnosed with dementia as it can bring back special memories or help them express themselves.
Corinne joined the Strachan House Family in March 2022 and has a real passion for helping our residents connect and engage through the power of music. 
Corinne says: "The power of music makes beautiful connections for people, especially those suffering with dementia. I really enjoy helping make an impact to the residents at Strachan House through music."
Show More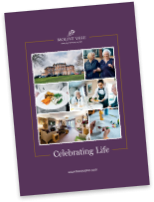 Read our brochure 'Providing great quality care and wellbeing' for more information on how we're here to help you and your loved one.
Read brochure
Food & Nutrition
Activities & Events
Care & Facilities
What happens now?
Are you ready to discuss your individual care requirements? Pick up the phone and talk to us, book a visit to our care home or come and take a look around our facilities.
Our fees and contract
We want to be as transparent as possible about how we charge for the different services we provide as well as what's included in our contract. Please click the links below to find out more about our fees and contract.
View typical fees
View Our Contract
Useful downloads
Here to help you make the right decision about your care requirements.
172