Meet the The Spires Care Home team
Our trained team of professionals work together to create the best possible experience for those living in the home, striving to deliver excellent care services in a warm, homely environment. You can find out more about some of our wonderful staff members below:
Amy Doyle
General Manager
Hi, my name is Amy and I am the General Manager here at The Spires. Welcome to the website!
I have worked in the care sector since I was 18, initially with young adults with learning disabilities, before specialising in elderly care.
I am passionate about improving the lives of our residents and making sure they live life to the fullest.
We are very lucky at The Spires to have a fantastic team of people who are dedicated to our residents. We value training and developing our staff to help our residents have a full and exciting life.
Please do pop in and meet the team.
Helen Lunn
I started my career in care at the age of 17, I worked at the same care home for 25 years I started as a trainee and became Deputy Manager for 9 years.  I relocated to Lichfield and have worked in a local retirement living complex for nearly 6 years until I accepted the position of Deputy Manager at The Spires.  My goals are to ensure we deliver exceptional person centred care for our residents.  I will support Amy our General Manager in our aim to achieve outstanding in CQC ratings.  Dementia care is a passion of mine and I love our Memory Lane community.  My large family are very important part of my life.
Show More
Madeleine Mansell
I have been a resident at the Spires for a while now, I am very happy here and have made lots of new friends. I enjoy my garden and potting plants and I also enjoy the different activities and playing scrabble with my friends. I am very much a family person and am very lucky that my family live close by and visit me often.  All of the staff are very kind and helpful and the food is excellent.
Show More
Joyce Thomas
Until moving to The Spires, I was living in central Lichfield. I have a lovely family and many friends. I enjoy a game of Scrabble and spend quite a few hours playing once I find someone else keen to play. I am happy to be Resident Ambassador and I will greet all new residents and visitors with a smile and a warm welcome.
Show More
Home Administrator
I'm Jayne the new Home Administrator although my background is not in Care, I am looking forward to a wonderful new rewarding challenge here at the Spires.
The staff are a wonderful group of people whose whole aim is to give the very best care and attention to every resident, a team I am proud to say I now belong to.
Looking forward to the days ahead
Show More
Gemma Davies & Wilma Hill
We are passionate about working with our residents and making their days fulfilled and happy.  We have both worked with the elderly in previous roles and love coming up with ideas for activities and events and enjoy every day we come to work.  We love to hear singing, laughter and see the residents learning new skills and sharing their stories with us.
Show More
Jayne Baker
Receptionist & Administrator
I worked front of house in leisure for 23 years which was thoroughly enjoyable. Working at The Spires on Reception is so rewarding meeting and chatting and helping such lovely residents and their families.  After looking after my Father with dementia it gave me an understanding of what families go through.
Show More
Andy Brumwell
Hello I'm Andy, in past employment I have worked alongside maintenance teams for various care home chains up and down the country as an external contractor. My mains responsibilities were heating, plumbing & engineering so I am very familiar with maintaining the home and the needs of residents. I enjoy working with and supporting the elderly, I am very happy in my role and to be part of the great team.
Show More
Joy Reece
I enjoy working at The Spires, the residents feel like part of my family, I take great pride in making sure their home and rooms are spotlessly clean.  Taking a pride in their home is important for the residents and all my team feel passionate about this too. The lovely part of the role is that we get to know each resident and the ways we can make them happy by the little touches that can lighten their day including having a chat as we work. 
Show More
Kevin Hunt
I began at The Spires in October 2018 as 2nd Chef and was promoted to Head Chef in March 2019.  I am a qualified pastry chef who has cooked for the Queen and another member of the Royal family. I love to get to know our residents, we have a herb garden in our rear courtyard, the herbs are in raised beds so the residents can help me care for them to use in our cooking. Individual nutrition and dietary needs are very important to me and my team, we take great pride in knowing the food we serve helps to improve residents' well-being here at the home. I also love catering for parties and special occasions.
Show More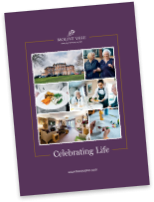 Read our brochure 'Providing great quality care and wellbeing' for more information on how we're here to help you and your loved one.
Read brochure
Food & Nutrition
Activities & Events
Care & Facilities
What happens now?
Are you ready to discuss your individual care requirements? Pick up the phone and talk to us, book a visit to our care home or come and take a look around our facilities.
Care enquiries
New care enquiry phone lines are open 8am - 8pm
01543 330710
All other calls
Our fees and contract
We want to be as transparent as possible about how we charge for the different services we provide as well as what's included in our contract. Please click the links below to find out more about our fees and contract.
View typical fees
View Our Contract
Useful downloads
Here to help you make the right decision about your care requirements.
182