What our families say: Southgate Beaumont Care Community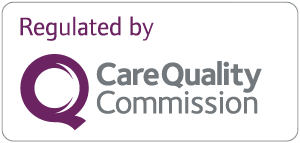 "Welcoming, careing and pleasant staff. Informative with good communication."
P E
carehome.co.uk rating: 5 out of 5
"Very good experience. Excellent staff at every level. Made very welcome, no problem with any request. My room was very nice and very comfortable. I did not miss a shower in the room. I preferred it the way it was with the shower room nearby. The shower just needed fixing."
P S
carehome.co.uk rating: 4.83 out of 5
"Excellent service and concern for my dear relative who died here at the age of 101."
K D
carehome.co.uk rating: 4.67 out of 5
"I am very impressed with the standard of care and friendliness of the staff. It is so important for residents to feel valued and well cared for."
J H
carehome.co.uk rating: 5 out of 5
"I would like to thank all the staff at Barchester Southgate involved in the care of my mother-in-law. When she arrived, she was very confused, weak and poorly. With the excellent care provided for her she regained her strength and lived her last few months in comfort. She passed away with great dignity and for this, we shall always be grateful."
K B
carehome.co.uk rating: 5 out of 5
"I spent three weeks respite in Beaumont Southgate to spend time with my husband who is in residential care. I really enjoyed the experience and could find no fault with anything. Everything was first-class and the staff are very helpful and friendly. During my stay, it was our 60th Diamond Wedding Anniversary and the management and staff arranged a surprise celebration do. We were overwhelmed by the lovely event and thank everyone for their thoughtfulness."
J M
carehome.co.uk rating: 5 out of 5
"I have been impressed by the level of professionalism, care and kindness at the Barchester Southgate Beaumont Care Community. The staff, from the manager to the cleaning and kitchen staff and everybody in between are very good. The Beaumont is safe, organised and hygienic. I was so pleased my mother was kept safe during the pandemic."
Judy F
carehome.co.uk rating: 4.83 out of 5
"Barchester Southgate Beaumont Care Community is one of the best care homes I have visited. My PAT dog Gizmo and I visited for many years. The staff are very caring and professional. The building is beautiful. I thoroughly recommend this home to anyone considering care."
Jenny C
carehome.co.uk rating: 4.92 out of 5
"The staff are very helpful and my mum is treated wonderfully, they look after my mum very well and I am confident in their abilities to look after her. The home is clean and well run, and I have seen that my mum is treated with affection and dignity by the staff. Very happy."
Aktan E
carehome.co.uk rating: 5 out of 5
"I arrived just a week before lockdown in 2020. I was made very welcome and other flat residents helped me to settle in and learn how the home was organised. The staff have been most helpful, cheerful and encouraging during this difficult year. It is difficult to understand and keep abreast of the changing regulations due to Covid."
Daphne M
carehome.co.uk rating: 4.64 out of 5
"A very pleasant care home with polite and caring staff who go out of their way to make visitors and residents feel comfortable."
E L
carehome.co.uk rating: 4.17 out of 5
"On coming to Southgate Beaumont, she started a new lease of life. Joining in the many activities and enjoying chats in the dining room. The staff have been excellent and gone above and beyond with their time, especially in the last year."
J L
carehome.co.uk rating: 4.83 out of 5
"Lovely staff who are very friendly. Excellent care. Lots of activities. Wonderful food. My Uncles were very well looked after."
V B
carehome.co.uk rating: 5 out of 5
"Barchester Southgate is a wonderful place. The staff is friendly, cheerful, empathetic, knowledgeable, and very caring. You have shown such kindness and I can't thank you enough."
J D
carehome.co.uk rating: 5 out of 5
"We asked Southgate Beaumont to provide respite care after my uncle received heart surgery, he is 92. The home is spotless, extremely well furnished, warm and inviting. The level of care is world-class. The food standard is very acceptable. The carers are fantastic and always go the extra mile. We consider ourselves very fortunate to have placed my uncle in Southgate Beaumont, particularly during the Covid-19 pandemic. We have received regular communication and they have kept the residents safe. A "great team"."
B R
carehome.co.uk rating: 4.75 out of 5
"My father (89-years-old) needed respite care after a fall, giving him time to regain his strength, confidence and allow him to return home. The Barchester was able to welcome him to stay at short notice, where he enjoyed the daily activities, meals and care."
K B
carehome.co.uk rating: 4.17 out of 5
"My father went into Beaumont Care for respite initially, he said he was only staying 2 weeks, ended up staying 4 weeks. When he left he said he could have easily stayed another 2 months. Excellent service from staff, first class."
Carol F
carehome.co.uk rating: 4.92 out of 5
"Could not fault anything. Always tell everyone I would move in. The friendly staff treat you excellently, even as a visitor. Excellent food. I would recommend even moving into a flat."
C A
carehome.co.uk rating: 5 out of 5
"Entrance very impressive. Staff friendly and helpful. Clean environment."
Anna A
carehome.co.uk rating: 4.22 out of 5
"Very comfortable. Staff are marvellous. Entertainment good. Always something to do if you wish."
E L
carehome.co.uk rating: 5 out of 5
"I am content with the treatment I am given here."
Evlyn L
carehome.co.uk rating: 4 out of 5
"Extremely attentive and friendly. I feel very reassured that my father is being cared for well. Access to a physio is a great benefit too."
Andrew K
carehome.co.uk rating: 4.92 out of 5
"On the whole everything is fine. Food is not so good every day. Staff are excellent."
J V
carehome.co.uk rating: 4.08 out of 5
"I have been a resident here for 10 years and I have enjoyed it very much."
James D
carehome.co.uk rating: 4.09 out of 5
"As the resident's wife, I have observed during my daily visits, how very well this home is run. A lot of care and kindness are given to my husband by all the staff. I am happy to have chosen the Southgate Beaumont Care Home."
Ursula D
carehome.co.uk rating: 4.42 out of 5
"Generally positive. Some stellar staff. Work needed to improve security of valuables. Good range of activities. Staff are knowledgeable and generally caring. The softer, gentler approach by staff, speaking at a calm and measured pace brought out the best in our relative, whether it was kitchen staff, housekeeping, carers etc. This was generally the experience."
J H
carehome.co.uk rating: 3.75 out of 5
"The staff treated our mother with respect, friendliness and kindness. Her stay in this grand house contributed majorly to her rehabilitation and after 14 weeks of top quality care, she was able to return home. As visitors we were always greeted with genuine warmth, staff knew us by name and mum warmed to everyone over the weeks as her health improved. Mum looked forward to the list of events and participated in many of them enthusiastically. I would say that e-communication or telephone calls back is not a strong point, very few emails were answered promptly and some not at all, so if you want to ask or query anything - do it in person. A big thanks to everyone at the Beaumont."
Chris
carehome.co.uk rating: 4.5 out of 5
"My husband arrived at Beaumont three months ago. He found it very difficult at first, confused mainly. He has now settled down, his needs are fairly complex but staff are now getting used to him as he cannot speak to ask for anything. He loves music and television. The thing that he loves most is the 'entertainment', he cannot take part in many of the various things for residents to enjoy, but music and pets are a vital part for him and make a big difference. Management has always reacted well if I need to speak with them and the staff are very good but very busy. Thank you."
Barbara M
carehome.co.uk rating: 4.33 out of 5
"The facilities on general are excellent. Unfortunately, my mother is bedridden and so not able to enjoy all of them. The care staff have bonded well and clearly care about what they are doing and the people they are looking after. I have recommended the provider to a friend."
B F
carehome.co.uk rating: 4.67 out of 5
"I have lived here for almost 5 years and have been comfortable with the caring and nursing services provided. The management provides an eclectic range of activities for a wide mix of residents - both mental and physical pursuits at differing levels of engagement - and entertainment by professional visiting musicians and local amateur groups; films, lectures, visits from local schools, pet therapy etc; 1/2 day trips to venues in the area and outings for both mobile and wheelchair-bound residents. The carers are trained by the company and their attitudes and competencies are monitored. The standard of décor is maintained at a high level and the cleaning staff work very diligently to keep the rooms and public spaces clean."
David H
carehome.co.uk rating: 4.33 out of 5
"My father was a resident there for 2 and a half years. I cannot speak highly enough for everything they did for him. I know as a daughter I drove them mad for certain things. They cared for my father and even called him Papa (Daddy) - but cared for him like their own. He enjoyed the activities and loved the carers and residents there. I cannot thank the manager enough. She listened and was always a shoulder to cry on and I will never forget what they did for the best dad in the World."
M I
carehome.co.uk rating: 4.92 out of 5
"Barchester Beaumont has cared for my mother for about three and a half years, during this time she has enjoyed a healthy life taking part in the various activities and daily life at the home. Her health remains good and she receives daily care and help that would not have been available if she was still living at home alone. Thank you, Beaumont."
Edward S
carehome.co.uk rating: 3.75 out of 5
"I have visited numerous care/nursing homes, before deciding that "Barchester Southgate Beaumont" was way above in all respects and was the ideal place for my brother. Having spent a full year at Beaumont, both myself and my brother are more than satisfied with everything. Indeed we are very grateful to your organisation."
Ericka C
carehome.co.uk rating: 5 out of 5
"The care provided is excellent with dignity and without a fuss. A good understanding of the resident's needs."
I L
carehome.co.uk rating: 4.75 out of 5
"Overall we are very happy with the care my husband receives at Southgate Beaumont."
Anita G
carehome.co.uk rating: 4 out of 5
"From the time my mother went into the care home she was treated with the utmost care, dignity and love and made to feel special. The commitment from the staff to my mother and the family was always excellent."
Adrienne M
carehome.co.uk rating: 4.75 out of 5
"My mother has resided at Beaumont for almost two years. She is comfortable and well cared for with a very friendly staff at all levels. If I have any reservations it is with the G.P. service allocated to the home. Contact is difficult and sometimes slow to react."
M S T
carehome.co.uk rating: 4.92 out of 5
Just a short note to express my gratitude for the care you and your staff took of my mother.  It seems everyone was very fond of her. Also thank you for the support and friendship I received.
Best Wishes
I would like to thank you and all the staff for their efforts and hard work to make Christmas/New year period so special for all us residents.
I was very impressed by the lovely new year's buffet to which the residents and their guests were invited to. The catering staff did wonders with the presentation and the hostesses were very attentive, particularly assisting those with limited ability.
I would also like to thank all the staff that have cared for me so well in my room from the time I arrived in late June 2013.
My Best wishes to you an all the staff for 2014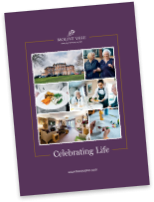 Read our brochure 'Providing great quality care and wellbeing' for more information on how we're here to help you and your loved one.
Read brochure
Food & Nutrition
Activities & Events
Care & Facilities
What happens now?
Are you ready to discuss your individual care requirements? Pick up the phone and talk to us, book a visit to our care home or come and take a look around our facilities.
Care enquiries
New care enquiry phone lines are open 8am - 8pm
020 8003 1861
All other calls
Our fees and contract
We want to be as transparent as possible about how we charge for the different services we provide as well as what's included in our contract. Please click the links below to find out more about our fees and contract.
View typical fees
View Our Contract
Useful downloads
Here to help you make the right decision about your care requirements.
167