Meet the Southerndown Care Home team
Our staff are what hold the home together. Each one of these team members are dedicated to providing high quality care and services to those we support, and ensuring that residents enjoy all aspects of life at our home. See below to meet some of our friendly faces:
Rosalynn Forson
General Manager
Hi, my name is Rosalynn, and I am the General Manager here at Southerndown Care Home. Welcome to our website!
I joined the team in May 2021 after working as the Registered nurse and Deputy Manager in our homes in Tewkesbury – Gloucestershire. I am passionate about supporting the elderly through life enrichment and the provision of person cantered care.
I am strong advocate for the provision of dignity in care at all stages of life. I believe we can all learn something new each day and should always strive for excellence in all we do; to keep improving and evolving.
I am always available to discuss the care and best practice we provide.
Letty Marton
Letty is our Head of Unit. She is a strong leader who supports her team to deliver the highest quality of care, with dignity and respect at all times, where resident choice is paramount. 
She loves her job and always does her best to ensure every day is a happy day, and that the staff are always smiling, singing and most of all caring!
Show More
Julie Miles
Team Leader - Memory Lane
I have worked at Southerndown since 2000. As you can tell, I love my job. In my time at Southerndown, I have worked in all departments across the home.
As Team Leader on the Memory Lane Community, I have direct contact with our residents, their loved ones, family and friends.
I am very approachable, knowledgeable and friendly, so please feel free to ask me anything. I look forward to seeing you and getting to know you all.
Show More
Allen Collao
I have worked at Southerndown since 2007. I began as a Senior Carer and have progressed to become a Team Leader. I love spending time with our residents. Myself and my team offer high standard of care and respect to those we support.
Wilma Estupa
I have worked here at Southerndown since 2011. I am currently in the position of Team Leader, which I really enjoy. I have a passion for my job, and I am dedicated to my work. Southerndown for me feels like an extended family. 
Bridget Lane
Here at Southerndown I am responsible for all the administration within the home, both for the residents and the staff, supported by my dedicated colleagues Eva and Ruth.
Relatives often pop in to see me and I enjoy listening to them learning more about the residents- which helps me develop a more special understanding of them personally.
It's never quiet here and there is always something happening and joining in with the fun is key to making the day go well for everyone.
Show More
Graeme McFetridge
I enjoy the work I do, as both a Care Practitioner and a Dementia Champion in our purpose-designed dementia building.
As part of the Barchester 10-60-06 initiative, I am involved in making our residents feel at home and their lives at Southerndown memorable and meaningful.
Our residents' families are always welcome to come and have a chat with myself or my knowledgeable colleagues if they have any concerns or suggestions on how to improve life at our homes.
Show More
Rosemary Horne
I Joined Southerndown in 2007. I began as a Care Assistant and, with support from the home, I progressed to Care Practitioner.
I love spending time with the residents, as all too often in this busy world we underestimate the power of a touch, a smile, a kind word, a listening ear or the smallest act of kindness, all of which can brighten someone's day. This is the ethos which I install in my team.
Show More
Anderi Mereu
Hi my name is Andrei and I'm the home's Maintenance Assistant. I have been part of the Southerndown team since 2018. I started my journey within the care team, moving onto hospitality as a kitchen assistant and now I've found my vocation assisting our head of maintenance keep the home safe and secure for our residents, staff and visitors.  
Show More
Stacey Davies
I have worked at Southerndown since 2013. I enjoy providing many various activities for our residents, such as gardening groups, trips out in the mini bus, quiz days and art therapy, amongst the many things we enjoy to do.
I also hold a bi- monthly Memory Café, named G.E.M.M.S, with my colleague, Graeme McFetridge, which all family and friends are welcome to attend.
I look forward to meeting you all. 
Show More
Sue Busby
I have been with Southerndown since 2001 and Head Housekeeper since 2007.
I love my job and enjoy seeing the residents happy, my team work well together and ensure attention to detail is paramount. It's sometimes the little things we do that makes such a big difference to quality of comfort for the residents in our care.
Show More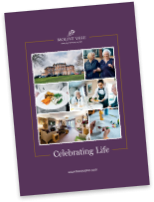 Read our brochure 'Providing great quality care and wellbeing' for more information on how we're here to help you and your loved one.
Read brochure
Food & Nutrition
Activities & Events
Care & Facilities
What happens now?
Are you ready to discuss your individual care requirements? Pick up the phone and talk to us, book a visit to our care home or come and take a look around our facilities.
Our fees and contract
We want to be as transparent as possible about how we charge for the different services we provide as well as what's included in our contract. Please click the links below to find out more about our fees and contract.
View typical fees
View Our Contract
Useful downloads
Here to help you make the right decision about your care requirements.
166