What our families say on carehome.co.uk
"From day one, the staff have always been very professional and kind, efficient and gentle, generally making Barchester Queens Manor Care Home a very happy and friendly "home from home". They have a good relationship with local GPs and district nurses."
D O
carehome.co.uk rating: 5.00 out of 5
"Comfortable home, the staff is very pleasant and helpful. Food is acceptable but not always for personal choice, however on off days something is always available for me."
R P
carehome.co.uk rating: 3.67 out of 5
"I stayed for 1 month, very tired on arrival after breaking my right wrist 2 weeks before. Gave me exactly the right support I needed and I appreciated three good meals a day which helped to build up my energy again. I needed a zimmer frame to practice my walking and was much more confident by the time I went home. I would come again if I needed respite care and recommend it to others. Small criticism- the change from a jug to bottles of water made it difficult for the staff to keep up the supply and they were impossible to open."
C S
carehome.co.uk rating: 4.50 out of 5
"My father became a resident at Queens Manor in September 2022 when he became unable to live safely at home due to severe mobility problems. My sister and I are so glad that we found Dad a place at Queens Manor as, from the initial admission process right through to Dad sadly passing away peacefully at the home at the end of November, the love and care provided by all the staff were absolutely exemplary - and a great comfort to Dad and to the family. It was always Dad's wish not to die in the hospital, and when the time came, the care team at Queens Manor kept him comfortable and administered palliative care so that he could remain at peace in his own room until the end. They sat with him day and night, and Dad said that the carers were like a family to him. We cannot speak highly enough of our experience with the management and care team at Queens Manor, who exceeded our expectations every single day."
Colin C
carehome.co.uk rating: 5.00 out of 5
"Queens Manor is a lovely-looking care home. I can say I was disappointed with a few things in the home which were not appropriate. I saw and learned a lot from visiting this care home. Some good some not so good. The look of the home gives a different impression of what it really is. A bit disappointed to say the least."
J F
carehome.co.uk rating: 3.25 out of 5
"My husband had to move from Queens Manor to a nursing home as his care needs increased. Queens Manor gave him excellent care and responded with expertise and sensitivity to his changing needs. The staff were great, always considerate and understanding. I think he enjoyed their good humour. They also gave me much kindness and support at a very difficult time. I miss them!"
J S
carehome.co.uk rating: 4.55 out of 5
"In summary, this is a five-star care home with 5 star quality of care. I can highly recommend this home for its excellent facilities and the professional level of service provided by each member of staff. It is a difficult decision to move to a care home either for the resident or the relatives. However, Queens Manor has made this transition as easy and comfortable as possible. The staff are always friendly, welcoming and patient with each resident. My father was a pioneer in the field of palliative medicine and always aspired to have good quality of palliative care to be provided in any care setting. He recently died at Queens Manor and I can verify that each member of staff provided top-quality palliative care. My Father was given the most dignified end of life care. I and my family are very grateful for all the care and love provided by this exceptional care home."
Peter D
carehome.co.uk rating: 5 out of 5
"Queens Manor is a 5-star hotel but with caring staff. The home is spotless and very comfortable and with plenty of activities to keep the residents engaged. My mum went in for 2 weeks of respite in May and asked to go back on a permanent basis. Staff are brilliant at ensuring that all my mum's needs are catered for. Highly recommended."
Carolyn C
carehome.co.uk rating: 5 out of 5
"My father sadly died in November 2020. My mother was already suffering from the onset of Alzheimer's and, after more than 60 years of marriage, the loss of her husband coupled with her cognitive degeneration meant that she was reliving this loss multiple times each day, all within her own home. It was unsustainable but not unpredictable and, along with my two sisters, we had been researching quality care facilities into which my mother could move - the golden rule was always 'what would they have wanted' when making such a selection. After a considerable amount of research visits to multiple facilities, Queens Manor Care Home was, without doubt, the right decision. The quality of service and empathy shown, even prior to my mother's admission, was exemplary and, to date, that level of proactive care, service and compassion has continued. Indeed it is balanced by excellent communications both on a generic basis but also on a specific basis when I or my sisters call or visit."
Al Y
carehome.co.uk rating: 5 out of 5
"My Mum has Alzheimer's, and after the death of my father in November, she was unable to stay in her own home. The family chose Queens Manor, and we could not be happier with the care given to Mum. She was anxious and confused after losing our Dad, but the staff have ensured that she is comforted, encouraged to mix with other residents, and we can see that she has quickly become part of the Queens Manor family. One of the biggest issues for Mum was fear of being lonely at home, and we are comforted now that there is always someone looking out for her, she is eating well and taking part in activities. Memory Lane is wonderful for her."
Meg W
carehome.co.uk rating: 5 out of 5
"My 94-year-old Father moved into Queen's Manor during lockdown as he needed a little more support. The staff have been so lovely and respectful towards him, enabling him to have a landline and PC put in, and making his room more homely with his familiar pictures and objects. It has been a massive transition for my Dad but the staff have helped as much as they could and treat him as a 'person' as opposed to just an 'old person', if that makes sense. I would recommend Queen's Manor very highly and my Dad seems to have settled in well now. He very much enjoys the food!"
A F
carehome.co.uk rating: 4.42 out of 5
"After a total of 31 days of hospital treatment over two stays in April and May, I attended your Edinburgh home for four weeks rest and recuperation. I got that, but much more. The food was excellent and the staff was so kind and helpful. In all the circumstances, given the government imposed restrictions caused by the Coronavirus crisis, I was delighted with the way I was looked after."
Edwin L
carehome.co.uk rating: 4.75 out of 5
"At the start of the COVID Lockdown in March my mum fell, sustaining a knee fracture and a skin laceration. After living with me for a wee while we decided that Mum needed some long-term care until, if she wished to, she was able to return home. The choice of Queens Manor was rapidly clearly the right place - she was warmly welcomed by the carers and we were reassured on a daily basis how well she was settling in. She had to be isolated for 14 days initially but after that she was welcomed into the close, warm community of the home. We have been unable to visit Mum due to lockdown restrictions, but numerous phone calls to Mum and to the carers have convinced us that she is comfortable, content and has now no wish to return home to manage alone when she can stay where she is to be fed, watered, entertained and even given a fabulous 93rd Birthday party yesterday. It's great to know that Mum is in loving, caring hands and we look forward to visiting very soon."
Louise S
carehome.co.uk rating: 4.58 out of 5
"My dad became a resident at Queens Manor during the current Covid-19 situation. I haven't been able to see him since he's moved in but this has made me much more aware of how fantastic the staff are. From the initial meeting with them which was helpful and informative, through to them settling my dad in (everything from getting him a packet of his favourite sweets on arrival through to a birthday message video for me!) and from speaking to him how well he is enjoying the company and the surroundings. Overall, given the stressful time it was, the team at Queens Manor couldn't have been more helpful and have had my dad's needs at the heart of everything they have done for him and me."
Derek R
carehome.co.uk rating: 4.83 out of 5
"I would more than highly recommend the Queens Manor. My grandmother is currently staying at the Queens Manor for rehabilitation after a recent hip operation. With the current global situation, I was extremely stressed and worried about where my grandmother would go. Speaking with the lovely Customer Relations Manager, she has been more than a great help and has really gone the extra mile to help get my gran the right care. Another member of staff has gone above and beyond making sure my Grandma has had lots of programmes to watch on the royals, making her very happy. She calls him her "boyfriend". All staff have been great on keeping me updated and accommodating my grandma's interests and needs."
Peter C
carehome.co.uk rating: 5 out of 5
"I have been a resident of Queens Manor for six months - my wife is also a resident here - she arrived 3 weeks before me. The day after I arrived we celebrated our 70th wedding anniversary and the home laid on a celebratory lunch with all the trimmings. I cannot speak too highly of the care and attention we have received here. The carers are in a class of their own - they have ensured that whatever the time of night or day there is always a quick response to a summons. My wife who is partially disabled also has dementia, her carers cope with this admirably. Apart from the caring staff there are also specialist staff who organise activities - these are well-conducted and include visits outside the home (prior to the present lockdown)"
James S
carehome.co.uk rating: 4.58 out of 5
"Remembering this review is being given at a time of lockdown. Food good but limited similarly with activities invited by lifestyle team. The staff here are incredibly sensitive to the residents requirements. I am very moved by their attitude and concern for those in their care. The cleanliness must be mentioned, I have visited many care homes in my life, some not quite fresh, maybe because of conditions. Q M staff are aware of this problem and constantly clean all areas."
D D
carehome.co.uk rating: 4.67 out of 5
"Queens Manor has a fantastic team - we cannot thank them enough for all the care and compassion they gave to our Mum and us, particularly in the last week of her life. We'll never forget such kindness."
Janice K
carehome.co.uk rating: 4.42 out of 5
"My mum is a resident here and I cannot commend the staff and management enough. Staff have been doing their utmost to keep the residents' spirits up, and to keep them safe. Staff and management have been brilliant at keeping us informed of the residents' wellbeing and activities. I cannot praise them highly enough, they are superheroes. Remember to stay indoors, protect the NHS and care homes, save lives."
Laraine M
carehome.co.uk rating: 4.83 out of 5
"How lovely to arrive on an unscheduled visit to see my mum in her room having a foot massage. Mum was grinning ear to ear, which makes us all very happy to know that she is in very safe hands, quite literally."
Brian W
carehome.co.uk rating: 4.82 out of 5
"I never thought my granny would settle so well in a care home. The staff are absolutely wonderful and they really go above and beyond. It is so lovely to see how much the staff care, they are amazing. The amount of thought that goes into everyday activities and small details is incredible. We are so lucky we found Queens Manor."
C S
carehome.co.uk rating: 5 out of 5
"I did not expect to like the care home. I also expected my mother to hate it. Instead we both very much like it and everything is good."
Gordon S
carehome.co.uk rating: 5 out of 5
"I have just been in Queens Manor for the last fortnight and I have been most I'm pressed with its high standard of care at this home. Everything in this home has been very well thought of and the furnishings were first class. Only slight grumble, not enough wardrobe space! Food and chef outstanding."
P H
carehome.co.uk rating: 4.36 out of 5
"Our mother came to Queens Manor in October for respite care, followed three weeks later by our father, also for respite. Three months later they are now permanent residents. This was all very sudden for our family and the staff at Queens Manor have been extremely helpful to my parents and us to adjust to a new way of living. The manager is excellent and this is reflected in her staff. They are warm and welcoming and make every effort to get to know our parents as individuals and treat them as such. It is very reassuring for us as a family and gives us peace of mind knowing they are being cared for in the manner they are. The lifestyle enrichment team think of so many different activities for them and clearly love their job. Any issues or concerns we have are dealt with quickly and staff are always willing to chat over anything with us. Thank you all very much."
Jane A
carehome.co.uk rating: 4.83 out of 5
"The management and staff have been so professional, knowledgeable and have been wonderful in welcoming my husband for respite care. Every need was addressed to make him feel secure and commitment to make him enjoy his stay was fantastic. I felt so relieved he was receiving exceptional care, which allowed me to relax and have a welcome break. I now have the confidence to let him have regular visits. Thank you to such wonderful staff."
D C
carehome.co.uk rating: 4.92 out of 5
"Everyone very friendly, helpful and caring. Any problems are efficiently and promptly dealt with. Plenty of activities and outings, it is your choice. I really enjoy my life here, never lonely."
J T
carehome.co.uk rating: 4.75 out of 5
"The care home is very comfortable and beautifully arranged. The facilities the care home provides are either onsite or visits are arranged with a minibus for transport. The staff, which includes everyone, the cleaners, the care staff, the management of the home, are all helpful and cheerful and make me feel welcome. I have met people who have chosen to live here permanently and they are also happy and very positive about Queens Manor. It has been a very good experience all round."
C C
carehome.co.uk rating: 5 out of 5
"My friend came for respite for the first time. My husband and I came up from South Scotland to make sure she had settled in. No worries! Immediately we felt the warmth of the place and the staff proved thoughtful and kind - without appearing 'gushy'. They, apparently, gelled quickly with my friend as she appeared relaxed and responsive. We were cared for all the time we were there. My friend is back in July. We look forward to visiting again!"
Nancy P
carehome.co.uk rating: 5 out of 5
"The fact that I am here and I am understood by the people that are here. Praising the manner in which I am cared for cannot reach limits and that you all appreciate the thanks I can give as it is meaningful and genuine. My words might not seem a lot, but I am very grateful for the wonderful life you all helped me have here, and that means more than any thanks I can ever give."
Andrew M
carehome.co.uk rating: 4.92 out of 5
"I have lived at Queens Manor for over six months and feel very "at home". The staff have been very friendly and spend time chatting with me. I get taken out for excursions which I enjoy. The food is very nice. Everyone helps me to enjoy my life here. Thank you."
K B
carehome.co.uk rating: 4.42 out of 5
"My Dad received a very warm welcome from all the staff when he arrived at Queens Manor directly from hospital. He settled in quickly and it was so thoughtful of the team to give him the opportunity to go to the Scottish Air Show at East Fortune on only his second day in residence. Dad is really enjoying getting involved in the lifestyle programme, which I think is giving him the stimulation that he has been missing. Everyone at Queens Manor is dedicated and caring towards both patients and their families - it is very much a home from home. Residents are most certainly 'Celebrating Life', so thank you so much."
Fiona B
carehome.co.uk rating: 5 out of 5
"My mother was at Queens Manor for 3 week's respite stay. She has never stayed in a care home before, but she thoroughly enjoyed her 'holiday!'. The home is like a 5-star hotel but with 24/7 care facilities. It is beautifully decorated and clean with a nice and safe garden for my mum to wander about in. The best thing about the home is the staff, they are kind, respectful, friendly and cheerful, that really made the stay more enjoyable for my mother."
C D
carehome.co.uk rating: 5 out of 5
"Very comfortable, relaxed atmosphere. Staff are the best in the world - they all care that they make their residents feel no anxiety and have plenty of diversions. The environment is great but the staff make the place."
Leo H
carehome.co.uk rating: 5 out of 5
"Excellent. My husband has had 2 weeks' respite care after a difficult time in hospital. I could not have asked for more - care has been exceptional. All staff are "stars"."
M D
carehome.co.uk rating: 4.9 out of 5
"My father had a very good experience at Queens Manor Care Home. Each staff member showed him great care and attention during his 3-week stay. The whole place is so peaceful and decorated beautifully so residents can feel like they are in a hotel. Food was very nice and presented beautifully. Day trips were varied and enough day activities should residents wish to participate, we particularly enjoyed the therapet visits. More handrails in the bathroom would help."
Gillian L
carehome.co.uk rating: 5 out of 5
"Although not overly keen, my father was persuaded to take a week of respite care during my recent holiday abroad. From the minute he arrived in the Queens Manor, to the moment he left, he was welcomed and supported with a smile. Nothing is too hard for the staff and all try their very best to ensure those in the care home are treated with respect. His view was that it was 'like staying in a 5-star hotel' but even better, as people took time to sit and talk to him and ensure he had everything he needed. He made new friends during his stay too - from the staff to those staying there and he intends going back to visit. He has also been invited back to join a day out with some of the residents. I was really pleased that he had such a positive experience as it will open this up as a choice for another 'holiday' or even more permanent support if required in the future. Thanks to everyone who made his stay such a positive experience!"
Carol S
carehome.co.uk rating: 5 out of 5
"Following my first visit to Queens Manor, my initial impression was very positive. I was impressed by the attentiveness and friendliness of all staff in all roles and their treatment of both residents and visitors. The variety and quantity of planned activities is inspiring. I was pleased to note the sheltered balcony area and newly landscaped garden grounds which are relatively generous in scale. Giving access to outdoor space."
A O
carehome.co.uk rating: 5 out of 5
"This was the first time my dad had been in respite and away for a week. We were nervous and anxious. The staff were very supportive and understood this. We were able to visit anytime which was reassuring. The staff are all very helpful, kind and really lovely to my dad. Our mind was put at rest. My dad enjoyed his stay. He enjoyed chatting to them all."
Nicki G
carehome.co.uk rating: 5 out of 5
"Wonderful home. All the staff are very friendly and clearly take very good care of my father. He has a lovely room and is very settled in his new home. The team have worked hard to ensure they met my father's needs. Wonderful programme at activities, with lots going on. I can visit at any time and I am always made to feel welcome."
Neil B
carehome.co.uk rating: 5 out of 5
"On visiting my friend who is residing in Queens Manor in Edinburgh I found her to be in a very comfortable room. The care staff were very informative on his progress and showed great compassion. The food is good although at times my friend couldn't find the right thing for her. Amenities and trips are good and enjoyed by my friend."
F A
carehome.co.uk rating: 4.67 out of 5
"Where do I start? Dad joined the residents in Edinburgh only a short while ago and he has tested their abilities from day one. From the reception to the admin to the carers to everyone involved in looking after Dad in the Barchester care home, thank you, you are 100% amazing. Their patience and understanding as we transition to another journey in Dad's life have been welcomed by the family and constant questions from me have all been handled with the utmost respect. Dad is very comfortable, well looked after and has wormed his way into many hearts in Queens Manor. I could not find a better place for him that meets his every need. I could ramble longer but I am extremely impressed by the staff and can't praise each and every one of them enough. Thank you so much."
Jan S
carehome.co.uk rating: 5 out of 5
"When a loved one needs constant attention and can't be cared for to the standard they deserve by family any more, where do you go? Where will you find caring professionals with the skills and attitude who will treat your loved one with kindness, dignity and respect? These were the questions we were struggling to answer until we found Queen's Manor. They've worked hard to establish a relationship with our dear and stubborn old dad and are making amazing progress. He's eating well and is challenged by bright and interesting people who engage him with quality conversations and good humour. No patronising the elderly here - our experience of the staff is that they're following a vocation in providing outstanding care for our precious parents and grandparents. The facilities are first class. It's spotlessly clean, modern, bright and equipped to a 5-star level. Food is excellent and creative. But most important are the people who work there and they're top notch. Highly recommended."
Ross M
carehome.co.uk rating: 4.92 out of 5
"The resident who is my relation is being looked after in a manner which is of a hotel with constant personal attention."
Derek C
carehome.co.uk rating: 4.5 out of 5
"Since my husband moved to Queen's Manor in February, he has been treated very well by all the staff and treated with respect. He is very happy and enjoys all the activities and outings. He also enjoys the food. He has never asked how long he will be there and accepts that this is now his home."
Pamela B
carehome.co.uk rating: 4.83 out of 5
"My grandfather has been a resident at Queens Manor since the day it opened in February after a lengthy 3-month stay in hospital and already we have seen a vast improvement in his mobility which is all thanks to the wonderful team at Queens Manor. My grandfather is kept very busy with activities all week long; from local nurseries visiting, karaoke in the cinema room to trips out to the museum in Edinburgh, the activities coordinators are fantastic. The food, service and decor is better than a 5* hotel and the care, attention and kindness shown from the concierge right through to the care home manager is first class and the family are very appreciative of the care and support my grandfather has been receiving. After visiting a number of care homes before we decided on Queens Manor, I can honestly say we made the perfect decision and I would highly recommend the care home."
Jennifer H
carehome.co.uk rating: 5 out of 5
Useful Guides and Information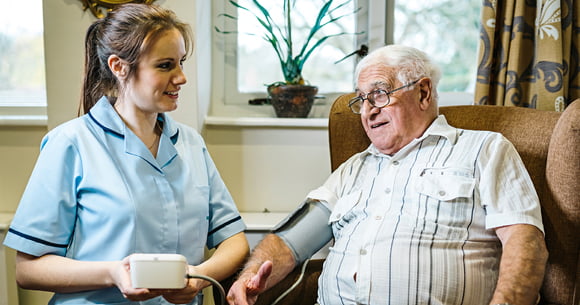 Care & Facilities
Our facilities are designed to the highest standards and the care we provide is delivered by passionate and highly-trained professionals.
Find out more about our care and facilities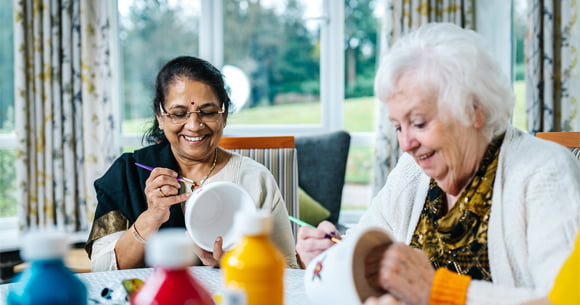 Activities & Events
Our activities programme is planned with individual tastes in mind, and residents always have the opportunity to try new and exciting things.
Find out more about our activities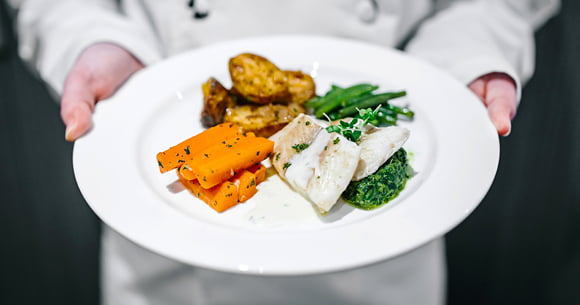 Food & Nutrition
We offer a constantly evolving menu that caters to the tastes and dietary requirements of those we support.
Find out more about our food & nutrition
Your next steps to finding care
Our team are here to help you when you are ready to talk about the care and support you need. Please call our team to arrange a visit and come and take a look around our home.
Call our team
Call our team for more information about our care home and to arrange a visit. Phone lines are open Monday to Friday from 9am – 6pm and on Saturday from 9am-5pm.
Send a message
We'll be happy to answer your questions about the next steps for moving into our care home. Send us a message online
Contact us
Download a brochure
Download our brochure to find out more about life in our care home
Download brochure
Frequently Asked Questions
What types of care does Queens Manor Care Home offer?

Queens Manor Care Home offers Residential care, Dementia care, Respite / Short stay.
152