Meet the Prestbury Beaumont Care Community team
Our wonderful team comprises nurses, carers, activities coordinators, chefs, housekeepers and more. These people are here to ensure that residents enjoy their time at the home and are supported to live life to the fullest. Meet some of our staff below:
Cath Ritchie
General Manager
Hi, my name is Cath and I am General Manager here at Prestbury Beaumont. Welcome to our website!
Thank you for taking the time to look further into what we have to offer to you or your loved one. Here is an opportunity to look at some of our staff team in the home, who all play a vital role in day-to-day life.
I qualified as a Registered Mental Health Nurse in 2006 with 11 years previous experience as a care assistant prior to this. I began my career with Barchester Healthcare as a RMN, progressed to unit manager and was the deputy manager at our sister home, Adlington Manor before joining the team here at Prestbury. 
I live locally with my family and enjoy walking and a good bottle of red wine. I am devoted to making a positive difference to peoples' lives and ensuring that those we support at the home can live as comfortably as possible.
I look forward to welcoming you to our home.
Rosi Mihova
I am an RGN and hold a degree in social care, and my chosen area in the field of nursing is the care of older people.
My journey at Prestbury Beaumont started in 2002, when I worked as a Care Assistant. I then became a Nurse and was eventually promoted to Head of Care and finally Deputy Manager. 
My determination to ensure that the quality of care is of the highest standard has driven me to always find ways to further myself in my career in order to be in a position in which I can make a difference to the lives of those I support.
Accordingly, I feel very passionate and responsible for the standard of care that we provide here at Prestbury Beaumont. It is our job to ensure that residents receive the highest level of support whilst feeling valued, understood and respected at all times.
Show More
Tanya Stubbs
Hi, my name is Tanya I am the homes finance administrator here at Prestbury Beaumont.  I have previously worked at our sister home Adlington Manor for over 30 years and I am responsible for supporting staff, relatives and families with the administration and financial running of the home. I also work closely with the General Manager to ensure that every task is completed for the efficient running of the home.
As part of the team I also help create the amazing homely atmosphere as soon as you enter the home and I look forward to welcoming you to Prestbury Beaumont.
With a background as a trained chef with various City & Guild qualifications in catering, Tanya progressed in the company to attain a Degree in Business Management.
Show More
Nicky Barnard
Hi, My Name is Nicky and I have worked at the Prestbury Beaumont for 30 years, I am the Head Chef and very much enjoy my job at Prestbury.
I have been married for 16 years and have a daughter. In my spare time I enjoy spending time with my family, I also enjoy reading and the odd Gin and Tonic..
Show More
Alex Godikian
Hi, my name is Alex and I am Head of Maintenance here at Prestbury Beaumont.  As Head of Maintenance there is plenty of variety in our day to day activities. We can turn our hand to all sorts of tasks within the care home building as well as in the gardens and grounds. That could mean fixing a leaky tap one minute and planting some new bulbs the next. We also need  to liaise with contractors on jobs that fall outside the expertise of our team.
Show More
Pat Gay
Hi, my name is Pat and I am Head of Housekeeping here at Prestbury Beaumont. I started at Prestbury in 2004 as a care assistant working my way up to senior care with a NVQ level 3. Myself and my team work to a very high standard ensuring the cleanliness of the home for our residents and a for our colleagues as a place of work. I love to travel in my spare time.
Show More
Peter Williams
I enjoying working in the housekeeping team, talking to residents and making sure their rooms are clean and tidy.  I want to help residents remain as independent as possible.  I work hard to ensure that the home maintains Barchester's high standards and that they work to create a relaxed, personal atmosphere for residents, relatives and staff.
Show More
Aimee Ream
Hi, my name is Aimee and I joined Prestbury Beaumont as an activities coordinator in January 2023.
Chris Hurst
My Name is Chris and I am a gardener here at Prestbury Beaumont. As a Gardener here at the home, I help create the kind of stimulating environment that enables us to deliver quality, person-centred care. By maintaining our grounds to the highest standards, I ensure our home always makes a great first impression, and that our outside areas can be fully enjoyed by residents looking for some fresh air or a change of scenery.
Show More
Laura Whelan
Hi, my name is Laura and I joined the team at Prestbury Beaumont as Activities Coordinator in November 2022.  We all know that keeping active is important and we have a wonderful culture within the home and we work together to give residents the best possible experience.
We are here to ensure that residents enjoy an environment that is both stimulating and socially active. We ensure the team knows each residents' preferences, so that we can deliver a person-centered program of events and activities. Essential to our homely feel is the strong relationships of trust we build with residents and their families and friends. We are also very active in keeping our residents connected with their local community.
I have mainly worked for the NHS in Cancer Services and Palliative care. I aim to deliver life enriching activities to suit our residents needs and abilities. I have a particular interest in animal therapies and how they benefit peoples physical and mental wellbeing. In my spare time I am busy with my family and pets. I enjoy walking and volunteer at a local farm.
Show More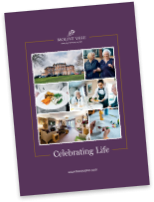 Read our brochure 'Providing great quality care and wellbeing' for more information on how we're here to help you and your loved one.
Read brochure
Food & Nutrition
Activities & Events
Care & Facilities
What happens now?
Are you ready to discuss your individual care requirements? Pick up the phone and talk to us, book a visit to our care home or come and take a look around our facilities.
Our fees and contract
We want to be as transparent as possible about how we charge for the different services we provide as well as what's included in our contract. Please click the links below to find out more about our fees and contract.
View typical fees
View Our Contract
Useful downloads
Here to help you make the right decision about your care requirements.
150