What our families say: Ottley House Care Home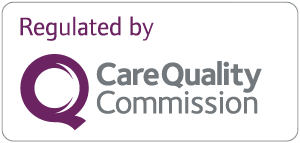 "There are not enough words in reviewing the empathy, care and support given to my sister and myself and special friends during complex, sad times. The dedication given in the care and support by all staff on the Charles Darwin Unit, their, empathy, reassurance and smiles so appreciated and needed. My sister's difficult journey was eased, and her anxieties calmed. There are not enough thanks and appreciation that I can give. Teamwork at its ultimate best."
Judith T
carehome.co.uk rating: 5 out of 5
"My mother is now in her 7th year as a resident of Ottley House, and overall, we have been very happy with the care and attention that she has received during this time. Being nearly 103-years-old, the staff treat my mother with compassion and with a caring attitude."
J B
carehome.co.uk rating: 4.58 out of 5
"This is a beautiful and welcoming home. The staff are always friendly and caring, nothing ever seems to be too much trouble. I always have a positive experience when I visit the home. The culture of care and friendliness is set from the top by the manager who is absolutely lovely and so professional. I believe that the care team there and the reception team are exemplary. A beautiful environment too that is surrounded by glorious grounds."
Paul W
carehome.co.uk rating: 5 out of 5
"My husband has been in the care of Ottley House as a resident for the last five years. during this time he has received the utmost respect compassion and outstanding care. The staff at Ottley House are lovely and we feel we are like a family. If I have ever had any issues I may be concerned about I have always felt I can discuss these with, staff and management. I have no hesitation in recommending Ottley House in the highest terms to everyone."
D I
carehome.co.uk rating: 5 out of 5
"My father who has advanced dementia has been a resident at Ottley House for almost 5 years. In that time both he and we have come to see it as "home". His room is comfortable and with some of his own possession and his favourite chair home like. The housekeeping team do an amazing job keeping both his room and communal areas tidy. Care staff are now like family to him. The catering team produce wonderful homecooked meals. The nursing team are responsive to any of my concerns."
C N
carehome.co.uk rating: 3.91 out of 5
"Support and care are good and kind. When I visited this month my husband looked to his carer for support and reassurance as he was unsettled when he saw me. Both carers were kind and supportive to me during this visit (my first since lockdown). When I phone weekly to hear how he is the carers always have time to talk and listen to me. Although sometimes those on the unit can't answer the phone as they are too busy, so I call later. I wouldn't know of a better place for him."
R A
carehome.co.uk rating: 4.83 out of 5
"This wonderful caring care home is perfect for my mum who is 92. She is looked after really well with dignity and kindness. She can be difficult but is looked after with humour and love. Ahe is always very clean and well dressed. The entertainment and care are excellent."
J W
carehome.co.uk rating: 5 out of 5
"My brother entered the home on 3rd August 2021, following a period of 4 weeks in hospital. He has little use of his legs but otherwise is in good health. I visit on average 3 times a week so over the months have gained a good overall picture of the day to day running of the establishment. My brother has settled very well and seems happy in the home environment. The staff are very caring and competent."
P P
carehome.co.uk rating: 4.83 out of 5
"My mother is very happy and settled in Ottley House, she is so well looked after and the staff are so caring and have nice little chats with her. Mum has been very poorly in hospital with Covid and then sepsis before she went into Ottley House, she was very frail and still not well, but it only took a few weeks of the wonderful care she had at the home to become herself again, happy and interested in life again. Mum is 98 years old."
J W
carehome.co.uk rating: 5 out of 5
"The care provided to my wife has been good. She has related to individuals when they have entered her room. If I have made a request it has been dealt with rapidly and to my satisfaction. A caring situation has been created."
B S
carehome.co.uk rating: 4.25 out of 5
"What an amazing time we had for mum's 90th Birthday. The lounge area was separated off for family to attend. Various staff members popped in to speak to mum and us. Lovely jolly time, she seemed very happy and obviously at ease with the staff members who are now her family. She has among other things Alzheimer's and is very well cared for. Thank you Ottley House"
J L
carehome.co.uk rating: 5 out of 5
"My mother is a resident in Ottley House she is 98. Mum is so happy and settled the staff are so caring with her. The receptionist on the desk is welcoming when you arrive to visit and also if I phone to ask how Mum is. I'm so happy we made the right choice and that Mum is in Ottley House."
Jennifer W
carehome.co.uk rating: 5 out of 5
"Dad is generally cared for very well. He is content and calm most of the time. The staff show kindness towards him. They are very busy every day which means that no one has any time to sit and really talk and listen to him which I feel is a very important part of his care, especially with Alzheimer's dementia. I do my best to provide meaningful conversation and company. It would be of great benefit to him if the staff could do the same. Dad is often in a muddle and needs someone to unravel him. More staff are required."
J K
carehome.co.uk rating: 3.92 out of 5
"I was very impressed by the warm and helpful way we were welcomed. The atmosphere of the home was restful and helpful. Everywhere looked tidy and clean, it was wonderful not to have a stale smell pervading everything well done, as I know it takes hard work and diligence to make it so."
S D
carehome.co.uk rating: 3.5 out of 5
"I can't thank the staff enough for the fantastic care they have given to my mum since she came to Ottley house in 2019 and especially over the past most difficult 12 months they have always been there on the end of the phone to help and support and keep me and my dad fully informed on how Mum is when we couldn't visit her. In April of this year my dad was able to visit Mum to celebrate their golden wedding anniversary together it was a joyous occasion."
David A
carehome.co.uk rating: 5 out of 5
"The care at Ottley house has been second to none over the past 2 years my wife has been there. They have also supported me through the most difficult time during lockdown when I sadly was not able to visit and see her but they were always there on the phone to update and reassure me on how my wife is doing during this difficult time for us both. I can't thank the brilliant staff enough for the care they give."
George A
carehome.co.uk rating: 5 out of 5
"Prior to admission to the unit we received good information in respect of the facilities and what to expect in terms of care and support. I cannot express how efficient the level of communication is between staff and me as next of kin. When a more expert level of care was needed the appropriate agencies were contacted in a timely manner and care changed accordingly. I have been extremely happy with the care home."
Sandra H
carehome.co.uk rating: 4.33 out of 5
"I am extremely happy with all the care my mum has from your happy and helpful receptionist to all the carers. They are always so kind to Mum, with time to talk to her and us when we visit."
M R
carehome.co.uk rating: 5 out of 5
"I would like to thank every member of staff at Barchester Ottley House Shrewsbury for doing an amazing job during the COVID lockdown. Mum has received excellent care and attention during a time when family are unable to visit. When family ring to enquire they are always informative and give a full update leaving nothing out. Thank you all for all you do - keep up the amazing work."
Karen G
carehome.co.uk rating: 5 out of 5
"I would like to thank all staff at Ottley House for the marvellous job they all do in making sure residents like my wife are looked after. During the COVID lockdown, I have been unable to visit and although I have missed visiting I feel confident that the staff who care for her keep me up to date with any changes or issues that may affect her day to day living. All staff have an amazing sense of humour which has obviously been what has kept them all going through very difficult and strange times. Thank you all for looking after my wife during a time that I have not been able to visit."
Derek H
carehome.co.uk rating: 5 out of 5
"My mother was on the memory lane dementia ward whilst at Ottley. I can only speak highly of every aspect of care my mother received. The carers treated her with such respect and compassion, as well as looking after us as relatives. It was hard seeing her condition progress so quickly, but everything was done to make her time there was comfortable. Time was taken to discuss every element of her care and questions were encouraged. The overall home is beautifully presented and kept spotlessly clean. The food was of a very high standard, varied and nutritious. My mother sadly passed away last week and I can honestly say the staff were amazing. She was treated with the utmost dignity. I and my dad cannot express our thanks and gratitude enough, and without your kindness throughout I'm not sure how we would have coped."
Ali P
carehome.co.uk rating: 5 out of 5
"We are very pleased with the care and support you give us, including Dad. Thank you for listening and for caring for Dad as much as we do."
Beverley J
carehome.co.uk rating: 5 out of 5
"Completely satisfied with the caring attitude of all the staff at Ottley House."
M B
carehome.co.uk rating: 5 out of 5
"Exterior always well kept and always a space to park. The welcome from the receptionist is always pleasant. The fabric and decor are well maintained and very clean at all times. Lovely, friendly, helpful staff at all levels with excellent quality care, kindness and humour. I can't say anything other than positive praise for this lovely home."
Judith W
carehome.co.uk rating: 5 out of 5
"Helpful friendly staff for who nothing is too much trouble, very high care levels and housekeeping. Varied and enjoyable entertainment with dedicated staff. You're made to feel at home if your a resident or visiting family/friends. Can't praise the staff enough."
Kath E
carehome.co.uk rating: 4.92 out of 5
"Always a good ratio of staff to residents so always someone available to ask questions. Staff all get to know new residents quickly and make family and visitors welcome. Especially impressed with the happy atmosphere created for everyone on Christmas Day and beautiful decorations in the home, very festive."
Joanne D
carehome.co.uk rating: 4.17 out of 5
"Thank you for the lovely Christmas that you provided for my mother. Despite missing Christmas at home with their own loved ones the staff worked tirelessly and with great cheer. The atmosphere was festive, welcoming and the care and consideration offered to residents and relatives alike was exemplary. The food was delicious and beautifully presented. Mum went to bed tired and happy as did the rest of us. So good to know that she is so well cared for and by such wonderful people. Bring on Christmas 2020."
Laura W
carehome.co.uk rating: 4.42 out of 5
"Having had a bad experience with another nursing home I was shocked to see how homely and welcoming it was. The furnishings are first class, there are always people cleaning (not in an invasive way). The staff are wonderful spending a lot of time making sure my father is comfortable and has everything he needs. I have seen them with very challenging behaviour and everyone is treated with kindness and respect. The home seems to run like clockwork and all the staff knowing what needs doing. I love the rooms including the cafe and the restaurant which are a wonderful place for relatives and clients to go. Being relaxed and comfortable when we visit makes all the difference."
Sheila L
carehome.co.uk rating: 5 out of 5
"Our mother is a resident at Ottley House and I would like to say thank you for a wonderful day out today. There was a small incident where another resident was doing something potentially dangerous and your staff dealt with it quickly and showed true professionalism. Great to know our mother is in such good hands."
Laura
carehome.co.uk rating: 4 out of 5
"Very satisfied with all aspects of my wife's stay at Ottley House."
Peter H
carehome.co.uk rating: 4.17 out of 5
"Over the last three years, I have visited several care homes with my wife who has had to find suitable homes for her mother and aunt. Ottley House is by far the best of those we have visited. Its greatest asset is its staff who show tremendous dedication to and interest in the residents. Despite being very busy they also always have the time to talk to visitors. My mother in law always looks well cared for, although she has severe dementia she appreciates the care she receives. Two years ago we did not think she had very long to live. Today she is greatly improved. Her care is so good that one could almost be lulled into thinking that she is recovering from her illness. My gratitude, admiration and respect go to the people who care for her daily needs."
Jonathan T
carehome.co.uk rating: 5 out of 5
"My dad has been in Barchester Ottley House Care Home for over 3 years now. He had been in another home before, so I know how lucky we are to have found such a good home for him. The staff are kind and attentive and respectful, something which is so important when people have dementia."
J B
carehome.co.uk rating: 4.75 out of 5
"My sister has settled quickly into Ottley House and I am hugely impressed with the level of care provided for her complex needs. The people working within the home all seem very happy and are genuinely caring towards residents. The food is delicious and the menu is varied and adapted to different needs. The rooms are comfortable and the entire home is spotlessly clean. Leaving your loved ones in someone else's care is a very difficult decision to make but I am happy we have made the right decision with Ottley."
Kathy P
carehome.co.uk rating: 4.75 out of 5
"My mother has been at Ottley House for nearly two years. She took a little while to get used to it but has thrived at Ottley House. On the whole, she is very cheery, smiley and thoughtful. She enjoys listening to music, studying her pictures, looking at her bird mobile and at the trees and birds outside her window. On my last visit, I read her the first two verses of Fern Hill by Dylan Thomas which she enjoyed. We also had a little 'dance' (where we move our hands together) to her Pink Martini music. My husband came in while we doing this and clapped at the end. My mother then clapped too - this was lovely to see. She enjoys her food, her skin is in very good condition and she is well looked after. Carers and nurses attend to her regularly day and night and always have time to chat to me and my husband. The whole atmosphere of the home is one of calm and contentment but it is not a boring place as there are lots of activities and visitors. I would highly recommend this excellent home!"
Yewa H
carehome.co.uk rating: 4.92 out of 5
"A very caring, loving environment. It feels very safe and I have no hesitation leaving my father there."
Jane W
carehome.co.uk rating: 4.75 out of 5
"Friendly, kind staff with good sense of humour."
M M
carehome.co.uk rating: 4.17 out of 5
"My father is a resident and we could not be happier. He was at another care home and Ottley House came to our rescue. He is so calm and settled. They actually care. If you are looking for somewhere your loved one will be safe, secure, well fed and treated like a human being, look no further. Barchester Ottley House is the place."
Deborah R
carehome.co.uk rating: 5 out of 5
"My father in law is at present a resident. We are really pleased with the way he has settled. My wife is over the moon with every aspect of the home. We as a family have had a weight taken off us all. They are excellent."
Aled R
carehome.co.uk rating: 4.58 out of 5
"My Grandfather has settled into Ottley very well, the staff and residents welcomed him into the Ottley "family" with open arms. The staff are warm, friendly, sociable, cheerful and caring. My grandfather is cared for with dignity and compassion at all times. His personal care is excellent and he is clean and well presented. His room is also comfortable, clean and homely much like the rest of the home. The food is excellent, home cooked and nutritional. My Grandfather is definitely a fan of the puddings! Also, there always seems to be tea, coffee or a cold drink on offer for the residents......or sweet treats and crisps if requested. As a family, we are made to feel welcome too. Losing your loved one to Dementia is incredibly painful and difficult. However, the positive atmosphere and caring ethos at Ottley are so reassuring. Thank you to all the staff for all you do, it is very much appreciated."
Kelly
carehome.co.uk rating: 4.92 out of 5
"My dad moved to Ottley House in May 2018. He settled in quickly. He loves the food and seems very happy there. As a relative, I was struck by how well the staff work as a team. They are all caring and friendly and good humoured. They seem happy in their work and seem to get on well and communicate well to each other. I feel Dad is well cared for and am happy that he is at Ottley. They do their best to make him comfortable."
Susan H
carehome.co.uk rating: 4.17 out of 5
"It was difficult to accept that Mum needed nursing home care after her strokes, but we made the right choice with Ottley House. We cant fault the excellent care Mum has received; she is treated with dignity, respect and tenderness, which makes it easier for us to leave her after our visits. The staff are approachable and nothing is too much trouble and the atmosphere in the home is a happy one. The rooms are clean and bright with regular checks on the patients who are immobile. thank you to everyone at Ottley House for taking such good care of our Mum."
Jan T
carehome.co.uk rating: 5 out of 5
"My Mother has recently come to live at Ottley House, after being made bed bound by 2 strokes. Having researched/visited many homes in Shrewsbury, it quickly became apparent that Ottley House was the best. There is a high presence of staff, who are excellent and go above and beyond to ensure my Mother is well cared for and comfortable. We had a lovely welcome visit when we called in unexpectedly and although she was clearly busy, the lady took the time to show us around and talk to us about our worries about having to place Mum in a home. The staff treat everyone as an individual and are keen to know their likes/dislikes, so they can make them feel as at home as possible. The rooms feel homely and are very clean and nothing is too much trouble for the staff. The care of my Mum has been excellent. This is a huge relief as a family, as we could not do this level of care and feel comforted by the fact Mum is being so well cared for. Thank you so much to everyone at Ottley."
Julie M
carehome.co.uk rating: 5 out of 5
"My Mother passed away after living at Ottley House for 5 years. In the 2nd paragraph of the tribute at her funeral I said, "and know that at Ottley she was in a place where she was respected, loved and cared for, in line with Dad's dying wishes, with all the dignity she deserved". That line says it all, but as Mum progressed into the advanced stages of dementia, ALL the team at Ottley, gave our mother unprecedented levels of professional and kind care. That care didn't stop with those living at Ottley but was always extended to those visiting their loved ones. Our needs were sometimes more varied and demanding than those at the home that the staff are so well-trained to care for. So if you are looking at this review before your relative moves into Ottley, know that they are going into a "home" where they will be cared for with the highest standards of expertise and compassion that you could possibly ask for at such a difficult time. I will miss the lovely atmosphere at Ottley House!"
Jane D
carehome.co.uk rating: 5 out of 5
"I visited a friend at Ottley House who is on end of life care having been at said home around 8 years. I was struck yesterday at the very sympathetic care being given. The staff have always seemed very good there. The room is very clean, ditto patient and bed clothing, the whole home has a homely feeling. I would have no qualms about putting a relative of mine in there."
Joan J
carehome.co.uk rating: 4.83 out of 5
"My mum was admitted into Ottley House just before Christmas after a long stay in hospital. She was put onto the Ann Carter Unit where she enjoyed a short, but very pleasant, stay. She liked all the staff who helped to make her as comfortable as possible. She, unfortunately, passed away in the early hours on Christmas Day and I have to say the staff who dealt with her were outstanding. They showed so much care and empathy which I will always be grateful for. They are very professional and always try to ensure the best of care is given throughout each day. The food is outstanding and always plenty of choices were provided. If you are searching for a nursing home for your loved one I would not hesitate to recommend Ottley House."
Tina L
carehome.co.uk rating: 5 out of 5
"All staff are very professional with a real caring touch. The support given to us as a family after making the tough decision for mum to become a resident was fantastic which reinforced we had made the right choice for mum. Mum is looking well and being well cared for in a good environment for her."
Karen G
carehome.co.uk rating: 5 out of 5
"My mother has been at Ottley House Care Home almost one year. On visits to see my mother, I have found her much better and happy. My brothers and sisters visit regularly. She loves the staff who look after her and the entertainers too. I have spent many happy hours with her during the entertainment periods. We happily sang along and sometimes danced, to the wonderful old music, that she enjoyed in her younger days. She is very happy and the staff are wonderful to her. My mother was 100 years old on 31st January. I asked if it was possible to arrange a party for her at the home. To enable her to see all of her family together. The Chefs did a wonderful job and made the most beautiful cake. We had a lovely time, and she clapped and sang with the entertainer, chosen. Thank you all so much, for all your unseen but appreciated work, you do so well. Your home was not our first choice but I hope it will certainly be our last choice. Thankyou to the many friends I have made there. Both residents and staff"
Patricia J
carehome.co.uk rating: 4.67 out of 5
"My mother has been a resident of Ottley House for four and a half years. While she has a long stay in hospital we visited several care homes in our areas and we were extremely fortunate and relieved when we learned that Ottley House has a place available for my mum. The staff at every level, are extremely professional, caring, friendly and approachable. My mum's problems stem from a lack of mobility and extreme old age. The staff are sensitive to her needs and in many instances intuitive, as she cannot always express her wishes. Ottley has a homely and welcoming atmosphere, created by a supportive and caring team."
Christine B
carehome.co.uk rating: 4.92 out of 5
"My father moved to Ottley House 3 weeks ago. He, and we have been made to feel welcome throughout this time. The whole team have impressed me in the way they strive to meet his complex and ever changing medical and emotional needs. Managers, admin staff, nurses, careers, housekeepers and handy men are warm and friendly to residents and visitors alike. They genuinely appear to want my father to be happy in his new home and have specialist knowledge and advice to endeavour to achieve this. When a complex medical need recently occurred they liaised with appropriate medical professionals to address the need then called me to update on the situation. Whenever I leave after visiting my father I feel happy that he is receiving the very best care from the staff at Ottley House."
Carina N
carehome.co.uk rating: 4.67 out of 5
"My mother has been resident at Ottley House, (with severe dementia) for over 4 years and it has gone from an OK place to a wonderful "HOME", where she is loved and cared for, every moment of the day. Never once are her needs taken for granted. Every time I visit Ottley House I enjoy the friendly and positive atmosphere. Every single member of staff; whether it is from the manager downwards, or from someone else, they always make you feel that as a team, they are not content to sit on their laurels. They always seem to be striving to improve and better the environment for the residents. I suppose for us as a family; the most telling proof is when we are actually with mum, (whilst her illness has its challenges) I always find her being kindly and respectfully, ably and professionally cared for, in a way that we could never do. Just before our father died, he asked us to look after mum and we are very lucky to have found Ottley House, as that is just what they do, fantastically!"
Jane D
carehome.co.uk rating: 5 out of 5
"My mother has been at Ottley House since January 2017. In 2016, she experienced a great deal of trauma culminating in a stroke. My husband and I chose Ottley House because it was calm yet busy, had several garden areas, was one-storey and felt like a home. My mother took a while to settle in but Ottley House has now become her home. In her lucid moments, she clearly appreciates the staff, giving them radiant smiles. Her obvious needs are very well catered for - but Ottley House does more than this. The level of care, the dignity with which each resident is treated, the humour shown by carers, nurses and managers, the encouragement and information given to families mean that my mother is stimulated and has an excellent quality of life. In her room, she has many of her pictures and books, her CDs, music player. The family has compiled a file of photographs which are also used by the staff. I think this is a wonderful place and I am so glad that I managed to get her to Ottley House."
Yewa H
carehome.co.uk rating: 4.83 out of 5
"A home from home is what you look for when choosing somewhere to look after a loved one and as a family, that is what we feel Mum has on the Ann Carter unit at Ottley House. Although she has advanced Alzheimer's and is unable to speak, she is thriving in so many ways due to the love, care and attention she is given by the staff at the home. All know her by name and she positively beams when they speak to her - a sure sign for us that she is happy and content. The home is extremely well managed and led by a team who are approachable, will listen and more importantly, are prepared to act if necessary. We are also grateful for the support we have been given by the staff, as they seem to know when we might be in need of a little extra TLC. As well as the regular activities, the home often organises special events for residents, their families and the local community and these embody the true spirit of the place - leaving you uplifted with a real sense of a community of care."
Susan S
carehome.co.uk rating: 4.75 out of 5
"My husband has been a resident on Memory Lane at Ottley House for approximately 18months. I have always found the manager and his staff very approachable and professional and a person to whom I can go to if I have any concerns about my husband's care or any other issues. I have seen a continued improvement in the quality of care my husband receives and feel I can ask for help or assistance with his needs, the staff are caring and helpful. I have no hesitation in recommending Ottley House as a place where a loved one will receive excellent care."
Dianne I
carehome.co.uk rating: 4.83 out of 5
"My husband has vascular dementia and it took me several years to admit to myself that I can no longer look after him. He has now been at Ottley House for a year. I visit most days. During that time I have seen the very high standard of care, patience and helpfulness displayed by the staff. Carers, regardless of age, take such pride in their very exacting work and I admire them all without exception. The management is friendly, understanding and efficient and when I go away from time to time I never worry that my poor husband is receiving anything other than the best of care. The layout of the dementia wing is simple and uncomplicated."
Joy M
carehome.co.uk rating: 4.92 out of 5
"Having moved my husband from another home where his care was poor, Ottley House is a breath of fresh air. All staff speak saying hello, smiling and know who my relative is. There is a receptionist area where a member of staff is based so again a smile and hello. My husband's care is wonderful, he is known to the staff who care for him and are aware of his needs. Food and drink plentiful."
Cath C
carehome.co.uk rating: 4.58 out of 5
"My mother is a resident in Ottley House Care Home and has been on the Charles Darwin unit (Memory Lane) for the past three years. She has vascular dementia which requires specialist care. We as a family are very satisfied with how she is cared for and each month there are activities which she is encouraged to join in, the staff at all levels are friendly and compassionate. The home is clean and the food is excellent."
Lesley Anne L
carehome.co.uk rating: 4.75 out of 5
"Ottley House has been wonderful to my father and to us as a family, the staff are caring, helpful and kind. We know that if we have any worries concerning my father we can approach the staff anytime day or night, my father couldn't be in better hands and most importantly when we leave after visiting we can leave him knowing he's getting the best of care. Dad has a nice room with his own small en suite. The food is exceptional, the dining room beautifully presented, there are activities daily with a great activities team to entertain the residents. The manager is always available, helpful and approachable. We are sure our father couldn't get better care than he is getting at Ottley House."
Pauline B
carehome.co.uk rating: 4.67 out of 5
"My mother has dementia and is in the Memory Lane unit. From the moment mum joined the unit I have been satisfied that she is in a safe and secure environment with guaranteed 24/7 care. All the bedrooms are on the ground floor allowing residents to walk freely from their bedrooms to the lounge and dining area. There is always staff on the unit supervising the residents. The care and nursing staff are all professional and friendly and importantly use the residents' names when talking to them and are not afraid to give a reassuring hug when needed (to the residents or the resident's family). The living areas are always kept clean and fresh and any accidents are quickly sorted out by the carers or cleaners with minimum fuss preserving the dignity of the resident. There is always a cheery welcome at the reception in person or on the phone. The quality of the meals is excellent. Management and clerical staff are helpful and approachable. The overall maintenance of the home and grounds is very good."
Julia S
carehome.co.uk rating: 4.83 out of 5
"My mother has been at Ottley House since August 2015 suffering with Alzheimer's and Dementia. Her journey has been, as most people who have a close relative with this devastating disease know, a long and often rocky road. As a family, we have lived the lows and not so many highs along with her but I can honestly say the staff at Ottley House have supported us every inch of the way, working with us to find solutions to help make mum's life safer, healthier and happier. The manager has an 'open door ' policy and I have certainly taken advantage of that, he is true to his word. As problems arose with mum as they invariably do with this type of illness, the staff have kept me fully informed. The care staff are always kind and attentive and the program of activities is varied and delivered by enthusiastic carers who really brighten the residents' day. I can honestly say there is a genuine feeling of belonging to ' The Ottley Family'."
Deborah R
carehome.co.uk rating: 4.25 out of 5
"My mother has lived in Ottley House since March 2012 following a stroke and suffering from Alzheimer's. In early May this year, my mother (aged 97), suffered another serious stroke and as a family, we opted to have her nursed at Ottley House rather than in hospital. She is familiar with the staff and her surroundings which was important. Although she can no longer move independently, she is being assisted with all food and drink in addition to all her personal care. She is always clean and well presented. The carers still put her make-up on and do her hair nicely whether she is getting up or not. When we visit, Mum no longer knows who we are but still smiles at us. It is obvious that she is well cared for and is very happy and comfortable. The staff welcome us and offer the support which helps us cope with this sad phase in Mums life. I cannot rate this home highly enough or praise the dedicated staff enough for the TLC shown to all the family at this difficult time. Our grateful thanks to everyone."
Pam H
carehome.co.uk rating: 5 out of 5
"My mother has Alzheimer's and came to Memory Lane, following a few admissions to hospital and major problems with safety. She came in August 2016 and immediately I felt she was safe as she used to live alone. She had absolutely no quality of life before she came here and was constantly angry about everything but now I often see her joining in with activities, usually with a smile on her face. The staff are absolutely dedicated and treat all the resident's with dignity and respect and I feel like they actually love my mum, which is so heartwarming to see, especially when her mood is very up and down. There is staff constantly in attendance, to both the mobile residents and those who can hardly lift a finger. All are treated as individuals and the interactions are lovely to see, my mum is a human being again. The environment is clean and tidy and well maintained with even the maintenance men knowing all the residents by name. It really is a lovely place to live and to visit."
Helen S
carehome.co.uk rating: 4.5 out of 5
We would just like to extend a big thank you to all the staff at Ottley who worked to create such a wonderful atmosphere over Christmas and New Year. It was lovely to see so many happy faces amongst residents, relatives and staff, even though they had the unenviable job of working. What could have been been a difficult time, was so heart-warming!
My sister and family, who had not visited for a while, were impressed with the cheesy welcome they were given by every member of staff they came into contact with, and they too wanted to pass on their thanks and compliments.
May 2017 go from strength to strength and the compliments continue - it is well-deserved!
"Since arriving at Ottley House in September. My mother has thrived. She is well cared for, the staff are lovely, treating her with care and kindness at all times. Although she has dementia, she says how lovely all the staff are. They are patient and include her in all the activities, no matter how much trouble it is. We have peace of mind knowing she is taken care of so well."
Rob B
carehome.co.uk rating: 4.92 out of 5
"I wrote a review earlier this year and commented on the improvements that had been made by the new management in the first 3 months of the year. Over the last 6 months the home has continued to go from strength to strength and has improved in most respects. My Mother continues to thrive and is very happy with a good quality of life. For this we have to thank the Manager and his loyal staff. The staff are very motivated & they are all very kind and caring and I have no worries when I go away. I am now confident that my Mum is well looked after & cared for. She enjoys her food and participates in most of the activities. The new activity team are working extremely hard to stimulate & raise morale of the residents. Their efforts are greatly appreciated in encouraging all the residents, no matter what their disability, to join in. There is much more musical entertainment going on in the home and as music is a very important part of managing dementia, this can only be for the good. Since the refurbishments in the lounges and dining room have been completed the atmosphere overall has improved immensely. Ottley House has become a lovely bright & friendly home to visit and has proved itself to offer a truly homely and sociable environment in which to live. Well done to everyone and thank you again for looking after my Mum so well."
Pam H
carehome.co.uk rating: 4.75 out of 5
"My mother has been in Ottley House since July 2013, having spoken to her, she tells me that she is happy here, we her family are also happy she is well cared for, the facilities and activities seem to meet her needs, and she enjoys getting involved."
L A L
carehome.co.uk rating: 4.58 out of 5
"At a time when our whole life was turned upside down, we were treated with empathy, respect and concern. We needed to be guided through a sequence of events that were strange, scary and at times terrifying. Ottley House provided us with support and clear instruction on how to make the right decision of care for our dearest mum. The Head of Unit staff member organised the resettlement of Mum and gave us the strength to go forward. We were offered and still are offered opportunities to discuss and implement our mother's care. Nothing is too much trouble. The Manager cares about what happens in the home, his staff, clients and families. We as a family are very lucky. Mum is happy, hence we are too."
Bernadette K
carehome.co.uk rating: 4.58 out of 5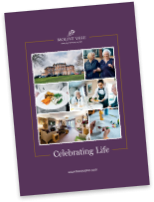 Read our brochure 'Providing great quality care and wellbeing' for more information on how we're here to help you and your loved one.
Read brochure
Food & Nutrition
Activities & Events
Care & Facilities
What happens now?
Are you ready to discuss your individual care requirements? Pick up the phone and talk to us, book a visit to our care home or come and take a look around our facilities.
Care enquiries
New care enquiry phone lines are open 8am - 8pm
01743 404151
All other calls
Our fees and contract
We want to be as transparent as possible about how we charge for the different services we provide as well as what's included in our contract. Please click the links below to find out more about our fees and contract.
View typical fees
View Our Contract
Useful downloads
Here to help you make the right decision about your care requirements.
142