What our families say on carehome.co.uk
"Mum embraced her move to Ochil in April 2022. The regular nurse and carers in her pod welcomed her and made her feel at home. Those same people would provide kind and loving nursing care at end of life a year later, for which my brother and I are very grateful. Mum flourished during this, her last year. Her quality of life improved. She loved the activities (though not all activities listed took place). Mum enjoyed the food. Breakfast in her room and sharing lunch and dinner in the dining room where she made friends. (I sometimes had to remind staff that I wanted Mum to go to the dining room). The nurse and carers got to know Mum. In the most, they seemed to understand her, her quirks and her needs! I liked when one carer outlined clearly to me what she wanted me to bring in for my mum. There needs to be an assigned point of contact for relatives. The front door needs key code entry system. Looking back, my advice to another relative would be to let go of what's not so important. Not easy!"
Fiona B
carehome.co.uk rating: 3.92 out of 5
"My mother was admitted to Ochil after very difficult family dysfunction and very unpleasant dealings with Social Work in Perth. I had extensive travel to visit my mother and the whole process was very stressful. The Manager was very supportive of me and my mother with the challenges we faced. She was impartial as best she could and the staff were very caring and understanding towards my Mum. The staff work in a very challenging environment often short-staffed due to CoVid but they always did their best to provide care for Mum. I'm a Nurse so I understand it's not easy, especially with family and acquaintances causing unnecessary added stress. The staff were always supportive. My Mum passed away in January 2023, the staff were lovely and I was able to spend those last few hours with her privately. My only complaint was the quality of the food over the years, it was very poor. Sorry, but I do think it could be better."
Fiona M
carehome.co.uk rating: 3.92 out of 5
"Dad was admitted to Ochil in February 2020, just prior to the pandemic. We were able to visit in his room and in the lounge area until lockdown happened. Thereafter there was a visiting pod and the garden. All the staff without exception were wonderful to dad. He wasn't an easy man, wasn't P.C. and as he had dementia he's moods were unpredictable. Still, they took such good care of him. He had haircuts, was kept clean and tidy and put on weight. I wouldn't hesitate to recommend Barchester if all the sites are like Perth."
Sarah W
carehome.co.uk rating: 4.58 out of 5
"My mother was moved to Ochil home after a three-month spell in hospital. After talking to several people who knew of Ochil and a visit to look around the home, we decided this was the place for Mum's care and well being. Am I glad we chose this home! Obviously, it has been a difficult time for the staff and residents with Covid for the last two years, but the safety measures put in place, and the updates we received from the home were great. We are kept up to date with Mum's health, and she is taken care of, with visits to the hospital and dental appointments, whatever is required. Activities with Covid were quiet for a while, but things are picking up now, and they have an extensive list of activities that has something for everybody. I can not say thank you enough to the manager, the nursing staff, carers and everyone involved in the care of our Mum."
William W
carehome.co.uk rating: 4.83 out of 5
"My husband moved into Memory Lane in November 2019. He had been resident in three other care homes previously, none of which could meet his needs and he was very unsettled. I was very apprehensive at first after previously failed placements, however, I quickly felt at ease after seeing him settle so quickly and get on so well with all the staff. I visit the home regularly and find the staff very kind and caring. I feel like it's one big family and it has been a big relief to know he is happy and very well cared for."
Catherine D
carehome.co.uk rating: 5 out of 5
"Our mother was admitted to the Ochil Care home memory lane dementia unit. After a period of settling in, our mother assured my sister and me that she was happy and content. Knowing this has enabled us to feel that we have done the right thing because Mum is safe, secure and well looked after, so we no longer have stress and constant worry. During Covid, it has been difficult for staff, residents and relatives, but the safety of residents was always paramount, so we understood why visits were at times very restricted. Our experience of staff in the home is positive. Despite being very busy, staff verbally communicate with me, and photographic evidence of activities Mum participates in demonstrates how happy and content she is. The care taken to provide fun, stimulating activities delivered by staff with a genuine, caring and joyous approach is greatly appreciated by us. Knowing our mother is well looked after in this care home setting is such a relief to us."
Eileen K
carehome.co.uk rating: 4.5 out of 5
"My elderly mother became a resident of Memory Lane at Ochil in December 2017. She suffered from vascular dementia. My father was not keen on her going into the home at first as he had the experience of visiting other similar homes which had not been positive. However, after he visited there he saw that this was a far superior home to the others as it was clean, bright and well maintained. All members of staff we encountered were friendly and helpful. He visited mum almost on a daily basis until Covid and always found her well cared for. Staff welcomed him as a friend and he was always plied with tea and cake and his welfare was considered too. I was the main point of contact if there were any problems with mum and was kept informed at all times. As a family, we were all appreciative of the support we were given even after Mum was sadly admitted to hospital in her final days. I would have no hesitation in recommending Ochil Care Home, Perth."
Alan M
carehome.co.uk rating: 4.25 out of 5
"Having my mum go into end of life care was a hard choice but seeing her blossom with the loving care/attention she received from all levels of staff at the home I feel strongly extended her life. Both in care and social aspects. She was well informed and encouraged to join in the many social aspects. All staff levels spending time with her as she loved to chat. Her eating improved greatly with the high nutritious meals provided and choice always given. The laundry/handyman/cleaner kept her personal items/room extremely clean ect. When dad became frail with dementia Ochil was our first choice again. He really blossomed with the interaction of all staff within home. He really enjoyed outings ect. As his dementia deteriorated all staff were extremely caring and understanding of his needs and demands. Mum and Dad spent precious time together in a safe/caring/loving home. I was kept well informed via all staff re thei welfare. The whole staff team work extremely hard making it very welcoming."
Maureen J
carehome.co.uk rating: 5 out of 5
"During this difficult time when it is not possible to make visits, Ochil has kept me up to date and organised Facetime sessions so that my elderly father can be reassured that my mother is still doing fine. My father resides near the care home, and previously visited her every day, so it was quite a difficult time, especially initially to explain why he could no longer visit. The Ochil staff have been fantastic in extending support to him too as I live around 40-miles away. This has not only been of great value to my father but also me knowing that he is being checked on periodically. Especially so as he is not the resident and there was no bonus whatsoever for them to do this. I am comforted knowing that my mother is being well looked after, especially in this current situation and would not hesitate to recommend Ochil as a place where your relative could reside comfortably and reliably."
Geoff M
carehome.co.uk rating: 4.92 out of 5
"Ochil Care Home has been brilliant with my gran who has vascular dementia and other medical problems. They closed down two weeks before Covid-19 just as all was on lockdown and in eleven weeks Ochil Care Home has had no Covid-19, which is amazing. I speak to my gran every few days on the phone. She is happy and so content. Plus yesterday in the post I got a lovely knitted heart from the staff at Ochil Care Home, thanking us for all our understanding in this time of extreme difficulties and not being able to visit. I hope the Ochil Care Home manager and all the staff get some kind of award for everything they have done as they have kept all their residents and staff free of this virus and I think this is amazing. Thank you Ochil Care Home."
Sarah M
carehome.co.uk rating: 4.58 out of 5
"My mother was recovering from a fall in hospital for a few months, but she required proper looking after, so we visited Ochil Home and it seem3ed to meet mums needs. She is given a lot of help when required and meets all her needs, they all go out of their way for her needs."
T H
carehome.co.uk rating: 4.67 out of 5
"Have recently been visiting a good friend who has had to go into care. The lady had spent some time in hospital and then a short spell in a different care home. Since arriving at Ochil, my friend has had nothing but good things to say about the place, which is contrary to what she had said about her previous residence. The staff are always around and attentive, with a friendly warm demeanour. The home is very clean and fresh feeling, with lots of various activities for residents to participate in should they choose, but they are never under any pressure should they choose not to. I would say it is just gentle encouragement they get, which is perfect, thus giving them the freedom they deserve to make choices."
Muriel F
carehome.co.uk rating: 4.08 out of 5
"After a very unsettling time for my mum following a fall and a few admittances to hospital and then to another care home before being admitted to Ochil, I am very pleased with how things are going at Ochil. My mum has been there for approx 5 weeks now and she is settling in really well. The staff are great and have a good sense of humour. They all seem to have the right manner with the residents and know how to handle situations. The home is clean and in general, has a good feel to it. It has a lovely big lounge downstairs which we often take mum down to at the weekends and there is tea/coffee and home baking that you can help yourself to. This allows for a more relaxed visit and gets mum out of her room. The staff encourage the residents to join in with any entertainment which is on. Recently they had therapy ponies in which my mum loved. Mum always remarks on how good the food is and that there is plenty of it."
Gordon C
carehome.co.uk rating: 4.75 out of 5
"Choosing the right care home for a loved one is an emotional journey, I thank my lucky stars that I contacted the manager at Ochil Care Home in August of this year. That initial first contact with the manager restored my faith in human nature, she was kind and supportive, offering us a visit the next day to check out the suitability of the home for my mum. The communal space was delightful as were the staff I met on that initial visit, an immediate decision was made to take the room that was available. My mum is now settled, safe and secure in the care of the Ochil staff, she enjoys regular activities and visits to the hairdresser. If you are looking for a nursing home for someone you love, do not despair there are good homes out there, Ochil being one of them."
Julie P
carehome.co.uk rating: 4.42 out of 5
"My elderly mother moved into Ochil Care Home in April 2019 and from day one, she has said how happy she is and that she feels very well looked after. I have observed how consistently kind the staff are to my mother. The level of care is excellent, carers are so gentle, cheerful and respectful of her dignity. This is clearly a well-run care home, organised around a core, professional ethic which facilitates the happiness and well- being of the residents. All family members and friends who have visited my mother have commented on the welcoming and happy ambience at Ochil Care home. The communal sitting rooms are spacious, smartly furnished, clean and bright with plenty of light. Ochil Care home is perhaps best summed up in my mother's words, 'You couldn't want better staff'."
Marie S
carehome.co.uk rating: 4.83 out of 5
"My mother was admitted to Ochil Care Home in May 2019 and has settled in very well. She has a lovely room with private bathroom. The staff are so friendly and look after my mother with care and compassion. The family especially like the warm and welcoming Reception and all areas leading from it with particular mention to the lovely lounge which opens out to a calm and peaceful garden. The family feel our mother is being well cared for and this has led to a less stressful time for all. We thank you for this."
S R
carehome.co.uk rating: 4.83 out of 5
"Very impressed with our Ochil Care Home. The entrance hall is like walking into a hotel, very bright and clean. All the staff are very helpful, caring and always have a smile on their faces. I would have no hesitation in recommending the home."
David S
carehome.co.uk rating: 4.92 out of 5
"I was at Ochil for a respite week in Sept 2018. The staff made me feel very welcome - I settled in easily. I was in a great room with good furnishings, including plenty of drawers of varying sizes plus a wardrobe and internal shelving - all very useful. Being a wheelchair user, using the sink in the bathroom was not really possible, so after a few days washing in a bowl at the table, I realised that I could be washing in the bathroom down the corridor. With this knowledge when I go back next time, I'll know what suits me best. The location was very convenient for my visitors. I really enjoyed the activities I attended - because I had visitors, I couldn't attend all the activities in the week. The food etc is excellent with lots of choices - more than I eat normally but smaller portions can be asked for. I was very happy at Ochil for the respite week and felt relaxed/de-stressed. After the week, I got home with Ochil's transport which was very convenient and comfortable trip. Thank you."
Fiona
carehome.co.uk rating: 4.42 out of 5
"My family were very nervous about putting my dad in a home. We decided to attend Barchester Ochil Care Home open day. From the very beginning, we were made to feel very welcome and the home itself had a lovely homely feel to it. We knew right away that this is where we would like my dad to live as we could no longer care for his needs because of his dementia. The staff are amazing and very very helpful."
Davina G
carehome.co.uk rating: 5 out of 5
"My father recently moved from a Carehome outside of Perth to Ochil View in July. He had been there for more than ten years and moved since the death of his wife last December. I was concerned about how the move would affect my father who is very frail, has dementia and other long-term illnesses. I cannot praise the manager and her team highly enough. They made us feel very welcome, encouraged us to visit the Carehome, asked questions and provided genuine professional and caring support, fully answering all questions with openness and honesty. The transfer was very professional and focused on my father's comfort and assurance. It is not easy to get to know a person's individual needs but the team at Ochil take a personal interest in my father's care, well being and happiness. Recently, he had an infection and was taken into hospital but due to the caring of the staff in taking prompt and professional action, my father only had to spend a few days in hospital. Very pleased with Ochil."
Carlo R
carehome.co.uk rating: 4.75 out of 5
"My father spent his final days and weeks in the care home. The level of care was excellent and the staff, from management o carers to nursing staff was superb. Nothing was too much trouble for them and everyone was greeted with a warm welcome. Highly recommended."
Donald B
carehome.co.uk rating: 4.83 out of 5
"My mother received excellent care from all the staff. The nurses were very caring and handled every situation concerning my mum's specific needs with kindness and professionalism. I was very impressed with how all the staff cared for my mum and were efficient, caring and supportive of the whole family. The home was well organised, clean and tidy and had a pleasant, relaxing atmosphere which was perfect for mum after a prolonged stay in hospital. We were able to art-furnish mum's room with her personal effects and she was comfortable in her surroundings and enjoyed the well thought out menu. As a family, we felt that every concern was listened to and acted upon positively. We were very impressed with how quickly and well the staff go to know my mum and enjoy her personality, that was something very important for her and for us. Sadly, my mum passed away and there was a real sense of caring amongst all of the staff. The home provides excellent value for money. Overall, my mum was treated with kindness, respect, dignity and professional care in the last stages of her life and for that, we cannot thank the staff enough."
Lorna H
carehome.co.uk rating: 4.83 out of 5
"My father was made very welcome when he decided to leave his home and move into Ochil Care Home. He has settled well. He enjoys the daily activities available and enjoys the company. The activities vary but are stimulating. He has been well cared for and episodes of illness have been coped with well by the staff. Large areas of the home have been recently refurbished and are very pleasant."
V H
carehome.co.uk rating: 4.42 out of 5
"My husband has been looked after with great care in every detail - the staff are friendly, helpful and professional. They listen to any concerns I have which they always address very well. The management is friendly and approachable and has been very helpful over the past 18 months. For example, they have extended WiFi throughout the home and they have refurbished the main reception rooms, making the garden easily wheelchair accessible. The home is clean and fresh, and I would recommend to anyone who is looking for a good care home for their relative."
Jackie C
carehome.co.uk rating: 4.58 out of 5
"In all the years my cousin has resided here, we have found the staff to be extremely caring, dedicated and very communicative to us. Her care is second to none. I can honestly say that this is the best care home my cousin has ever stayed in and she has stayed in a few. The staff are all stars and that includes the domestic staff too. They are all so obliging."
Irene J
carehome.co.uk rating: 5 out of 5
"Both my parents are in Ochil Care Home. Both are well looked after, well fed and kept safe and clean. The staff are friendly, attentive and helpful."
D S
carehome.co.uk rating: 4 out of 5
"When my mum was ready to go into a care home I went to view a few in Perth. My view was at the time Orchil was well sorted, now as my mum has been in Orchil she is so happy. It's well adapted to her needs and the staff are so helpful. It has a feel as if it is a big family and nothing is too much for the staff to help out. It's a good feeling knowing that my mum is in safe hands."
John M
carehome.co.uk rating: 3.92 out of 5
"After seven years, I am confident that my husband is getting the best care. The residents are treated with utmost respect and not looked upon as just a room number. The carers are kind and friendly and are usually heard happily chatting to him when attending to his needs. There is a TV lounge but Ochill has another three lounge areas, one opening out to the garden where my husband likes to be for family visits."
Sarah O
carehome.co.uk rating: 4.5 out of 5
"I find Ochil Care Home staff very friendly and always attentive to my brother's needs, they also keep me informed of how he is doing and keep in touch with me if he has been unwell. I couldn't ask for much more."
W A
carehome.co.uk rating: 4.82 out of 5
"A few months ago dad was moved to Ochil Care Home in Perth and the difference in him is simply outstanding! Dad is very comfortable here, there is a reciprocal adoration from the staff to him and back again. He is involved now in trips out, meeting new members of staff and other residents and other activities that help to entertain him. The staff are excellent here, selfless, thoughtful and complimentary to the residents. The decor is very pleasing to the eye, there are complimentary nibbles and drinks for visitors and reading material to hand. The gardens are well maintained and have a nice selection of blooming flowers and trees. I cannot truly comment on the food as I don't eat it but dad assures me there is a great selection and great, tasty quality."
Steve B
carehome.co.uk rating: 4.25 out of 5
"During her respite care, Mum has been treated with care, humour and vigilance. The quality of reporting has been excellent and as relatives, we have been fully included and informed. Mum's care has been a life saver. Food is excellent and safety brilliant. It has been a privilege to have Mum cared for at Ochil, especially in this transition towards permanent care. Thank you sincerely."
Peter F
carehome.co.uk rating: 4.58 out of 5
"Our mum was upstairs in the Ochil for only a short time but would highly recommend this care home. The attention our mother received was second to none, staff very attentive to mum and given the best care we could have asked for. The meals were fab and plenty to drink and always fresh fruit and great home baking. Her room was great always clean and tidy. Her clothes were always immaculate and well dressed. She used to get her hair done regularly which she loved and the hairdresser was very good, mum always had a good hair do. All the nursing staff were terrific with us as well as mum, would not hear a bad word said about any of them, family atmosphere was always there. For all that they have done, we thank them lots and lots xx"
Sheila S
carehome.co.uk rating: 5 out of 5
"My husband, who is in the special needs unit of Ochil Care Home, has continued to improve during the two and a half years since he arrived here. His care and attention has been exceptional and I believe has played a large part in his recovery. The staff are friendly, yet professional in their work, which gives me great confidence in this care home."
Jackie C
carehome.co.uk rating: 4.75 out of 5
"I have two parents plus a father in law in the home. Overall, things are good. The staff are friendly and helpful. Sometimes I have to remind staff that my father in law can't get out of bed so his drinks need to be put in front of him. A few times, the cup/drink is left out of reach. This has been passed on. Downstairs in 'Memory Lane' - this unit works well with my mother. She seems very happy and staff will bring her upstairs to visit my dad."
Rosemary P
carehome.co.uk rating: 3.67 out of 5
Thank you and your staff for all the care and consideration that you gave over the years that she was in Memory Lane. Nothing was too much trouble and we always were given time to talk through any worries or concerns. It was always a pleasure to meet your staff inspite of the circumstances, as they were always cheerful and considertate of those around the them.
Useful Guides and Information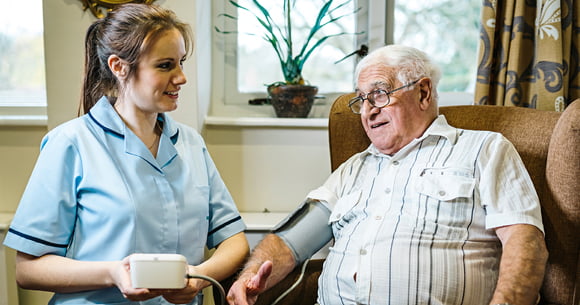 Care & Facilities
Our facilities are designed to the highest standards and the care we provide is delivered by passionate and highly-trained professionals.
Find out more about our care and facilities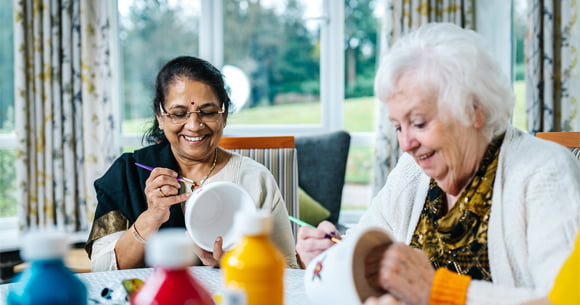 Activities & Events
Our activities programme is planned with individual tastes in mind, and residents always have the opportunity to try new and exciting things.
Find out more about our activities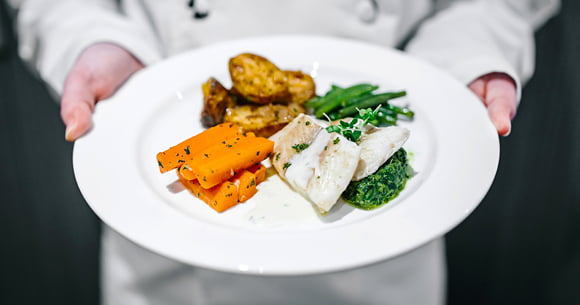 Food & Nutrition
We offer a constantly evolving menu that caters to the tastes and dietary requirements of those we support.
Find out more about our food & nutrition
Your next steps to finding care
Our team are here to help you when you are ready to talk about the care and support you need. Please call our team to arrange a visit and come and take a look around our home.
Call our team
Call our team for more information about our care home and to arrange a visit. Phone lines are open Monday to Friday from 9am – 6pm and on Saturday from 9am-5pm.
Send a message
We'll be happy to answer your questions about the next steps for moving into our care home. Send us a message online
Contact us
Download a brochure
Download our brochure to find out more about life in our care home
Download brochure
Frequently Asked Questions
What types of care does Ochil Care Home offer?

Ochil Care Home offers Nursing care, Residential care, Dementia care, Respite / Short stay, Services for under 65.
140