What our families say: Moors Manor Care Home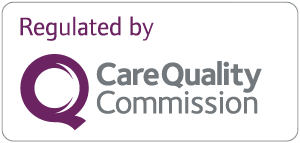 "I couldn't recommend Moors Manor enough. All the staff have been wonderful, from the care team to the office manager. The rooms are lovely and always clean and tidy at whatever time of day you visit. Also, the food is great and always freshly made."
A W
carehome.co.uk rating: 5.00 out of 5
"when I walk into the home, it has such a calming feeling, and all of the staff are so friendly and welcoming. They always have delicious homemade fresh cakes available in the bistro area. The surrounding views are beautiful."
L H
carehome.co.uk rating: 5 out of 5
"Beautiful home with a lovely garden and outlook over the forest. The staff made sure Nan was happy and well cared for. She loved the meals and activities, and her room was lovely. Staff always said hello and made us welcome when we visited."
M M
carehome.co.uk rating: 4.58 out of 5
"My experience of Barchester care home at St Leonard's is only positive. My dad moved into the care home last October after not coping at home. The care home have been very welcoming to him and included him in lots of activities. The food is excellent and they even cooked his favourite dinner and pudding on his birthday. The staff are always happy and attentive to my dad's needs and I feel very satisfied and safe that he is in good caring hands. As I live many miles away, if I have any problems I just email or phone the home and everything is sorted out immediately."
Caroline T
carehome.co.uk rating: 5 out of 5
"I felt very satisfied with the care, comfort, excellent food and conversation, fun quizzes and scrabble a lovely garden to walk in. The staff are impeccable and 5-star comfort. I would love to come again"
R W
carehome.co.uk rating: 5 out of 5
"The accommodation and facilities at Moors Manor are excellent, but what really makes this place exceptional are the team of friendly and caring people who have created an environment that feels warm and totally inclusive. My Dad has been a resident for around 4-months, and it's so refreshing to say that nothing ever seems to be too much trouble, there are always activities for him to enjoy participating in, and the highly professional staff have given me peace of mind that my Dad is receiving the very best support at all times along with fun and friendship. Most importantly during this time, my Dad has always felt welcome, safe and part of the team which he really appreciates."
J P
carehome.co.uk rating: 5 out of 5
"I've been treated with kindness by a very caring staff all of whom are very cheerful willing. We enjoyed my 2 weeks here immensely."
Z L
carehome.co.uk rating: 4.92 out of 5
"My husband has just completed his second 2-week respite care at Moors Manor. The home is very comfortable and all members of staff are extremely caring, efficient and friendly. The restaurant is lovely and the food served is excellent. If needed we would have no hesitation in using the service again."
A C
carehome.co.uk rating: 4.92 out of 5
"Delightful staff - caring and always cheerful and happy. I have returned once and probably will again."
Sheila M
carehome.co.uk rating: 4.75 out of 5
"My father has been suffering from Alzheimer's for around 4 years. Following a recent 9 week stay in hospital, it became clear that Dad would not have the mobility and mental capacity needed in order to manage in his own home. We therefore sought a suitable care home for Dad, and were very fortunate to find that Moors Manor were able to cater for his needs. From the outset, we were impressed with the staff and the facilities, and in the time Dad has been a resident, he has been treated as a valued member of the community at the home, and has been looked after with respect and dignity. Apart from the excellent catering, the home also offers a wide range of stimulating activities, and it is lovely to see Dad starting to engage with fellow residents. We are delighted to have found such a lovely new home for Dad!"
Phil A
carehome.co.uk rating: 5 out of 5
"I placed my husband here for respite care. He has Lewy Body Dementia. The staff and management have all been very kind and helpful regarding his care. The care home is immaculate. My husband seemed very content during his stay and I hope to use Moors Manor again."
G D
carehome.co.uk rating: 5 out of 5
"My wife came into respite as her condition has deteriorated and I needed time to sort out her future. She was very well treated as far as possible by the carers. I was her only contact during the covid period and she must have found it all strange and frightening. A very difficult situation which was dealt with very well by the home."
B B
carehome.co.uk rating: 4.42 out of 5
"Moors Manor has been looking after my husband for three weeks. I feel very happy that he has been well looked after. The accommodation and gardens are all very well looked after. Staff have all been so friendly and attentive. I will have no worries about him returning for a future stay, in order to give me a break."
M A
carehome.co.uk rating: 5 out of 5
"The care team are thoughtful and attentive, making it a calm and easy choice as a residential home. With new facilities, there are no teething issues and my parent enjoys the variety of lounge, dining room and own private space."
P R
carehome.co.uk rating: 4.83 out of 5
"My mother has been a resident of Moors Manor care home for three months. She is happy and well looked after. The staff are pleasant and always ready to listen and resolve any issues that arise and most importantly they have given time and patience to help my Mother adjust to her new environment."
Christine A
carehome.co.uk rating: 4.25 out of 5
"Although my mother has only been in for two weeks the care has been excellent. The staff so friendly and my mother can not praise the chef and his team more highly. The family are kept informed of mums progress and care. The facilities are of a very high standard. Mum's care has been excellent so far."
Sandra M
carehome.co.uk rating: 5 out of 5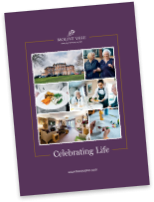 Read our brochure 'Providing great quality care and wellbeing' for more information on how we're here to help you and your loved one.
Read brochure
Food & Nutrition
Activities & Events
Care & Facilities
What happens now?
Are you ready to discuss your individual care requirements? Pick up the phone and talk to us, book a visit to our care home or come and take a look around our facilities.
Care enquiries
New care enquiry phone lines are open 8am - 8pm
01425 383 915
All other calls
Our fees and contract
We want to be as transparent as possible about how we charge for the different services we provide as well as what's included in our contract. Please click the links below to find out more about our fees and contract.
View typical fees
View Our Contract
Useful downloads
Here to help you make the right decision about your care requirements.
50405