Meet the Moors Manor Care Home team
Our staff are what hold the home together. Each one of these team members are dedicated to providing high quality care and services to those we support, and ensuring that residents enjoy all aspects of life at our home. See below to meet some of our friendly faces:
Jenna May
General Manager
Hi, my name is Jenna and I am the General Manager here at Moors Manor Care Home. Welcome to our website!
Jenna has worked in senior healthcare roles, including at the Royal Bournemouth Hospital, and has spent the past ten years working in management in a nursing home environment, rising through the ranks within the homes so she has a good understanding of all job roles within the home.
Coming to Moors Manor is a really exciting move for me, the home has a great sense of community and I am looking forward to building on this.  Communication within the team,  the residents and relatives is hugely important to me and I am looking forward to getting to know everyone.
Michelle Venn
I started here in August 2021 and am really enjoying being part of a supportive and friendly team.
I've been in the care sector since 2017, previously in a regional role. I am enjoying being part of the team here and bringing the home together with the local community. Residents and their families are at the heart of what we do here and I am passionate about making this a positive experience.
Show More
Sarah Wiggett
I have been part of the Barchester family since August 2021, and am thrilled to be part of such a supportive and exceptional company.
I started in the healthcare sector in 2011in a care home as a carer, working closely with dementia and supporting vulnerable adults with their daily needs. Over those years I found that I enjoyed the administration side of health and social care. I love being part of and working within a care home as no day is the same, and I get to still be very much involved with the residents we care for.
In my spare time I enjoy spending time with my family and friends, paddle boarding, gardening, dog walks and taste testing the different gin varieties that there is to offer.
Show More
Sam Willis
Hi I'm Sam, activities coordinator here at Moors Manor. 
I joined Moors Manor in 2021 as a care assistant and found my passion was enhancing the residents day with meaningful activities.  I enjoy talking to the residents about what they want to do and building this into our activities schedules.  We have some really exciting plans coming up including book club, gardening projects and mini bus trips out. 
Show More
Gary King
I'm Gary, Head Chef here at Moors Manor, I enjoy every aspect of ensuring all meals are balanced and appetising for our residents. 
I feel there are so many qualities needed to being a chef within a care home; I love the interaction with the residents and family members and enjoy the constantly changing varied menus that are all freshly prepared using top quality seasonal ingredients.
Show More
Scott Tierney
I joined Barchester in November 2020 after years of looking after buildings and facilities in colleges, hospitals and the emergency services. This is my first role in the care sector.
I like to make a difference and enjoy the challenges that come with maintenance and running a building. I look forward to keeping this home a happy and safe place for our residents.
Show More
Dorota Stopka
I joined Barchester in January 2021 after 10 years of working in the hotel industry. I am responsible for maintaining Barchester's high standards of cleanliness and tidiness. I keep a homely atmosphere at Moors Manor, for all the residents and their loved ones.
Outside of work, I love spending time with my family, sport (both doing and watching!), reading books and watching films.
Show More
Tanya Dobson
I joined Moors Manor in June 2021. I am new to the care sector, having previously gained many years' worth of admin and HR experience within a variety of other sectors.
I am enjoying learning all about the workings of a care home and have chosen a great company to learn from in Barchester! I love the variety and the customer facing aspect of my role, getting to know residents and their families.
I'm happy to be working with such a great team of people at Moors Manor and look forward to contributing to the home's successful growth as we welcome more residents and staff moving forward.
Show More
Gemma Alcock
I love working within the care environment.  I find it lovely to be able to have a chat with the residents and relatives when they come in as well as help out members of the team here to ensure we all work together.
Paula Sheldrake
I have worked for many years supporting people who have lived with dementia.
Because of my passion and dedication to dementia, I have been selected as the Dementia Champion for Moors Manor, where I mentor junior colleagues.
I love my job and knowing I have made a difference in residents' lives fills me with joy.
Show More
Nicole Willis
I started at Moors Manor in 2021. 
I have a passion for making sure people are cared for, happy and fulfilled in their lives.  I enjoy making a difference and being their to support our residents and their families. 
Sandra Lombardo
I joined in 2021 and I love looking after the residents here at Moors Manor. 
I have a passion for making people smile and do this by being friendly and caring to all our residents and their families. 
Amanda Smith
I enjoy being around people and making them feel supported, valued and making sure that the residents and their families have a lovely experience when visiting or staying with us.
I moved to St. Leonards in 2020 with my husband and we enjoy walks in the forest close by.  We have a son and daughter who work and live independently and are our pride and joy!
Show More
Candace Willis
My name is Candace and I joined Moors Manor in 2021. 
I love my role keeping our lovely home clean, tidy and organised. 
Chatting with the residents when I clean their rooms is great and it really feels like we are a family here.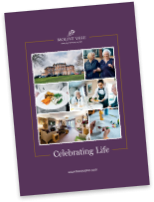 Read our brochure 'Providing great quality care and wellbeing' for more information on how we're here to help you and your loved one.
Read brochure
Food & Nutrition
Activities & Events
Care & Facilities
What happens now?
Are you ready to discuss your individual care requirements? Pick up the phone and talk to us, book a visit to our care home or come and take a look around our facilities.
Care enquiries
New care enquiry phone lines are open 8am - 8pm
01425 383 915
All other calls
Our fees and contract
We want to be as transparent as possible about how we charge for the different services we provide as well as what's included in our contract. Please click the links below to find out more about our fees and contract.
View typical fees
View Our Contract
Useful downloads
Here to help you make the right decision about your care requirements.
50405