Meet the Mallard Court Care Home team
Our wonderful team comprises nurses, carers, activities coordinators, chefs, housekeepers and more. These people are here to ensure that residents enjoy their time at the home and are supported to live life to the fullest. Meet some of our staff below:
Dianne Peters
General Manager
Hi, my name is Dianne, and I am the General Manager here at Mallard Court. Welcome to our website!
I qualified as an RGN in 1988 and started my nursing career as both a staff nurse and a ward sister. I joined the private sector in 1993 and have managed domiciliary care and care homes across the north of England in both a general manager and regional manager capacity.
I love being a part of Barchester's corporate and professional world, where quality matters, and staff work their hardest to deliver high quality care to those they support.
Ange Dooley-Widd
My Name is Ange Dooley-Widd and I am a Unit Manager at Mallard Court.
I started my career in care as a volunteer in day centres for adults with learning disabilities. I have looked after people with learning disabilities who lived with me in my own home and also provided respite for children with learning disabilities as well.
I moved over to Bridlington from Bradford over 10 years ago and applied for the position as a Carer at Mallard Court. I was promoted to a Senior Carer and eventually to the position of Care Practitioner.
Show More
Kim Bowley
Kim has worked in an office environment for over 40 years. She worked as payroll officer in a hosiery firm in Leicestershire before moving to Bridlington to run a bed 'n' breakfast guest house, and also worked in a payroll bureau. Kim joined Mallard Court in 2006, originally as an admin assistant, but now works as the administrator.
Show More
Steve Moss
Hi, my name is Steve, and I have been a Lifestyle Coordinator at Mallard Court since 2006, and have achieved the NAPA (National Association of Activity Providers) Level 2 Award in Activity Provision in the Care Sector.
We provide a wide range of activities for the people we support, as well as for their families and friends. I also love to have one-to-one chats with residents who like to reminisce about their lives over a cup of tea and some biscuits.
We have our own minibus and have fun days out sight-seeing, having a picnic or going a local pub for a drink and a meal. We also arrange for local artists to provide musical entertainment for everyone at Mallard Court.
Show More
Jo Dyson
Jo previously worked as a property manager until she joined Barchester in the year 2000 as administration assistant, serving the home faithfully since that time.
Tom Clarke
Tom moved to Bridlington in 2018 and joined the Mallard Court team on 12th November. Tom began his working life as a nurse carer in 1978, and started his training to become a registered mental health nurse in 1979. Tom attended the Lanarkshire College of Nursing, qualifying in 1982. He then transferred to Law Hospital in Lanarkshire in 1985 to commence his general nurse training, finally graduating in 1986.
Tom worked throughout Lanarkshire until retiring from the NHS in 2013. He moved to a nursing home in West Lothian as a staff nurse until moving to Bridlington, and joined the Mallard Court team in 2019.
He has been well supported by the company; he was given further training opportunities and made to feel very welcome!
Show More
Sue Clough
Sue has been a valuable member of our domestic team since 2014. She is a hard worker and always strives to ensure that Mallard Court is cleaned to the highest of standards.
Members of the Nurse Team
Members of the Nurse Team
We have an experienced team of nurses who strive to deliver the best possible services to those we support. Our team provides expert end of life care and nothing is ever too much trouble for them.
Leanne Adams
Leanne is a popular and well-respected member of the Mallard Court care team and has been employed at Mallard Court since 2002. She has previously worked in another care home for 4 years, and she is also qualified a hairdresser.
Sharon Bowtell
Hello, I'm Sharon and I am a Registered Adult Nurse. I have worked in care homes looking after the elderly since 2007. I have worked for Barchester Healthcare since 2011, starting first at Mallard Court, then working in our sister home in Beverley. I  am delighted now to have returned to Mallard Court again.
Show More
Pauline Buxton
Pauline is a qualified Psychiatric  Nurse and has been with Mallard Court for 2 years
Domestic Team
Members of the domestic team
Hi, we are members of the homes domestic team and we enjoy working together in making sure that the resident's rooms are clean and tidy.  We work hard to ensure the home maintains Barchester's high standards and that we work to create a relaxed, personal atmosphere for residents, relatives and staff.
Show More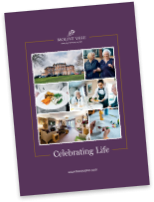 Read our brochure 'Providing great quality care and wellbeing' for more information on how we're here to help you and your loved one.
Read brochure
Food & Nutrition
Activities & Events
Care & Facilities
What happens now?
Are you ready to discuss your individual care requirements? Pick up the phone and talk to us, book a visit to our care home or come and take a look around our facilities.
Care enquiries
New care enquiry phone lines are open 8am - 8pm
01262 333454
All other calls
Our fees and contract
We want to be as transparent as possible about how we charge for the different services we provide as well as what's included in our contract. Please click the links below to find out more about our fees and contract.
View typical fees
View Our Contract
Useful downloads
Here to help you make the right decision about your care requirements.
118